DVF for Gap returns! New collection in stores April 2013
Diane von Furstenberg is coming back for round two—her second collection for the retailer.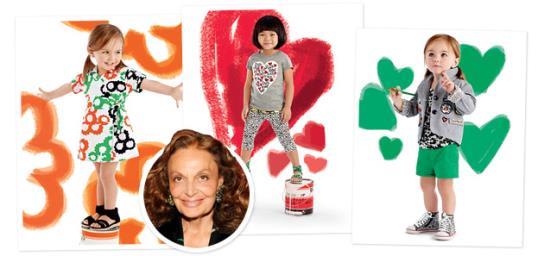 By Jennifer Davis, InStyle magazine
After launching a
successful collaboration with GapKids and babyGap
last May,
Diane von Furstenberg is coming back for round two—her second collection for the retailer will land in stores and online this April
.
RELATED: Runway Looks We Love: Diane von Furstenberg


"I really loved the challenge of translating my designs into the first DVF for Gap collection," the designer said in a statement. "
It was so much fun to see little girls wearing the pieces, and I'm looking forward to collaborating with Gap on this second collection
."
RELATED: See the Ladies Who Love DVF


With her first installment brimming with punchy graphics, adorable wrap dresses, and playful blazers all for under $120 (see the photos to the right!),
we can't wait to see what she has in store the second time around!
Plus, check out all of her charming offerings from her first collection!

MORE:
• More on DVF's newest collaboration with Gap
• Both Carrie's Attend DVF Fashion Show
• Hollywood's Newest Moms

Photo: Courtesy of DVF for GapKids; Eugene Gologursky/WireImage​

beauty tips and style advice
We put a slew of new formulas to the test, and these are the ones making us look younger and fresher.

From the coolest chestnut to the deepest mahogany, these stars show how to unleash your inner brunette bombshell.

In a girl's life, there are a select few occasions when it's considered completely appropriate to go all out with a truly spectacular dress. Her wedding day comes to mind, of course, and maybe her Sweet 16. Prom night, however, is certainly at the tip-top of that short list of special events.

When I was a teenager, I wouldn't be caught dead without my lip gloss, blush, eyeshadow and eyeliner at all times. Now, even though I'm older, I'll admit I still don't feel 100 percent confident leaving the house without at least some of my "face" on—plus, my obsession with beauty products doesn't encourage me to go makeup-free very often.

Good magazine covers grab your attention and make you want to look inside. Controversial covers and photo shoots, like the 14 that follow, often become a part of history.

For those of you on official Kate Middleton Outfit Watch, here's the latest.