DVF for Gap returns! New collection in stores April 2013
Diane von Furstenberg is coming back for round two—her second collection for the retailer.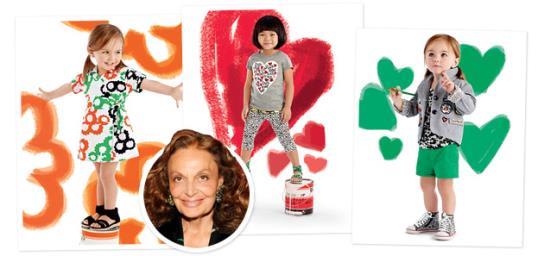 By Jennifer Davis, InStyle magazine
After launching a
successful collaboration with GapKids and babyGap
last May,
Diane von Furstenberg is coming back for round two—her second collection for the retailer will land in stores and online this April
.
RELATED: Runway Looks We Love: Diane von Furstenberg


"I really loved the challenge of translating my designs into the first DVF for Gap collection," the designer said in a statement. "
It was so much fun to see little girls wearing the pieces, and I'm looking forward to collaborating with Gap on this second collection
."
RELATED: See the Ladies Who Love DVF


With her first installment brimming with punchy graphics, adorable wrap dresses, and playful blazers all for under $120 (see the photos to the right!),
we can't wait to see what she has in store the second time around!
Plus, check out all of her charming offerings from her first collection!

MORE:
• More on DVF's newest collaboration with Gap
• Both Carrie's Attend DVF Fashion Show
• Hollywood's Newest Moms

Photo: Courtesy of DVF for GapKids; Eugene Gologursky/WireImage​

beauty tips and style advice
When it comes to lounging on the beach in the buff, turns out that Germans and Austrians are the most comfortable with their birthday suits, according to a worldwide survey of beachgoing habits around the world.

Chic time-tested shades you'll love for this summer.

Our top picks for staying cool this summer.

Does makeup make you feel more or less like yourself? These women — some makeup junkies, some who never touch the stuff — were brave enough to be photographed with half their faces made up by a pro and half their faces totally bare.

Chic ensembles for every woman.

At almost every age, more men report being satisfied with looks than women.