How Does A Diet Coke Bottle Get Recycled Into A Pair Of Jeans? See and Learn!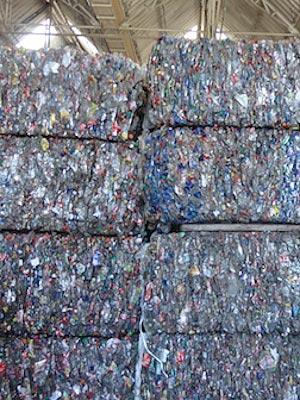 by Tracey Lomrantz, Glamour Magazine

Ever look at a piece of clothing that's labeled "eco-friendly" and wonder just how recycled its materials really are? I recently had a chance to visit one of the greenest textile factories in the world, and literally got to see how a Diet Coke bottle becomes a pair of jeans! Check out the totally fascinating process every step of the way...
 
Colombia is known for its textiles, so during my visit the ProExport team set up a visit to a couple of factories here in Medellin that are using some cutting-edge technologies to produce eco-friendly fabrics. I got to trace the process from soda bottle to Wrangler jeans at Enka de Colombia and Fabricato, and here's how it works:
The Enka factory specializes in post-consumer recycling, and they see a million bottles a day go through a process of grinding, cleaning, melting, and spinning to become Pet fiber, a kind of polyester that's made entirely of recycled plastic bottles (but that's nothing--the technology they're rolling out in 2014 will allow for three million bottles a day to be processed). They're also incredibly focused on keeping things green in their factory--they recycle their own waste and buy waste from other companies to process it for energy.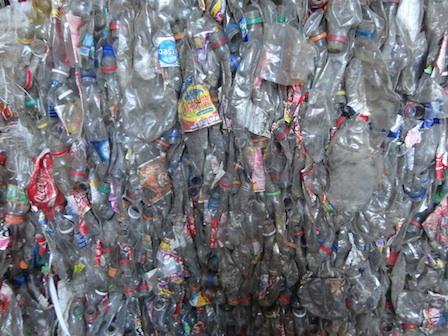 Related: Cute Haircut Ideas for Midlength Hair

After the bottles have been collected, they are sorted...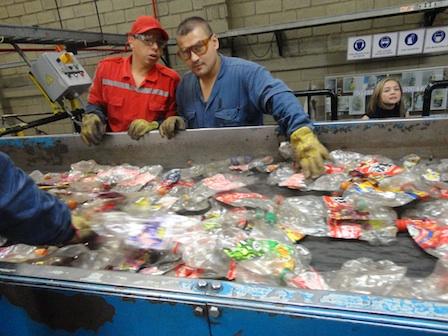 ...ground up...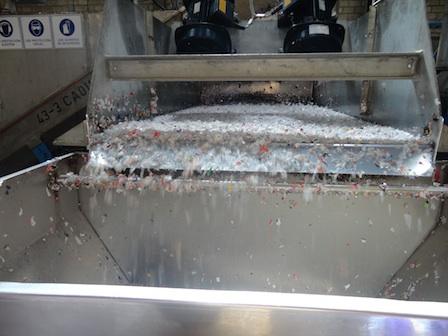 ...and cleaned and separated to remove their labels and undergo a thorough sterilization.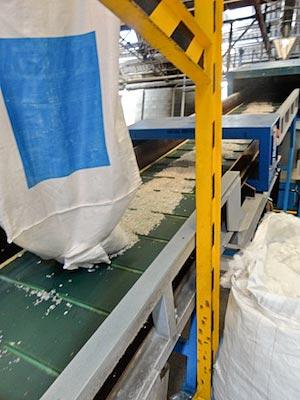 Next the little plastic bits get heated up until they melt, and are extruded as a kind of plastic paste, which is sterilized once again and then stretched out to become more fibrous. Eventually it becomes a raw material that resembles cotton, and then it's shipped to factories that make stuffing for pillows and furniture, and sold to textile companies who make fabrics out of it, like Fabricato.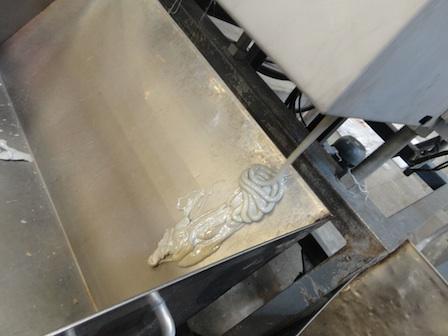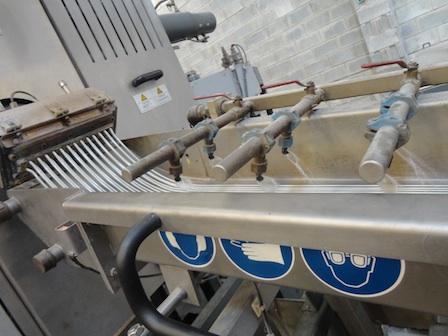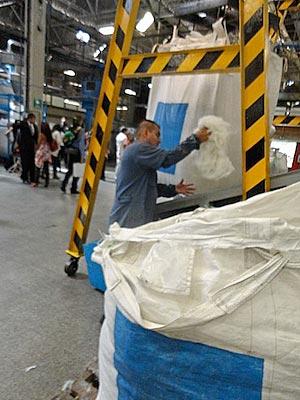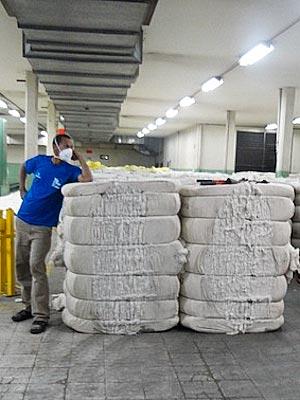 Related: 10 Shoes Every Woman Should Own

They take bales of Pet fiber and Colombian and American-grown cotton and spin them into yarn, stretching and working until the fibers become parallel, working them thinner and thinner until they're a weavable yarn.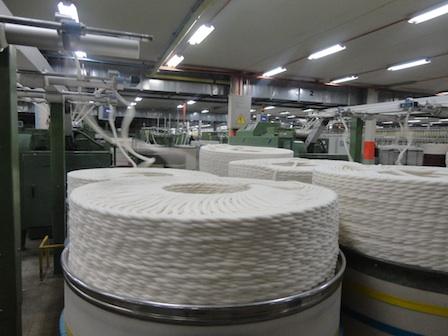 That yarn then gets dyed (the colors vary depending on the denim) and makes its way to enormous computerized looms, where it's woven into huge rolls of denim that probably look a lot more familiar than anything else you've seen here (I know it did to me!).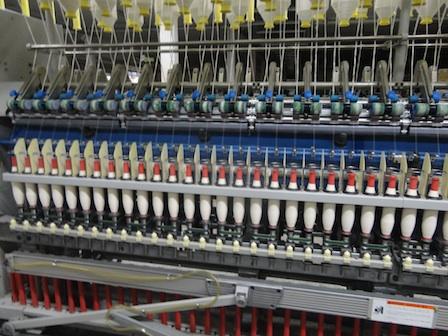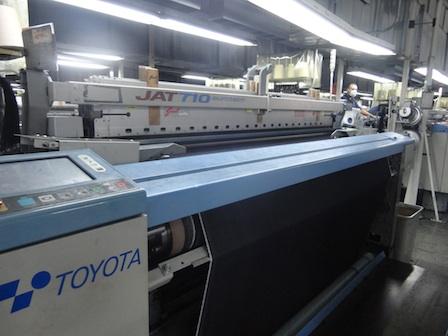 And finally, that denim is sent to factories where it is cut and sewn into something every American on the planet would recognize--jeans! Kinda cool to know these Wranglers were once a soda bottle, isn't it!? Don't you think this technology is pretty interesting?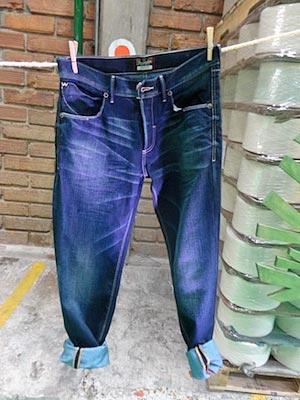 Wouldn't you love to see more factories adopt such an environmentally conscious way of working? Are you a fan of clothes made from eco-friendly fabrics? Discuss!
More from Glamour:
14 Sexy Going Out Dresses You Can Wear When It's Cold Out
50 Things Men Are Afraid to Ask For But Want Super-Duper Badly
What Your Hairstyle Says About You (According to Guys)

Carpet fibers have been made this way for a lot longer....the carpet fiber industry blows through more than 6 Billion plastic bottles....the USA still holds more than 73% of the worlds carpet industry....so we are already on top of this technology...it just wasn't marketable until everyone went "Green".....walk into any carpet store and almost all of it some sort of recycled product.
Are you sure you want to delete this comment?
beauty tips and style advice
The famous Parisian shoe designer has unveiled a luxurious new nail polish, his first foray into the world of beauty, and there are no prizes for guessing what color it comes in.

Average shoe size is up about two sizes since the '70s, study says.

They can't escape wedding season, so they might as well look their best.

Front-row style star Miroslava Duma just clears 5′, Oscar winner Reese Witherspoon one-ups her—literally—at 5′ 1″, and fashion crush Rachel Bilson barely tops them both at a whopping 5′ 2″. But aside from standing at the diminutive end of the height spectrum, these three ladies have something else in common: the ability to nail every summer fashion trend. If you're part of the petite girls' club, take a look at these 12 fashion essentials—from closet staples to chic accessories—to keep you at the top of your style game this summer.

Quick, easy, everywhere-appropriate: There's no summer piece quite as versatile--or flattering.

These fresh, cute outfit ideas range from unexpected mash-ups to completely coordinated looks. What they all have in common is they'll get you out the door feeling totally confident.

Because it actually takes some makeup—maybe even a few false lashes—to look beautifully bare-faced.

Make a good impression by presenting the best form of yourself. Even when luck's against you--for instance, you encounter a huge zit the week before an important presentation--take action now. Here are fixes for your most common grooming mishaps.

We're still dreaming about Olivia Palermo's unconventional yet impossibly chic wedding-day ensemble. The shorts! The jutting tulle skirt overlay! The creamy cashmere sweater! Everything about this layered look is as trend-setting as it is unique.And though she may be the first star to walk down the aisle in shorts, Olivia isn't the first celebrity to say "I do" in something nontraditional. Several boundary-pushing stars have skipped the all-white look, and instead opted for a colorful wedding dress.

Keep your tresses looking their best, even on the muggiest of summer days, with these tips

Wide-leg pants are blowing up. Six women show us how to style a pair by Lauren Ralph Lauren.

It's the best and worst time to be a single girl in the dating world. On the one hand, past generations of women didn't have the freedom, financial independence, access to birth control (depending on your state and employer, of course), or plethora of options to meet new people—online and off—that we enjoy today. On the other hand, they also didn't have to worry about sexting, selecting the best selfie for their profile picture, or accidentally swiping right on a coworker.