Why does the pope wear red shoes?
The details behind the color of his shoes, explained.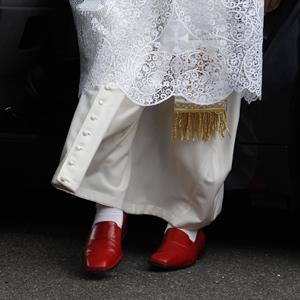 If you're wondering why the pope wears red shoes, you're not alone. It's a good question! It's a tradition that's been going on for quite some time. Since the surprise announcement that Pope Benedict XVI would retire and Pope Francis would be his replacement, (as announced Wednesday) the world watched as he made his debut. And it left many people wondering, where does the tradition of red shoes come from?

According to NY Books, red shoes were originally worn by aristocrats (people who were rich and could afford expensive colored leather). 

Here, NY Books gives an explanation of why, exactly, the pope does wear red shoes!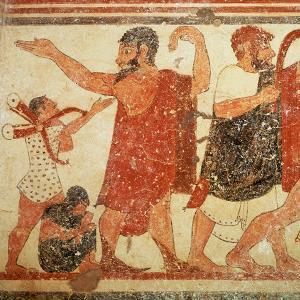 "Romans knew that the timetable for the papal conclave would be a quick one when the three sets of vestments prepared for the new pontiff — in small, medium, and large sizes — had already disappeared from the display window of Gammarelli, the ecclesiastical tailors, on Friday, March 8. The three white wool satin cassocks had appeared on March 4, along with one scarlet capelet, the mozzetta, trimmed in white ermine, versatile enough for one size to fit any aspiring pontiff, a single pair of red kangaroo-leather shoes in a medium size and a white moiré silk zucchetto, the pontifical skullcap. Though they are loaded with Christian significance, many of these articles of clothing actually have a far more ancient pedigree.

Living: Women who inspire us 

Those red shoes, for example — which the pontifex emeritus has now given up in favor of a more ordinary brown pair from Mexico — may symbolize the blood of Christian martyrs. But when red shoes were the height of fashion in Etruscan Rome, that is, 500 years before the birth of Jesus, they designated the wearer as an aristocrat, someone who could afford leather that had been colored with the most expensive dye in the Mediterranean, Phoenician "purple," actually scarlet red. (It was produced by scoring the bodies of mollusks and ranged in color from blue to red, with red the most prized shade). The leather itself came not from kangaroos, of course, but from the Chianina cattle, who came to Italy together with the Etruscans and provided the ancestral form of Florentine beefsteak."

More from Living: 18 tips for dressing well this Spring 

Tell us: Do you like the pope's red shoes?

Bing: Latest news on the new pope
Get the latest news on Pope Francis

More from Living:

First lady style: In her shoes
The 40 most stylish women in history
Men in heels
Photo: WPA Pool/Getty Images, Gianni Dagli Orti/Corbis
beauty tips and style advice
You already know wearing white after Labor Day is cool. But menswear is reinventing itself rapidly, leaving some long-held mandates by the wayside, not to mention a bunch of men with a lot of questions. Sure, some style laws are truly inviolable. Showing a quarter-inch of cuff will always be crucial, but with designers and dandies flaunting so many former taboos it's hard to tell what's in play these days. So we thought we'd take this opportunity to let you know which rules no longer apply.

Put down the wrinkled button-down, step away from the Crocs, and open your closet. We need to talk about the new rules of casual.

Buying a brush is like getting a new smartphone: once you learn how to use it, it's indispensable.

Surfers are the epitome of cool, laid-back American style. And if we can't be them, at least we can copy their hair.

It's time for bridal beauty to loosen up. Hair doesn't have to be tightly wound, makeup perfectly contoured, and nails French manicured (on this last point, really, please don't). You can, in fact, look gorgeously and timelessly cool at your wedding. Here's how.

Thirty-year-old Lisa Conn was shamed for her American Apparel swim suit.

This Instagram should be an ad campaign on billboards everywhere immediately.

The famous Parisian shoe designer has unveiled a luxurious new nail polish, his first foray into the world of beauty, and there are no prizes for guessing what color it comes in.

Average shoe size is up about two sizes since the '70s, study says.

They can't escape wedding season, so they might as well look their best.

Front-row style star Miroslava Duma just clears 5′, Oscar winner Reese Witherspoon one-ups her—literally—at 5′ 1″, and fashion crush Rachel Bilson barely tops them both at a whopping 5′ 2″. But aside from standing at the diminutive end of the height spectrum, these three ladies have something else in common: the ability to nail every summer fashion trend. If you're part of the petite girls' club, take a look at these 12 fashion essentials—from closet staples to chic accessories—to keep you at the top of your style game this summer.

Quick, easy, everywhere-appropriate: There's no summer piece quite as versatile--or flattering.