Why does the pope wear red shoes?
The details behind the color of his shoes, explained.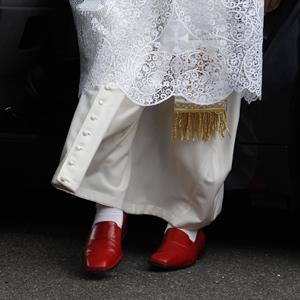 If you're wondering why the pope wears red shoes, you're not alone. It's a good question! It's a tradition that's been going on for quite some time. Since the surprise announcement that Pope Benedict XVI would retire and Pope Francis would be his replacement, (as announced Wednesday) the world watched as he made his debut. And it left many people wondering, where does the tradition of red shoes come from?

According to NY Books, red shoes were originally worn by aristocrats (people who were rich and could afford expensive colored leather). 

Here, NY Books gives an explanation of why, exactly, the pope does wear red shoes!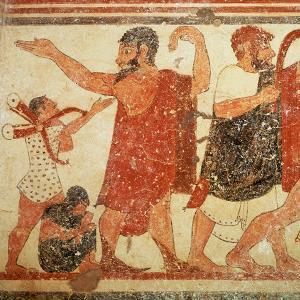 "Romans knew that the timetable for the papal conclave would be a quick one when the three sets of vestments prepared for the new pontiff — in small, medium, and large sizes — had already disappeared from the display window of Gammarelli, the ecclesiastical tailors, on Friday, March 8. The three white wool satin cassocks had appeared on March 4, along with one scarlet capelet, the mozzetta, trimmed in white ermine, versatile enough for one size to fit any aspiring pontiff, a single pair of red kangaroo-leather shoes in a medium size and a white moiré silk zucchetto, the pontifical skullcap. Though they are loaded with Christian significance, many of these articles of clothing actually have a far more ancient pedigree.

Living: Women who inspire us 

Those red shoes, for example — which the pontifex emeritus has now given up in favor of a more ordinary brown pair from Mexico — may symbolize the blood of Christian martyrs. But when red shoes were the height of fashion in Etruscan Rome, that is, 500 years before the birth of Jesus, they designated the wearer as an aristocrat, someone who could afford leather that had been colored with the most expensive dye in the Mediterranean, Phoenician "purple," actually scarlet red. (It was produced by scoring the bodies of mollusks and ranged in color from blue to red, with red the most prized shade). The leather itself came not from kangaroos, of course, but from the Chianina cattle, who came to Italy together with the Etruscans and provided the ancestral form of Florentine beefsteak."

More from Living: 18 tips for dressing well this Spring 

Tell us: Do you like the pope's red shoes?

Bing: Latest news on the new pope
Get the latest news on Pope Francis

More from Living:

First lady style: In her shoes
The 40 most stylish women in history
Men in heels
Photo: WPA Pool/Getty Images, Gianni Dagli Orti/Corbis
beauty tips and style advice
See Kate's best looks from Australia.

The springtime is the best time to press the reset button on your wardrobe, and given the great new fashion that's hitting stores right now, there are a myriad of ways to reboot and refresh. Of the nine must-try trends this season, it can be tough to choose a favorite. Perhaps you're feeling for a graphic floral? And maybe the season's sport-luxe look fits your style too? That said, if you're picking battles where your budget is concerned, the idea of a complete spring makeover can be overwhelming. Fret not, our biannual 100+ Under $100 Guide pulls pieces inspired by both the runways and the pages of the magazine together—at the perfect price.

We raided the aisles to find the best cheapie formulas for you.

As of this morning, I have decided that Kate Middleton should just tour things forever so we get to see more updos like the one she wore last night at a reception hosted by the Governor General Peter Cosgrove in Canberra, Australia.

Dressing for the office doesn't have to boring. Follow these style and beauty tips and you'll be sure to impress.

Every year, we look to the biggest names in bridal beauty and fashion design to pinpoint the hottest bridal hair and makeup ideas – keeping in mind of course that this is a wedding (no crazy neon mascara here). This year, bridal beauty has gone extra natural and romantic -- think messy braids, wispy hair, natural eye makeup and more.

You've got the dress. You've got the venue, date, and invitations. The last thing you need to complete your wedding day? An amazing pair of shoes to wear as you walk down the aisle!

With the dress as the main focus, you want the hair to be understated. An updo does just that. But there's a difference between understated and boring. Adding simple accessories, like a pin or flower, is just enough decoration to the hair. Let these gorgeous pins serve as inspiration for finding a simple, yet understated, wedding hairstyle.

Just when we were getting used to seeing beards everywhere, it may be time for men who enjoy the attention of the opposite sex to invest in some shaving paraphernalia. In a new University of New South Wales study, researchers found that "when people are confronted by a succession of bearded men, clean-shaven men become [...]

If your arm aches just thinking about blow-drying, take heart: These easy hair-saving tips will cut down on your mirror time and deliver salon-level results.

From designer maxi dresses by Roberto Cavalli and Temperley London to contemporary finds by Alice + Olivia and Zimmermann, there's a dress for every kind of seaside bride.

Mom jeans are back this spring.