Why does the pope wear red shoes?
The details behind the color of his shoes, explained.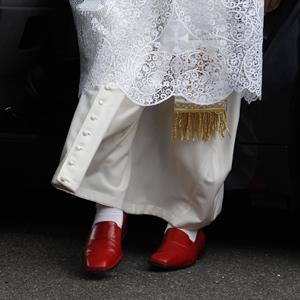 If you're wondering why the pope wears red shoes, you're not alone. It's a good question! It's a tradition that's been going on for quite some time. Since the surprise announcement that Pope Benedict XVI would retire and Pope Francis would be his replacement, (as announced Wednesday) the world watched as he made his debut. And it left many people wondering, where does the tradition of red shoes come from?

According to NY Books, red shoes were originally worn by aristocrats (people who were rich and could afford expensive colored leather). 

Here, NY Books gives an explanation of why, exactly, the pope does wear red shoes!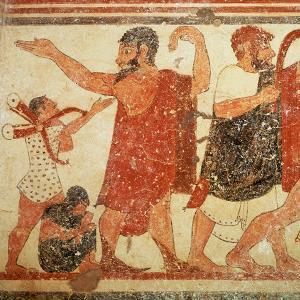 "Romans knew that the timetable for the papal conclave would be a quick one when the three sets of vestments prepared for the new pontiff — in small, medium, and large sizes — had already disappeared from the display window of Gammarelli, the ecclesiastical tailors, on Friday, March 8. The three white wool satin cassocks had appeared on March 4, along with one scarlet capelet, the mozzetta, trimmed in white ermine, versatile enough for one size to fit any aspiring pontiff, a single pair of red kangaroo-leather shoes in a medium size and a white moiré silk zucchetto, the pontifical skullcap. Though they are loaded with Christian significance, many of these articles of clothing actually have a far more ancient pedigree.

Living: Women who inspire us 

Those red shoes, for example — which the pontifex emeritus has now given up in favor of a more ordinary brown pair from Mexico — may symbolize the blood of Christian martyrs. But when red shoes were the height of fashion in Etruscan Rome, that is, 500 years before the birth of Jesus, they designated the wearer as an aristocrat, someone who could afford leather that had been colored with the most expensive dye in the Mediterranean, Phoenician "purple," actually scarlet red. (It was produced by scoring the bodies of mollusks and ranged in color from blue to red, with red the most prized shade). The leather itself came not from kangaroos, of course, but from the Chianina cattle, who came to Italy together with the Etruscans and provided the ancestral form of Florentine beefsteak."

More from Living: 18 tips for dressing well this Spring 

Tell us: Do you like the pope's red shoes?

Bing: Latest news on the new pope
Get the latest news on Pope Francis

More from Living:

First lady style: In her shoes
The 40 most stylish women in history
Men in heels
Photo: WPA Pool/Getty Images, Gianni Dagli Orti/Corbis
beauty tips and style advice
Famous brides may have access to elite designers that most of us can only dream of, but we can all delight in the statements they make on their big days. In honor of the pending nuptials of Kim Kardashian and Kanye West, let's take a look at some recent and past famous gorgeous gowns.

From pretty pastels to bold brights and cool textures, up your #ManicureMonday game with spring's top nail polish trends!

Even if everyone at school will be rocking their most festive shades of emerald on March 17, you don't want to end up looking like a Leprechaun in head-to-toe green.

Neutral tones and beautiful metallics were a huge trend on the Oscars red carpet. And we saw so many dresses that would be exceptionally beautiful walking down the aisle. Here are our favorites!

Sorry, winter, we're way over you. It's time to refresh your look for spring with bold lippies, fun nail art and major brows—here's how to rock the hottest new trends, just like these stylish celebs!

Time to say buh-bye to the same old, played-out 'dos. Celebrity stylist Jen Atkin tells you how to update these 7 classic hairstyles for spring.

How to dress your baby bump.

Things we learned backstage at the fall 2014 runway shows: Bold brows aren't going anywhere, bright green can actually look subtle, and glitter is amazing almost anywhere (within reason). Here, our favorite makeup looks of the season so far.

The fall runways showcased a broad range of hairstyles—braids, buns, ponytails, and even wigs. But there were unifying themes, too: A pervasive sense of ease; experimentation with texture; and an apparent belief that anything goes.

It's not always about the ladies of style. Check out these fashion icons.

Do you hear that? It's the sound of hundreds of cover bands beginning to tune their guitars and trying to remember the lyrics to "Shout." Ladies and gentlemen (but mostly ladies), it's nearly wedding season.

So, it hasn't snowed in nearly a week—does that mean it's summer yet? Well, almost. But alas, just because you're confident setting aside your trusty Sorel boots unfortunately doesn't mean you get to hop right into an itsy-bitsy-teenie-weenie yellow polka dot bikini just yet. Unless, of course, you're headed somewhere tropical in the next few weeks (lucky you!) and really do need to stock up on sexy swimsuits right now.