Why does the pope wear red shoes?
The details behind the color of his shoes, explained.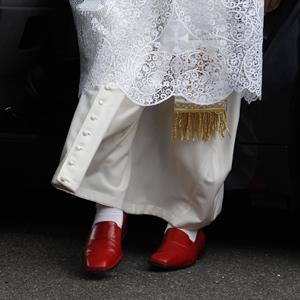 If you're wondering why the pope wears red shoes, you're not alone. It's a good question! It's a tradition that's been going on for quite some time. Since the surprise announcement that Pope Benedict XVI would retire and Pope Francis would be his replacement, (as announced Wednesday) the world watched as he made his debut. And it left many people wondering, where does the tradition of red shoes come from?

According to NY Books, red shoes were originally worn by aristocrats (people who were rich and could afford expensive colored leather). 

Here, NY Books gives an explanation of why, exactly, the pope does wear red shoes!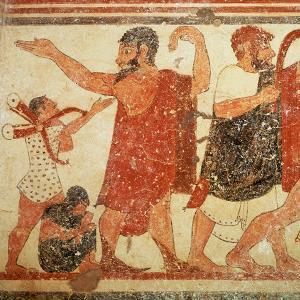 "Romans knew that the timetable for the papal conclave would be a quick one when the three sets of vestments prepared for the new pontiff — in small, medium, and large sizes — had already disappeared from the display window of Gammarelli, the ecclesiastical tailors, on Friday, March 8. The three white wool satin cassocks had appeared on March 4, along with one scarlet capelet, the mozzetta, trimmed in white ermine, versatile enough for one size to fit any aspiring pontiff, a single pair of red kangaroo-leather shoes in a medium size and a white moiré silk zucchetto, the pontifical skullcap. Though they are loaded with Christian significance, many of these articles of clothing actually have a far more ancient pedigree.

Living: Women who inspire us 

Those red shoes, for example — which the pontifex emeritus has now given up in favor of a more ordinary brown pair from Mexico — may symbolize the blood of Christian martyrs. But when red shoes were the height of fashion in Etruscan Rome, that is, 500 years before the birth of Jesus, they designated the wearer as an aristocrat, someone who could afford leather that had been colored with the most expensive dye in the Mediterranean, Phoenician "purple," actually scarlet red. (It was produced by scoring the bodies of mollusks and ranged in color from blue to red, with red the most prized shade). The leather itself came not from kangaroos, of course, but from the Chianina cattle, who came to Italy together with the Etruscans and provided the ancestral form of Florentine beefsteak."

More from Living: 18 tips for dressing well this Spring 

Tell us: Do you like the pope's red shoes?

Bing: Latest news on the new pope
Get the latest news on Pope Francis

More from Living:

First lady style: In her shoes
The 40 most stylish women in history
Men in heels
Photo: WPA Pool/Getty Images, Gianni Dagli Orti/Corbis
beauty tips and style advice
These travel-sized beauty products will do double-duty while you're on the road.

And before you ask, sorry, the $325 dress is SOLD OUT on Matches.com and DVF.com—you snooze, you loose.

Click through the slideshow to shop some of our spring favorites.

French braid? Been there. Fishtail? Done that. The newest styles are all about unexpected texture, major volume, and one man's wild imagination.

Long hair, don't care? Think again…

She dishes on the routine that keeps her looking polished, even when she's pulling up to the <i>Mad Men</i> set at 5 a.m. Plus, the fragrance that helps Christina get her Joan on.

For inspiration, we've rounded up gorgeous (and easy to replicate) wedding makeup looks from the red carpet.

With a few insider tricks, you can enjoy short hair 365 days of the year and have a gorgeous style on your wedding day. Wedding hairstyles for short hair do exist.

I'm beyond excited to finally ditch my winter coat and heavy layers, but I'm not so eager to ditch my tights. Let's just say my legs are not as smooth and bronzed as they were the last time I showed them off many, many months ago.

After a jam-packed week in New Zealand, Kate Middleton and Prince William finally enjoyed a day off, but as of last night (or this morning..? Ah, time change!) they're back on the road again.

Neatly sidestepping high fashion, the smiling, cheerful Kate Middleton is fast becoming the Duchess of Normcore.

This December, New Yorkers might notice something missing in the Christmas air.