What's a Guerrilla Wedding and Could You Hold One?
More couples are breaking the rules for their big day.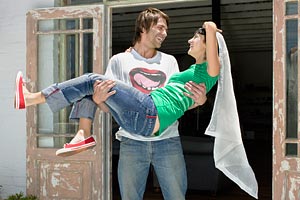 With the average cost of a wedding exceeding the median U.S. income, it's no wonder more couples are opting to stay engaged longer or forgo marriage altogether.  Especially if you live in a large metropolis like New York City, where the average wedding costs upwards of $65,000, staying single doesn't sound so bad.
But if you're willing to add a bit more stress to your big day, there's an affordable option for couples ready to tie the knot. The price starts at: free.
Allison Dolan Hall is a wedding officiant in New York City who says there's been a steady increase of "guerrilla weddings" in the past year.
"A lot of couples are thinking [a traditional wedding] is a lot of money to spend and so this is where a lot great ideas come in." Hall told DNAinfo.com.
In a guerrilla-style wedding, the couple chooses a public or private location without making a reservation, hiring a band, or having an open bar. All that's needed is the bride, groom, one witness and one ordained minister. From there, the wedding can be held anywhere from Central Park to the Hollywood Walk of Fame.
The inspiration comes partly from the movie The Vow, where Channing Tatum and Rachel McAdams hold a wedding ceremony at the Chicago Art Institute before being chased out by security. Hall says, "about half of my local clients now are seeking this style of wedding."
You can't beat the price tag, but there are some drawbacks, including the whole being run out by security thing. For one, you shouldn't invite more than 20 friends and family members.
"If you have an entourage, that's a dead giveaway," Beth Lamont, a wedding celebrant who has been marrying couples since 1971, told DNAinfo. "Sometimes we snatch a passerby as a witness, so it can be very exciting."
ElopeNewYork.com has compiled a list of rules for holding a guerilla-style wedding, and they suggest obtaining a permit if you plan to invite more than 20 guests.
"NEVER try to do a large wedding without a permit," they write. "…or the poor security guards will have to act. It's their JOB, and your wedding will be ruined."
There are also "guerilla elopements," where a group of friends and loved ones gather only to find themselves as surprise witnesses to a quickie wedding. ElopeNewYork suggests: "…be discreet and fun. Speak quietly….Concentrate​ on each other and what you are saying. Choose your words and vows carefully. It's your wedding—not a punk'd prank." 
There is a caveat, however:
"ALWAYS TELL YOUR MOTHER. You don't want her to faint, or go to the washroom crying because you didn't care enough to tell her."
While these weddings are easy on the budget, they're probably overly taxing if there's even an iota of "control-freak" in you. And bridezillas can probably forget about a guerrilla wedding altogether.
What do you think—would you go rogue for your big day?
Photo: Robert Johnson/Getty Images
More on love & sex from MSN Living:
The 10 Worst First Date Ideas of All Time
The Most Memorable Star-Crossed Movie Couples
10 Rom-Coms That Won't Put Your Guy To Sleep
beauty tips and style advice
What to wear and what to avoid the next time you attend a wedding.

Want the most gorgeous hair of your life for your wedding day? Of course you do. Hairstylist Jen Atkin shares the top mistakes brides make that are getting in the way of that picture-perfect bridal hairstyle

So there are fashion mishaps. And then, there is the catastrophe known as....camel toe.

The top tips I've picked up thanks to my obsession with blowouts, highlights, and my favorite hairstylist.

Something happens to your head when you have a kid — not to mention your body completely changes, and you can barely recognize yourself through bleary eyes, a fog of tiredness, and matted hair from sleepless nights. Sounds sexy, right? But, when that glimmering light at the end of the tunnel is in the near distance and the kid actually starts to act like a human and sleep normal hours, just like magic, you start to look like your old self again.

Ever slip into the latest summer fashion trend and then realize it's not exactly traditionally attractive? So what? Today we're speaking out on behalf of our favorite awkward fashion trends, whether they're bulky, strangely proportioned, or just at the opposite end of sexy. If there's still something magnetic about its pull on you, we say go for it. It's all in the name of fashion.

One shopper's tweet of the emaciated-looking figure forced the store to take action.

Once the summer heat kicks in, it's all we can do not to slip into the breeziest beach dresses and flip-flops for the morning commute. So trust us when we say we understand that the humidity can have a powerful effect on your wardrobe — still, there are some things you just can't wear to your place of employment, no matter how hot it gets.

Wrinkle no blouse, tangle no jewelry, leave no beauty product behind, and still have room to spare.

Hue-changing dos we absolutely love.

Why your jean size varies from store to store.

Wait a month between waxing visits? Check. Pop a preappointment Advil? Duh. We all know the basics, but here are the tricks you don't know.