Fashion trucks are the new food trucks
Henry Holland launches a store on wheels!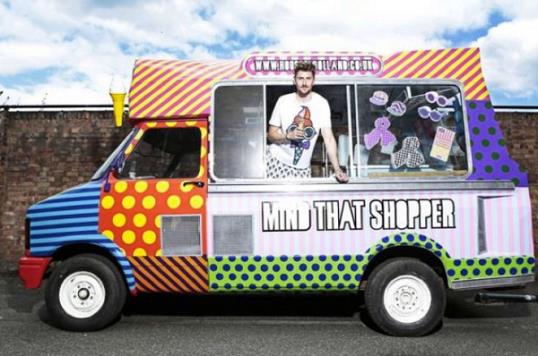 Warby Parker does it, Soludos does it in a cute retro-beachy way, Aether has a killer Airstream version. All over the country, fashion brands retailers are eschewing traditional brick-and-mortar shops and taking their wares mobile — as in, on trucks and other vehicles, bringing their awesome stuff direct to consumers.
More from Glamour: 25 Celebrity Hairstyles That Will Make You Want Bangs
The latest designer to jump on the four-wheeled bandwagon is London's T-shirt king
Henry Holland
. The House of Holland ice cream truck — which is called Mr. Quiffy — is painted in a smattering of Holland's signature bold, graphic prints and is in business all summer long — driving around the U.K. hawking the brand's late-summer collection.
More from Glamour: 10 Wardrobe Essentials Every Woman Should Own
"I wanted to have my own store; I wanted to do something that was fun and inventive and something that's a little bit fresh for a high summer collection," Holland
told Reuters
. "Setting up an ice cream van is such a less, lesser cost than setting up a store in bricks and mortar, you know, and I'm able to have this physical presence on the high street from this really, you know, eye-catching way with much less a budget."
More from Glamour:
15 Hair-Color Makeover Ideas to Try in 2013
Throughout the month of August, check out
the House of Holland Twitter feed
to find out where
#MrQuiffy
will be parked every day. That's where you'll find Holland's brand-new collection, as well as some exclusive pieces (including accessories and eyewear) that can only be bought from the mobile store.
Subscribe to Simply Chic
| Friend us on
Facebook
| Follow us on
Twitter
| Find us on
Pinterest
More from Glamour:
53 Swimsuits that Make You Look 10 Pounds Thinner
35 Truths About Marriage--From a Guy's Point of View
10 Hot Date-Night Outfits (According to Guys)
Photo: Courtesy of Glamour

Years back in Baltimore the "fences" used to sell clothing stolen from the docks by going from bar to bar in small trucks selling clothing. A lot ot these guys actually worked on the piers and did this as a sideline. There wasn't much that couldn't be bought in front of the North Point Road taverns. Most of these places are gone now that the steel mill has closed.
My grandfather was doing this a LONG TIME AGO!!!  He was well known around the neighborhood and around certain parts of our city, but had problems with thieves who wanted to rob him (a then 70 yr old man).  He sold BRAND NAME clothes at a discount and on a "pay as u go" plan for the poor & needy. Unfortunately, at the end of it all these people left balances that we tried to collect on but led us on run arounds.  He had a big heart & didn't have any regrets or ill will towards them.  May he rest in peace & I'm positive his giving back to the community was a great honor.

Truck selling items is nothing new.  When I was a youngster, milk, eggs, and butter were delivered by truck, there were trucks that sold produce, trucks that bought rags by the burlap bag and metals, also ice cream trucks.  At the rate things are going in the USA, there old days may become the new days.   There were no malls, large grocery stores were very infrequent, no credit cards (pay cash for everything), no cell phone we had party lines (4-5 households to one phone line).  No computers, no video games, black & white TV with maybe 5 stations.  Listened to a lot of radio shows.  Was a time when few if any locked their doors, very little crime & violence.  Yes for the most part people were religious and had morals, an believed in small government, and for the most part government stayed out of our daily lives. Everyone knew everyone in the neighborhood, kids played outside with no problems.  Civilization has advanced, but not for the better.  People were poor back then but managed and for the most got along.  The old days were slower, we worked hard, saved (if we could), and did our best with what we had. Got an education, whatever it was, and were glad we got one or any. Yes, there were some losers on the public dole, but very few. That is why our generation is the last great generation.
Are you sure you want to delete this comment?
beauty tips and style advice
The famous Parisian shoe designer has unveiled a luxurious new nail polish, his first foray into the world of beauty, and there are no prizes for guessing what color it comes in.

Average shoe size is up about two sizes since the '70s, study says.

They can't escape wedding season, so they might as well look their best.

Front-row style star Miroslava Duma just clears 5′, Oscar winner Reese Witherspoon one-ups her—literally—at 5′ 1″, and fashion crush Rachel Bilson barely tops them both at a whopping 5′ 2″. But aside from standing at the diminutive end of the height spectrum, these three ladies have something else in common: the ability to nail every summer fashion trend. If you're part of the petite girls' club, take a look at these 12 fashion essentials—from closet staples to chic accessories—to keep you at the top of your style game this summer.

Quick, easy, everywhere-appropriate: There's no summer piece quite as versatile--or flattering.

These fresh, cute outfit ideas range from unexpected mash-ups to completely coordinated looks. What they all have in common is they'll get you out the door feeling totally confident.

Because it actually takes some makeup—maybe even a few false lashes—to look beautifully bare-faced.

Make a good impression by presenting the best form of yourself. Even when luck's against you--for instance, you encounter a huge zit the week before an important presentation--take action now. Here are fixes for your most common grooming mishaps.

We're still dreaming about Olivia Palermo's unconventional yet impossibly chic wedding-day ensemble. The shorts! The jutting tulle skirt overlay! The creamy cashmere sweater! Everything about this layered look is as trend-setting as it is unique.And though she may be the first star to walk down the aisle in shorts, Olivia isn't the first celebrity to say "I do" in something nontraditional. Several boundary-pushing stars have skipped the all-white look, and instead opted for a colorful wedding dress.

Keep your tresses looking their best, even on the muggiest of summer days, with these tips

Wide-leg pants are blowing up. Six women show us how to style a pair by Lauren Ralph Lauren.

It's the best and worst time to be a single girl in the dating world. On the one hand, past generations of women didn't have the freedom, financial independence, access to birth control (depending on your state and employer, of course), or plethora of options to meet new people—online and off—that we enjoy today. On the other hand, they also didn't have to worry about sexting, selecting the best selfie for their profile picture, or accidentally swiping right on a coworker.