Fashion trucks are the new food trucks
Henry Holland launches a store on wheels!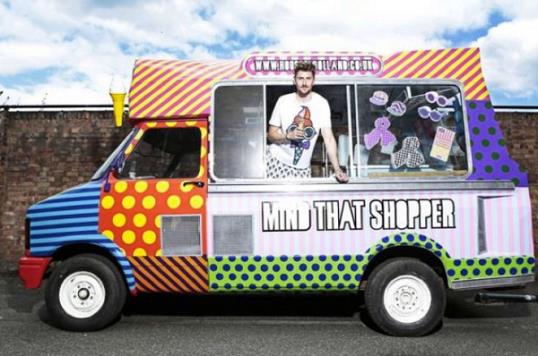 Warby Parker does it, Soludos does it in a cute retro-beachy way, Aether has a killer Airstream version. All over the country, fashion brands retailers are eschewing traditional brick-and-mortar shops and taking their wares mobile — as in, on trucks and other vehicles, bringing their awesome stuff direct to consumers.
More from Glamour: 25 Celebrity Hairstyles That Will Make You Want Bangs
The latest designer to jump on the four-wheeled bandwagon is London's T-shirt king
Henry Holland
. The House of Holland ice cream truck — which is called Mr. Quiffy — is painted in a smattering of Holland's signature bold, graphic prints and is in business all summer long — driving around the U.K. hawking the brand's late-summer collection.
More from Glamour: 10 Wardrobe Essentials Every Woman Should Own
"I wanted to have my own store; I wanted to do something that was fun and inventive and something that's a little bit fresh for a high summer collection," Holland
told Reuters
. "Setting up an ice cream van is such a less, lesser cost than setting up a store in bricks and mortar, you know, and I'm able to have this physical presence on the high street from this really, you know, eye-catching way with much less a budget."
More from Glamour:
15 Hair-Color Makeover Ideas to Try in 2013
Throughout the month of August, check out
the House of Holland Twitter feed
to find out where
#MrQuiffy
will be parked every day. That's where you'll find Holland's brand-new collection, as well as some exclusive pieces (including accessories and eyewear) that can only be bought from the mobile store.
Subscribe to Simply Chic
| Friend us on
Facebook
| Follow us on
Twitter
| Find us on
Pinterest
More from Glamour:
53 Swimsuits that Make You Look 10 Pounds Thinner
35 Truths About Marriage--From a Guy's Point of View
10 Hot Date-Night Outfits (According to Guys)
Photo: Courtesy of Glamour

Years back in Baltimore the "fences" used to sell clothing stolen from the docks by going from bar to bar in small trucks selling clothing. A lot ot these guys actually worked on the piers and did this as a sideline. There wasn't much that couldn't be bought in front of the North Point Road taverns. Most of these places are gone now that the steel mill has closed.
My grandfather was doing this a LONG TIME AGO!!!  He was well known around the neighborhood and around certain parts of our city, but had problems with thieves who wanted to rob him (a then 70 yr old man).  He sold BRAND NAME clothes at a discount and on a "pay as u go" plan for the poor & needy. Unfortunately, at the end of it all these people left balances that we tried to collect on but led us on run arounds.  He had a big heart & didn't have any regrets or ill will towards them.  May he rest in peace & I'm positive his giving back to the community was a great honor.

Truck selling items is nothing new.  When I was a youngster, milk, eggs, and butter were delivered by truck, there were trucks that sold produce, trucks that bought rags by the burlap bag and metals, also ice cream trucks.  At the rate things are going in the USA, there old days may become the new days.   There were no malls, large grocery stores were very infrequent, no credit cards (pay cash for everything), no cell phone we had party lines (4-5 households to one phone line).  No computers, no video games, black & white TV with maybe 5 stations.  Listened to a lot of radio shows.  Was a time when few if any locked their doors, very little crime & violence.  Yes for the most part people were religious and had morals, an believed in small government, and for the most part government stayed out of our daily lives. Everyone knew everyone in the neighborhood, kids played outside with no problems.  Civilization has advanced, but not for the better.  People were poor back then but managed and for the most got along.  The old days were slower, we worked hard, saved (if we could), and did our best with what we had. Got an education, whatever it was, and were glad we got one or any. Yes, there were some losers on the public dole, but very few. That is why our generation is the last great generation.
Are you sure you want to delete this comment?
beauty tips and style advice
Click through the slideshow to shop some of our spring favorites.

French braid? Been there. Fishtail? Done that. The newest styles are all about unexpected texture, major volume, and one man's wild imagination.

Long hair, don't care? Think again…

She dishes on the routine that keeps her looking polished, even when she's pulling up to the <i>Mad Men</i> set at 5 a.m. Plus, the fragrance that helps Christina get her Joan on.

For inspiration, we've rounded up gorgeous (and easy to replicate) wedding makeup looks from the red carpet.

With a few insider tricks, you can enjoy short hair 365 days of the year and have a gorgeous style on your wedding day. Wedding hairstyles for short hair do exist.

I'm beyond excited to finally ditch my winter coat and heavy layers, but I'm not so eager to ditch my tights. Let's just say my legs are not as smooth and bronzed as they were the last time I showed them off many, many months ago.

After a jam-packed week in New Zealand, Kate Middleton and Prince William finally enjoyed a day off, but as of last night (or this morning..? Ah, time change!) they're back on the road again.

These travel-sized beauty products will do double-duty while you're on the road.

Neatly sidestepping high fashion, the smiling, cheerful Kate Middleton is fast becoming the Duchess of Normcore.

This December, New Yorkers might notice something missing in the Christmas air.

When Madonna posted an image of herself wearing a full on Game of Thrones Khaleesi costume on Instagram last week we weren't exactly surprised—this is the woman who rolled into the Grammy Awards wearing a tuxedo and a grill earlier this winter, so why not celebrate the Jewish holiday of Purim with a leather corset and a pair of tiny dragons? Still, we were hypnotized by her white-blonde, braided Daenerys Targaryen hair. Functioning as a bleached out cultural weather vane of sorts, it tapped into multiple obsessions at once—the return of "Game of Thrones" to HBO, spring's new extreme hair lengths and, most notably, fashion's current platinum mania. Our own love of ice-blonde hair—which transforms any look from everyday to extraordinary—has been well documented of late, but last night's Game of Thrones premiere sent our platinum fever into overdrive. In celebration of fashion's favorite hair color, a look at the best platinum moments in history.