Fashion trucks are the new food trucks
Henry Holland launches a store on wheels!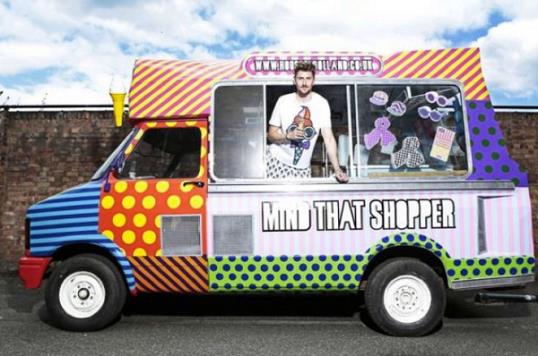 Warby Parker does it, Soludos does it in a cute retro-beachy way, Aether has a killer Airstream version. All over the country, fashion brands retailers are eschewing traditional brick-and-mortar shops and taking their wares mobile — as in, on trucks and other vehicles, bringing their awesome stuff direct to consumers.
More from Glamour: 25 Celebrity Hairstyles That Will Make You Want Bangs
The latest designer to jump on the four-wheeled bandwagon is London's T-shirt king
Henry Holland
. The House of Holland ice cream truck — which is called Mr. Quiffy — is painted in a smattering of Holland's signature bold, graphic prints and is in business all summer long — driving around the U.K. hawking the brand's late-summer collection.
More from Glamour: 10 Wardrobe Essentials Every Woman Should Own
"I wanted to have my own store; I wanted to do something that was fun and inventive and something that's a little bit fresh for a high summer collection," Holland
told Reuters
. "Setting up an ice cream van is such a less, lesser cost than setting up a store in bricks and mortar, you know, and I'm able to have this physical presence on the high street from this really, you know, eye-catching way with much less a budget."
More from Glamour:
15 Hair-Color Makeover Ideas to Try in 2013
Throughout the month of August, check out
the House of Holland Twitter feed
to find out where
#MrQuiffy
will be parked every day. That's where you'll find Holland's brand-new collection, as well as some exclusive pieces (including accessories and eyewear) that can only be bought from the mobile store.
Subscribe to Simply Chic
| Friend us on
Facebook
| Follow us on
Twitter
| Find us on
Pinterest
More from Glamour:
53 Swimsuits that Make You Look 10 Pounds Thinner
35 Truths About Marriage--From a Guy's Point of View
10 Hot Date-Night Outfits (According to Guys)
Photo: Courtesy of Glamour

Years back in Baltimore the "fences" used to sell clothing stolen from the docks by going from bar to bar in small trucks selling clothing. A lot ot these guys actually worked on the piers and did this as a sideline. There wasn't much that couldn't be bought in front of the North Point Road taverns. Most of these places are gone now that the steel mill has closed.
My grandfather was doing this a LONG TIME AGO!!!  He was well known around the neighborhood and around certain parts of our city, but had problems with thieves who wanted to rob him (a then 70 yr old man).  He sold BRAND NAME clothes at a discount and on a "pay as u go" plan for the poor & needy. Unfortunately, at the end of it all these people left balances that we tried to collect on but led us on run arounds.  He had a big heart & didn't have any regrets or ill will towards them.  May he rest in peace & I'm positive his giving back to the community was a great honor.

Truck selling items is nothing new.  When I was a youngster, milk, eggs, and butter were delivered by truck, there were trucks that sold produce, trucks that bought rags by the burlap bag and metals, also ice cream trucks.  At the rate things are going in the USA, there old days may become the new days.   There were no malls, large grocery stores were very infrequent, no credit cards (pay cash for everything), no cell phone we had party lines (4-5 households to one phone line).  No computers, no video games, black & white TV with maybe 5 stations.  Listened to a lot of radio shows.  Was a time when few if any locked their doors, very little crime & violence.  Yes for the most part people were religious and had morals, an believed in small government, and for the most part government stayed out of our daily lives. Everyone knew everyone in the neighborhood, kids played outside with no problems.  Civilization has advanced, but not for the better.  People were poor back then but managed and for the most got along.  The old days were slower, we worked hard, saved (if we could), and did our best with what we had. Got an education, whatever it was, and were glad we got one or any. Yes, there were some losers on the public dole, but very few. That is why our generation is the last great generation.
Are you sure you want to delete this comment?
beauty tips and style advice
We're sure this enigmatic purple shade will be everywhere next year, from fashion and beauty to home, and we're pumped for its impending takeover. We've rounded up some of our favorite celebrity looks in Radiant Orchid, including Jessica Paré, Kristen Bell, Amy Adams, and Krysten Ritter, to give you a preview of what you can expect to see in 2014. Commit Radiant Orchid to memory—you're going to be spotting much more of it in the coming months.

What do you wear to a holiday party? Whether you're heading to a family shindig or an after-work office soiree, crib these style tips and lessons learned from some of our favorite celebrity dos and don'ts of the festive season.

We caught up with the new mommy to find out the trick to keeping her makeup on point—even when she's not in front of the cameras.

Kristen Stewart is known for her casual style, both on and off the red carpet

You can rent a couture dress or a designer bag, but would you rent hair extensions?

To get the scoop on quick office party beauty tricks, we turned to Landy Dean, celebrity makeup artist at Marie Robinson salon. His simple tutorial requires only a handful of products, starting with the darkest, inkiest eyeliner you can find. Dean swears by the Nars Larger Than Life liners smudged over the waterline and lashline, topped off with a few coats of Maybelline The Falsies mascara. Before you dash off to apply product, there's one small step that involves removing makeup. "If your foundation and concealer have caked or creased, I recommend a quick removal with a cleansing towelette and a redo to avoid heavy looking skin," he cautions. For those who would prefer to go the easy route, apply a hydrating moisturizer using a stippling motion and a sponge. Finish the look with a dusting of BareMinerals Mineral Veil—"this will even out discolorations and give a reflective finish that still looks natural"—swap your work bag for a chic clutch, and get ready to ring in the season.

Here's something to brighten up your Tuesday afternoon: The brilliant minds at Moschino have always been masters at combining fashion and whimsical, quirky humor—and this season, they've gone and outdone themselves.

It's looking to be a winter wonderland out there today and that means extreme sweater weather.

Check out these mind-blowing runway photos.

Click to see 10 must-have hair tools to streamline your beauty routine.

See 9 of the prettiest holiday hair accessories for the holidays.

Here's how to choose the neckline style that looks best on you.