This man gave his wife 55,000 dresses over 56 years of marriage
Now they're selling them all.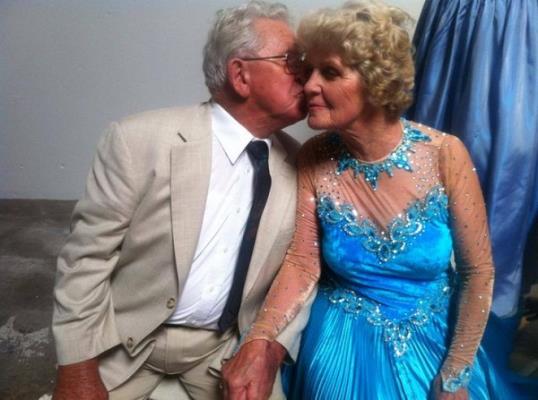 by Danica Lo

As a young man in the 1950s, Paul Brockmann worked at the seaport in Bremen, Germany. One day, a shipment came in from which he was allowed to pick out a few things he wanted. He chose 10 dresses and gave them to his then-girlfriend, now-wife Margot. That was the beginning of a glorious collection — over the past 56 years of marriage, Paul has given his wife more than 55,000 dresses.

"I was fascinated by the dresses from the '50s," he told the L.A. Weekly. "The petticoats and the wide skirts made a woman look real feminine. And that is what I really liked. When I seen a gal with a dress like that, I wanted to get her on the dance floor."

Soon, the dress-shopping became more than just a passing interest — and turned into an obsession.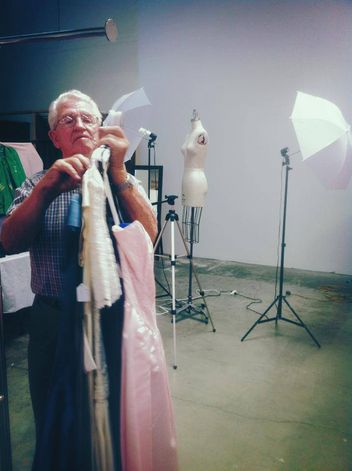 "I kept collecting dresses," he says. "With my wife in mind that she's gonna wear 'em. We went ballroom dancing every week, and I wanted her to have a different dress for every dance."

Now 78 years old, Paul and his wife — who'd until recently kept their massive collection of vintage dresses a secret from everyone, including their daughter, Louise, who only discovered the stash last year — are at a crossroads.

More from Glamour: Olivia Wilde's Dos and Don'ts of Getting Older

"I walk around here and I still can't believe it," says Louise, who discovered part of the collection in her parents' garage last year — the rest of the dresses live in a warehouse space in Gardena, Calif. "Honestly, I don't think he had any idea what was gonna happen with these in the future. It's, like, what are you saving them for?"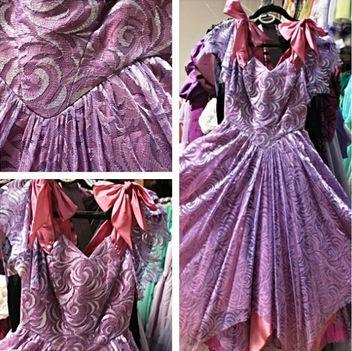 Facing mounting costs for storage — topping out at nearly $2,200 a month — Louise convinced her parents to start selling bits and pieces of their enormous collection. In the first year, they made sales to vintage stores around the country as well as larger corporations such as Urban Outfitters and ModCloth. They opened up their warehouse to teenagers, who bought dresses for prom, and to designers looking for inspiration.

Now the couple are taking to the Internet. They've launched 55thousanddresses.co​m, where you can browse a small selection of vintage dresses for sale, as well as a Facebook page, where dress lovers can find out how to make an appointment to visit their warehouse.

"Margot is the love of my life and has remained so to this very day," Paul writes on his website. "I followed her to the United States and was disowned by my own family for doing so back in the '50s. We first lived in the Midwest and with time traveled West and settled in Los Angeles, California. The dress collection grew as I searched far and wide at estate sales, department stores, yard sales and antique shows. Always looking to buy more dresses for Margot, everywhere and anywhere I went."

More from Glamour: The 10 Prettiest Hair, Nail and Makeup Looks for Fall 2013

What do you think about this love story laced with fashion? Talk about holding on to things for sentimental value! Is it smart — or heartbreaking — that Paul and Margot are parting with their dress collection?

Tell us what you think in the comments, below.

Subscribe to Simply Chic | Friend us on Facebook | Follow us on Twitter | Find us on Pinterest

Bing: Marriages that last

More from Glamour:
25 Celebrity Hairstyles That Will Make You Want Bangs
10 Wardrobe Essentials Every Woman Should Own
15 Hair-Color Makeover Ideas to Try in 2013
Photos via 55 Thousand Dresses Facebook
beauty tips and style advice
Click through the slideshow to shop some of our spring favorites.

French braid? Been there. Fishtail? Done that. The newest styles are all about unexpected texture, major volume, and one man's wild imagination.

Long hair, don't care? Think again…

She dishes on the routine that keeps her looking polished, even when she's pulling up to the <i>Mad Men</i> set at 5 a.m. Plus, the fragrance that helps Christina get her Joan on.

For inspiration, we've rounded up gorgeous (and easy to replicate) wedding makeup looks from the red carpet.

With a few insider tricks, you can enjoy short hair 365 days of the year and have a gorgeous style on your wedding day. Wedding hairstyles for short hair do exist.

I'm beyond excited to finally ditch my winter coat and heavy layers, but I'm not so eager to ditch my tights. Let's just say my legs are not as smooth and bronzed as they were the last time I showed them off many, many months ago.

After a jam-packed week in New Zealand, Kate Middleton and Prince William finally enjoyed a day off, but as of last night (or this morning..? Ah, time change!) they're back on the road again.

These travel-sized beauty products will do double-duty while you're on the road.

Neatly sidestepping high fashion, the smiling, cheerful Kate Middleton is fast becoming the Duchess of Normcore.

This December, New Yorkers might notice something missing in the Christmas air.

When Madonna posted an image of herself wearing a full on Game of Thrones Khaleesi costume on Instagram last week we weren't exactly surprised—this is the woman who rolled into the Grammy Awards wearing a tuxedo and a grill earlier this winter, so why not celebrate the Jewish holiday of Purim with a leather corset and a pair of tiny dragons? Still, we were hypnotized by her white-blonde, braided Daenerys Targaryen hair. Functioning as a bleached out cultural weather vane of sorts, it tapped into multiple obsessions at once—the return of "Game of Thrones" to HBO, spring's new extreme hair lengths and, most notably, fashion's current platinum mania. Our own love of ice-blonde hair—which transforms any look from everyday to extraordinary—has been well documented of late, but last night's Game of Thrones premiere sent our platinum fever into overdrive. In celebration of fashion's favorite hair color, a look at the best platinum moments in history.