This man gave his wife 55,000 dresses over 56 years of marriage
Now they're selling them all.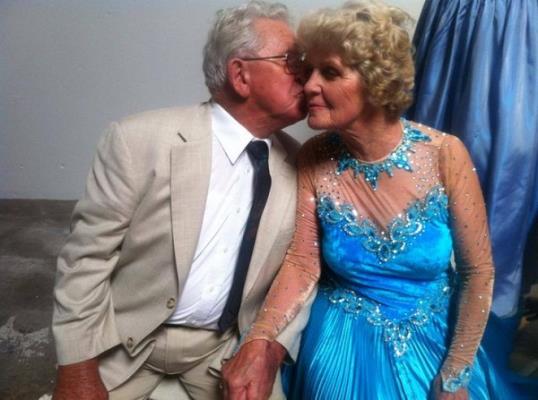 by Danica Lo

As a young man in the 1950s, Paul Brockmann worked at the seaport in Bremen, Germany. One day, a shipment came in from which he was allowed to pick out a few things he wanted. He chose 10 dresses and gave them to his then-girlfriend, now-wife Margot. That was the beginning of a glorious collection — over the past 56 years of marriage, Paul has given his wife more than 55,000 dresses.

"I was fascinated by the dresses from the '50s," he told the L.A. Weekly. "The petticoats and the wide skirts made a woman look real feminine. And that is what I really liked. When I seen a gal with a dress like that, I wanted to get her on the dance floor."

Soon, the dress-shopping became more than just a passing interest — and turned into an obsession.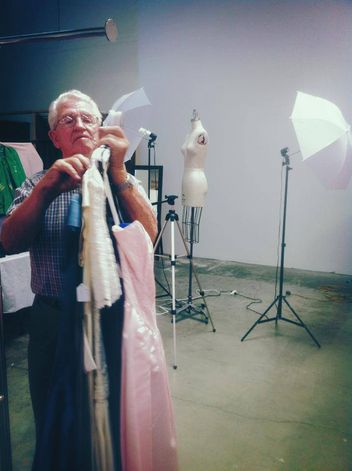 "I kept collecting dresses," he says. "With my wife in mind that she's gonna wear 'em. We went ballroom dancing every week, and I wanted her to have a different dress for every dance."

Now 78 years old, Paul and his wife — who'd until recently kept their massive collection of vintage dresses a secret from everyone, including their daughter, Louise, who only discovered the stash last year — are at a crossroads.

More from Glamour: Olivia Wilde's Dos and Don'ts of Getting Older

"I walk around here and I still can't believe it," says Louise, who discovered part of the collection in her parents' garage last year — the rest of the dresses live in a warehouse space in Gardena, Calif. "Honestly, I don't think he had any idea what was gonna happen with these in the future. It's, like, what are you saving them for?"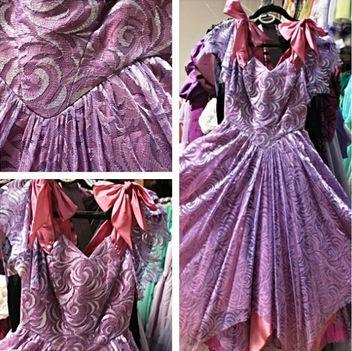 Facing mounting costs for storage — topping out at nearly $2,200 a month — Louise convinced her parents to start selling bits and pieces of their enormous collection. In the first year, they made sales to vintage stores around the country as well as larger corporations such as Urban Outfitters and ModCloth. They opened up their warehouse to teenagers, who bought dresses for prom, and to designers looking for inspiration.

Now the couple are taking to the Internet. They've launched 55thousanddresses.co​m, where you can browse a small selection of vintage dresses for sale, as well as a Facebook page, where dress lovers can find out how to make an appointment to visit their warehouse.

"Margot is the love of my life and has remained so to this very day," Paul writes on his website. "I followed her to the United States and was disowned by my own family for doing so back in the '50s. We first lived in the Midwest and with time traveled West and settled in Los Angeles, California. The dress collection grew as I searched far and wide at estate sales, department stores, yard sales and antique shows. Always looking to buy more dresses for Margot, everywhere and anywhere I went."

More from Glamour: The 10 Prettiest Hair, Nail and Makeup Looks for Fall 2013

What do you think about this love story laced with fashion? Talk about holding on to things for sentimental value! Is it smart — or heartbreaking — that Paul and Margot are parting with their dress collection?

Tell us what you think in the comments, below.

Subscribe to Simply Chic | Friend us on Facebook | Follow us on Twitter | Find us on Pinterest

Bing: Marriages that last

More from Glamour:
25 Celebrity Hairstyles That Will Make You Want Bangs
10 Wardrobe Essentials Every Woman Should Own
15 Hair-Color Makeover Ideas to Try in 2013
Photos via 55 Thousand Dresses Facebook
beauty tips and style advice
Every year, we look to the biggest names in bridal beauty and fashion design to pinpoint the hottest bridal hair and makeup ideas – keeping in mind of course that this is a wedding (no crazy neon mascara here). This year, bridal beauty has gone extra natural and romantic -- think messy braids, wispy hair, natural eye makeup and more.

You've got the dress. You've got the venue, date, and invitations. The last thing you need to complete your wedding day? An amazing pair of shoes to wear as you walk down the aisle!

With the dress as the main focus, you want the hair to be understated. An updo does just that. But there's a difference between understated and boring. Adding simple accessories, like a pin or flower, is just enough decoration to the hair. Let these gorgeous pins serve as inspiration for finding a simple, yet understated, wedding hairstyle.

Just when we were getting used to seeing beards everywhere, it may be time for men who enjoy the attention of the opposite sex to invest in some shaving paraphernalia. In a new University of New South Wales study, researchers found that "when people are confronted by a succession of bearded men, clean-shaven men become [...]

If your arm aches just thinking about blow-drying, take heart: These easy hair-saving tips will cut down on your mirror time and deliver salon-level results.

From designer maxi dresses by Roberto Cavalli and Temperley London to contemporary finds by Alice + Olivia and Zimmermann, there's a dress for every kind of seaside bride.

Mom jeans are back this spring.

We combed our favorite online shopping haunts to find 20 stunning options for the unconventional bride who'd rather splurge on the perfect flowers and a signature cocktail than her aisle-bound gown. These gowns and frocks from Rae Francis, Black Halo Eve and Jill By Jill Stewart €"plus one epic jumpsuit by Rachel Zoe €"are the perfect antidote to the strapless fishtail option most brides seem to favor right now. You're certainly not basic, so why would your dress be?

We've rounded up 10 red carpet inspirations for long hair wedding hairstyles that don't scream "bridal," but are perfect for a walk down the aisle.

We're not in the habit of feeling sorry for supermodels. We reserve our sympathy for a less fortunate set, namely, everyone else on planet Earth.

How to love everything in your closet

Every season, wedding dress designers unveil their latest collections, and without fail, there are a handful of designs that give us pause. We're talking about beautifully designed dresses -- not meant for the fainthearted. For the Fall 2014 and Spring 2015 collections, these are the ones.