11 secrets of really photogenic people
They might change your life, or at least your Facebook page.
by
Petra Guglielmetti
Having just renewed two government-issued IDs, I have been harshly reminded of what NOT to do when being photographed: stare straight-on at the camera, do a weird half-smile. As a beauty blogger, I've mastered looking cute in selfies, but as evidenced on my license and passport, when I don't dig into my bag of photo-posing tricks, I look --
intense
.
Subscribe to Simply Chic
The experience
traumatized/inspired​
me to investigate further why some people look so amazing in photographs. I picked three of my most photogenic Facebook friends – they always look
gorgeous
! – and asked them to reveal their personal photo-taking tricks. And, oh boy, did I get some good, extremely specific advice for you. Read on.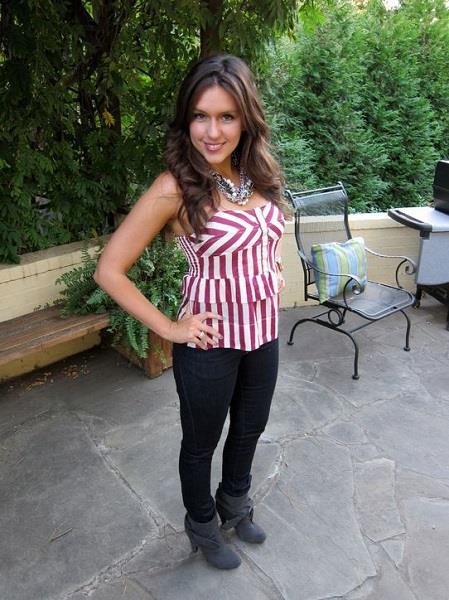 Eleanor Langston, beauty writer — Like me, she's photographed frequently for work and is constantly surrounded by beauty-obsessed people. All of this teaches a girl to pose. She also has unfairly perfect hair, but let's not get hung up on that for now.

Eleanor's look-great-in-photos​ tricks:

1. Play up your brows. "Darkening them by one shade with a pencil, wax or powder will frame your face and balance out your makeup. If I have to leave the house quickly, it's the one thing I do that makes a big difference."

2. Dress in sleek clothes. "It's sad, but some outfits (billowy tops, tunics) that look fab in real life often photograph oddly because you don't get the proportion of your skinny legs. For special events when you know there will be lots of Instagramming, either wear a slimmer-fitting top that hugs your silhouette or throw on a tailored blazer on top of your loose top to give you a more streamlined shape."

3. Master the chicken arm. "Everyone in America has gotten the memo that the 'chicken arm' (the cheerleader, hand-on-hip pose) will make your arms look more toned, but they often miss a key point: You have to put one arm on your hip but then angle it back, not straight out, so that your elbow is facing behind you instead of perpendicular to your body. This angle makes your pose look more natural than the chicken arm, but you still get that same toned effect."

4. Create angles. "My general rule for finding the most flattering picture is to remember that it's all about angles. Never stand facing the camera, but position your body to one side or the other and even cross one of your legs. If you don't want to cross your legs, then at least bend one of them to break up the shape."

5. Use this body-shrinking move. "I've found that if you lean into the camera and stick your head out forward and tilting down a little bit (it definitely takes practice, and you may look cray from the side!), your head will look bigger, giving you the optical illusion of a smaller body. I also cock one hip away from the camera, because whatever is closest to the camera always seems bigger."

More from Glamour: 30 Reasons Being a Woman Is Awesome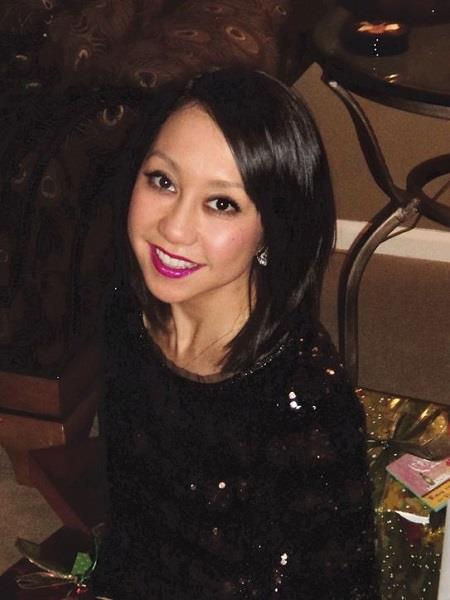 Monica Widmann, product development manager — Monica is the sister of my camera-obsessed sister-in-law, has a boyfriend who's into photography and happens to be half-Asian, which may involve a dominant photo-posing gene (according to my sister-in-law). OK, that all sounded really confusing, but all you really need to know is that Monica has truly mastered always looking amazing on camera.

1. Wear bright lipstick. This is one of the things that always makes Monica's photos stand out in my Facebook news feed. "I've been addicted to pop-color lips since kindergarten," she says. "Whether it's pink, red, orange or coral, every girl should have a go-to shade that brightens her smile in photographs. It really makes a difference."

2. Know your good side. "Any time a photo is taken of me, I fight my way into posing from my left side. This is difficult to explain, but the main reason is that my bangs swoop to the left. When I pose on the right, the focus is on where my hair parts, and it makes my forehead look bigger. Also, my nose looks smaller when I pose to the side versus straight on."

3. Squint just a little bit. "Like Tyra Banks says on 'America's Next Top Model,' I always try to 'smile with my eyes.' The best description I could find for this was
'squinting slightly to create small pillows beneath your eyes.' I also describe it as half-moon eyes, like you see on those cute Japanamation characters."

More from Glamour: 21 Style Don'ts to Live By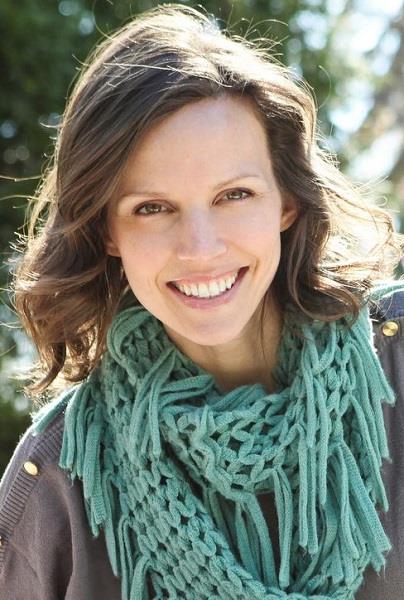 Robyn Myhr, model and photographer — OK, fine, Robyn has a leeetle advantage given her resume (oh, and her husband, Bryan, is a professional photographer), but I think that's just all the more reason we should steal her secrets.

Robyn's look-great-in-photos​ tricks:

1. Get silly. "Many people freeze up when the camera comes out, making them stiff and awkward-looking. To help you feel relaxed, think of something funny or just giggle to yourself."

2. Smile with your eyes. Wow, turns out this trick is pretty legit. "Yes, Tyra Banks knows what she is talking about," Robyn says. "Try smiling without moving any muscle in your eyes — it feels fake, flat and boring. Now try smiling just with your eyes. They say eyes are the window to your soul. Even when you don't smile with your mouth, but just with your eyes, you can take a good picture. Now put the both together — smile with your eyes and your mouth. Voila — beautiful!"

3. Create a little mystery. "There's a time and a place to look straight into to the camera, but for the most part, giving a little tilt to your head or turning your body slightly away from the camera gives your body a more interesting and relaxed shape."

What are your go-to tricks for looking great in photos? Will you be trying any of the advice here?
More from Glamour:
8 Easy Ways to Get Glowing Skin
10 Beauty Tricks That Make Guys Melt
30 Spring Outfit Ideas, Modeled by Glamour Editors

Bing: Dos and don'ts of social media
beauty tips and style advice
Average shoe size is up about two sizes since the '70s, study says.

They can't escape wedding season, so they might as well look their best.

Front-row style star Miroslava Duma just clears 5′, Oscar winner Reese Witherspoon one-ups her—literally—at 5′ 1″, and fashion crush Rachel Bilson barely tops them both at a whopping 5′ 2″. But aside from standing at the diminutive end of the height spectrum, these three ladies have something else in common: the ability to nail every summer fashion trend. If you're part of the petite girls' club, take a look at these 12 fashion essentials—from closet staples to chic accessories—to keep you at the top of your style game this summer.

Quick, easy, everywhere-appropriate: There's no summer piece quite as versatile--or flattering.

These fresh, cute outfit ideas range from unexpected mash-ups to completely coordinated looks. What they all have in common is they'll get you out the door feeling totally confident.

Because it actually takes some makeup—maybe even a few false lashes—to look beautifully bare-faced.

Make a good impression by presenting the best form of yourself. Even when luck's against you--for instance, you encounter a huge zit the week before an important presentation--take action now. Here are fixes for your most common grooming mishaps.

We're still dreaming about Olivia Palermo's unconventional yet impossibly chic wedding-day ensemble. The shorts! The jutting tulle skirt overlay! The creamy cashmere sweater! Everything about this layered look is as trend-setting as it is unique.And though she may be the first star to walk down the aisle in shorts, Olivia isn't the first celebrity to say "I do" in something nontraditional. Several boundary-pushing stars have skipped the all-white look, and instead opted for a colorful wedding dress.

Keep your tresses looking their best, even on the muggiest of summer days, with these tips

Wide-leg pants are blowing up. Six women show us how to style a pair by Lauren Ralph Lauren.

It's the best and worst time to be a single girl in the dating world. On the one hand, past generations of women didn't have the freedom, financial independence, access to birth control (depending on your state and employer, of course), or plethora of options to meet new people—online and off—that we enjoy today. On the other hand, they also didn't have to worry about sexting, selecting the best selfie for their profile picture, or accidentally swiping right on a coworker.

If you're anything like me, you probably haven't gone anywhere near a hair accessory for years—save for the few stretched-out Goody elastics tumbling around at the bottom of your handbag, the slightly rusty bobby pins gathering dust at the back of your medicine cabinet or that scrunchie you use to pull your hair back when washing your face in the morning. For as long as I can remember, hair adornments have been slapped with somewhat of a childish reputation; when's the last time you saw a girl over the age of 11 wearing a barrette or witnessed a woman past her teen years sporting a headband?