Latest Bizarre Beauty Trend: The Bagel Forehead?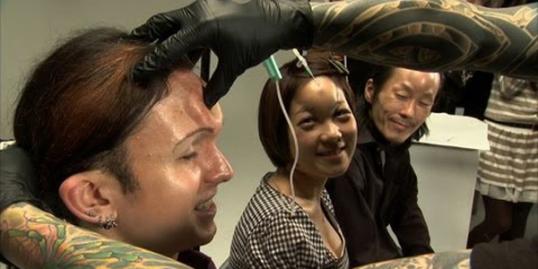 The things we do for beauty. Many of us will try out new and semi-bizarre beauty trends if it means adding a few years to our youthful glows or making us feel pretty, but men and women in Asia have been taking this concept to a whole new level. Case in point: the bagel injection.

Yes, you read correctly. The latest trend in beauty procedures over there just so happens to resemble our favorite Sunday breakfast item: the bagel. "National Geographic Taboo" reports on this strange beauty trend, where women (and men, too) are getting injected with 400 cc of saline to in their foreheads to create a bagel-like shape. Why? Just for fun. 

As National Geographic reports, this trend is part of the Japanese "body modification" art scene that has become popular (other body mod trends include head-to-toe tattoos and facial implants).

In fact, the injections only give that "coveted bagel look" for about 16 hours before fading. 

Bottom line: If you're trying something new to get attention, well, this may just do the trick. At least for a whole 16 hours.

Tell us: What are your thoughts on the bagel forehead beauty trend? 

beauty tips and style advice
The only thing better than discovering your favorite beauty product is finding one that does the job of two (or three!). Streamline your makeup kit with this versatile selection of hard-working essentials.

Buying a wedding dress doesn't have to break the bank. While you'll probably find a limited selection of wedding dresses for less than $300 at bridal boutiques, there are plenty of options in that price range if you check out less-traditional spots (think department stores and online-only shops). And don't overlook gowns intended for bridesmaids—or even prom season. A simple, unfussy dress becomes wedding-worthy with some sparkly accessories and veil. Here are stunning options with fabulous price tags.

Avoid the hype at the makeup counter by sticking to this list of tried and true performers that will help you look your best day in and day out.

See Kate's best looks from Australia.

The springtime is the best time to press the reset button on your wardrobe, and given the great new fashion that's hitting stores right now, there are a myriad of ways to reboot and refresh. Of the nine must-try trends this season, it can be tough to choose a favorite. Perhaps you're feeling for a graphic floral? And maybe the season's sport-luxe look fits your style too? That said, if you're picking battles where your budget is concerned, the idea of a complete spring makeover can be overwhelming. Fret not, our biannual 100+ Under $100 Guide pulls pieces inspired by both the runways and the pages of the magazine together—at the perfect price.

We raided the aisles to find the best cheapie formulas for you.

As of this morning, I have decided that Kate Middleton should just tour things forever so we get to see more updos like the one she wore last night at a reception hosted by the Governor General Peter Cosgrove in Canberra, Australia.

Dressing for the office doesn't have to boring. Follow these style and beauty tips and you'll be sure to impress.

Every year, we look to the biggest names in bridal beauty and fashion design to pinpoint the hottest bridal hair and makeup ideas – keeping in mind of course that this is a wedding (no crazy neon mascara here). This year, bridal beauty has gone extra natural and romantic -- think messy braids, wispy hair, natural eye makeup and more.

You've got the dress. You've got the venue, date, and invitations. The last thing you need to complete your wedding day? An amazing pair of shoes to wear as you walk down the aisle!

With the dress as the main focus, you want the hair to be understated. An updo does just that. But there's a difference between understated and boring. Adding simple accessories, like a pin or flower, is just enough decoration to the hair. Let these gorgeous pins serve as inspiration for finding a simple, yet understated, wedding hairstyle.

Just when we were getting used to seeing beards everywhere, it may be time for men who enjoy the attention of the opposite sex to invest in some shaving paraphernalia. In a new University of New South Wales study, researchers found that "when people are confronted by a succession of bearded men, clean-shaven men become [...]