Couples split over bad gifts, poll finds
What are these breakup-worthy presents?
Isn't it the thought that counts?
Well, thoughtless or not, a significant number of couples actually split over bad gift giving, according to a new poll.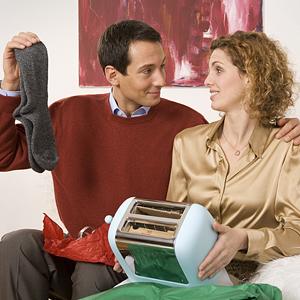 The survey finds that one in six couples have had a full-blown fight over a bad gift, and what's more, one in 20 couples have actually broken up for the same reason.
Related: 50 signs he's not that into you
John Starr Gift Card and Voucher Week, an annual event in November, commissioned the study, which included more than 2,000 men and women. Starr says he found it's mostly men who get gifts wrong. He told MSN's The Heart Beat:
 "It can be a little insulting for women when the person they know best in life hasn't got a clue what to get them."
But hey, it's not easy on guys, either:
"Even the most thoughtful of presents can be received with caution by women, who seem to assume that with every gift comes a hint."
Related: 20 'annoying' girl things he secretly loves about you
Bad gifting is nothing new, but the surprising statistic is that some couples actually split over poorly thought out presents.  I suppose if a relationship is liable to breakup over a present, the bond wasn't that strong to begin with. Or, maybe the gift was just that bad.
Starr also found that a whopping 80 percent of women think their partner genuinely tries but still gets the gift wrong. Conversely, 21 percent of men say their significant other doesn't get it right, either.
So what are these bad gifts that couples are receiving? Men complained that women have a tendency to buy them clothes and shoes they hate. Women, on the other hand, don't particularly appreciate sex toys or anti-aging products.
As the holidays close in on us, it's easy to get caught up in the materialism of gifting. But lovers, remember -- the greatest gifts are free. As Princess Diana once said: "I don't want expensive gifts … I just want someone to be there for me, to make me feel safe and secure." With that kind of support and love, who cares if you get an occasional bad gift?
But then again, Lady Di probably never got this.
At any rate, here are the top 10 gifts men get wrong, according to the study:
Underwear
Toiletries
Perfume
Kitchen utensils
Cheap jewelry
Chocolates
Shoes or slippers
Vacuum cleaner
Flowers
Exercise clothes or DVD
And the top 10 gifts women get wrong:
Clothes
Cheap gadgets
A man bag
Soft toys
Shoes
Jewelry
Chocolates
A meal out
Aftershave
A framed photo

Photo: Westend61/Getty Images
Bing: Get gift ideas for your boyfriend.
More Sex & Love on MSN Living:
How to determine if he's marriage material
10 habits that keep marriages strong
Marriage counselors: The trickiest issues we've ever solved
50 unique engagement rings
beauty tips and style advice
Avoid the hype at the makeup counter by sticking to this list of tried and true performers that will help you look your best day in and day out.

See Kate's best looks from Australia.

The springtime is the best time to press the reset button on your wardrobe, and given the great new fashion that's hitting stores right now, there are a myriad of ways to reboot and refresh. Of the nine must-try trends this season, it can be tough to choose a favorite. Perhaps you're feeling for a graphic floral? And maybe the season's sport-luxe look fits your style too? That said, if you're picking battles where your budget is concerned, the idea of a complete spring makeover can be overwhelming. Fret not, our biannual 100+ Under $100 Guide pulls pieces inspired by both the runways and the pages of the magazine together—at the perfect price.

We raided the aisles to find the best cheapie formulas for you.

As of this morning, I have decided that Kate Middleton should just tour things forever so we get to see more updos like the one she wore last night at a reception hosted by the Governor General Peter Cosgrove in Canberra, Australia.

Dressing for the office doesn't have to boring. Follow these style and beauty tips and you'll be sure to impress.

Every year, we look to the biggest names in bridal beauty and fashion design to pinpoint the hottest bridal hair and makeup ideas – keeping in mind of course that this is a wedding (no crazy neon mascara here). This year, bridal beauty has gone extra natural and romantic -- think messy braids, wispy hair, natural eye makeup and more.

You've got the dress. You've got the venue, date, and invitations. The last thing you need to complete your wedding day? An amazing pair of shoes to wear as you walk down the aisle!

With the dress as the main focus, you want the hair to be understated. An updo does just that. But there's a difference between understated and boring. Adding simple accessories, like a pin or flower, is just enough decoration to the hair. Let these gorgeous pins serve as inspiration for finding a simple, yet understated, wedding hairstyle.

Just when we were getting used to seeing beards everywhere, it may be time for men who enjoy the attention of the opposite sex to invest in some shaving paraphernalia. In a new University of New South Wales study, researchers found that "when people are confronted by a succession of bearded men, clean-shaven men become [...]

If your arm aches just thinking about blow-drying, take heart: These easy hair-saving tips will cut down on your mirror time and deliver salon-level results.

From designer maxi dresses by Roberto Cavalli and Temperley London to contemporary finds by Alice + Olivia and Zimmermann, there's a dress for every kind of seaside bride.