Couples split over bad gifts, poll finds
What are these breakup-worthy presents?
Isn't it the thought that counts?
Well, thoughtless or not, a significant number of couples actually split over bad gift giving, according to a new poll.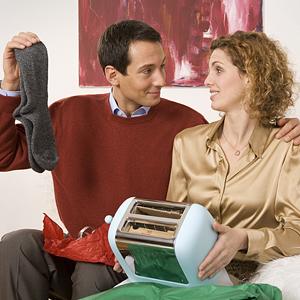 The survey finds that one in six couples have had a full-blown fight over a bad gift, and what's more, one in 20 couples have actually broken up for the same reason.
Related: 50 signs he's not that into you
John Starr Gift Card and Voucher Week, an annual event in November, commissioned the study, which included more than 2,000 men and women. Starr says he found it's mostly men who get gifts wrong. He told MSN's The Heart Beat:
 "It can be a little insulting for women when the person they know best in life hasn't got a clue what to get them."
But hey, it's not easy on guys, either:
"Even the most thoughtful of presents can be received with caution by women, who seem to assume that with every gift comes a hint."
Related: 20 'annoying' girl things he secretly loves about you
Bad gifting is nothing new, but the surprising statistic is that some couples actually split over poorly thought out presents.  I suppose if a relationship is liable to breakup over a present, the bond wasn't that strong to begin with. Or, maybe the gift was just that bad.
Starr also found that a whopping 80 percent of women think their partner genuinely tries but still gets the gift wrong. Conversely, 21 percent of men say their significant other doesn't get it right, either.
So what are these bad gifts that couples are receiving? Men complained that women have a tendency to buy them clothes and shoes they hate. Women, on the other hand, don't particularly appreciate sex toys or anti-aging products.
As the holidays close in on us, it's easy to get caught up in the materialism of gifting. But lovers, remember -- the greatest gifts are free. As Princess Diana once said: "I don't want expensive gifts … I just want someone to be there for me, to make me feel safe and secure." With that kind of support and love, who cares if you get an occasional bad gift?
But then again, Lady Di probably never got this.
At any rate, here are the top 10 gifts men get wrong, according to the study:
Underwear
Toiletries
Perfume
Kitchen utensils
Cheap jewelry
Chocolates
Shoes or slippers
Vacuum cleaner
Flowers
Exercise clothes or DVD
And the top 10 gifts women get wrong:
Clothes
Cheap gadgets
A man bag
Soft toys
Shoes
Jewelry
Chocolates
A meal out
Aftershave
A framed photo

Photo: Westend61/Getty Images
Bing: Get gift ideas for your boyfriend.
More Sex & Love on MSN Living:
How to determine if he's marriage material
10 habits that keep marriages strong
Marriage counselors: The trickiest issues we've ever solved
50 unique engagement rings
beauty tips and style advice
Sprinkle in these wet weather essentials so you'll be ready for whatever these springtime days bring.

Let's face it: winter's bitter cold left us feeling disillusioned with our wardrobes. So with warmer days ahead, it's time to shop for must-have pieces that'll keep your look fresh for months to come.

Every bride deserves to look flawless on her wedding day. So we say: Indulge a little. Book a facial (or six!) and invest in a great waterproof mascara. With this guide, getting ready for your big day has never been easier.

Reality TV: such a mindless guilty pleasure, mostly filled with questionable spray tans and insane hair extensions. But in honor of the season premiere of one of our favorites, The Real Housewives of Orange County, we decided to celebrate a select few reality stars who've displayed legitimately great hair and makeup. Yes, there actually are a few! And we had to go all the way back to The Real World of the mid-'90s to find our first.

I can't tell you how many times one ill-timed sneeze ruined all of my hard work with a mascara wand. #allergyproblems.

While we're not averse to shelling out upwards of $30 for an amazing lipstick, many of our standby lip colors cost a whole lot less than that. The drugstore is full of high-quality, long-lasting lipsticks in gorgeous shades that—wait for it!—ring in under $10. Click through above to shop our favorites!

What's the perfect add-on to your beauty look? A hair accessory, of course! Just when you think you've seen it all, every year there seems to be a new "it" hair piece that rules the moment. In the '50s, a dainty bow-tied head scarf was perfectly housewife-chic. In the '60s and '70s, real flower crowns officially became the epitome of boho style—your outfit simply wasn't complete without a daisy topper. Fast-forward to the '90s and you had a bevy of creative hair charms and baubles, including butterfly clips, hair wraps and those infamous bra strap headbands (shudder).

The right blush can warm up your complexion, create the illusion of cheekbones, and even make you look younger. (Yes, really!) Here, the most flattering shades for fair, medium, olive, and dark skin.

Think you can't put a price on looking younger? Well, we did—and it's $25. We challenged dermatologists to find great products that don't cost even one cent over that amount.

You want to dress in a way that's young and cool but that doesn't suggest you're on your way to a One Direction concert. "The trick to looking younger is adding one fashionable piece to a classic outfit," says stylist Cher Coulter. Here's how to nail it.

Hair color is one of the most effective anti-aging tools we have—except when it isn't. Take your dye job too far (or inky, or frosty) and you can add years to your appearance. Three top colorists weigh in on what to avoid.

News flash: Your youth fix doesn't have to come in a bottle—or a needle. Your hairstyle could actually take years off (or add them to) your look. Don't believe us? Check out these celebrities—each one gorgeous, of course, but also looking older due to certain overly perfect hairdos. Anti-aging tip number one? Mess it up a little.