Couples split over bad gifts, poll finds
What are these breakup-worthy presents?
Isn't it the thought that counts?
Well, thoughtless or not, a significant number of couples actually split over bad gift giving, according to a new poll.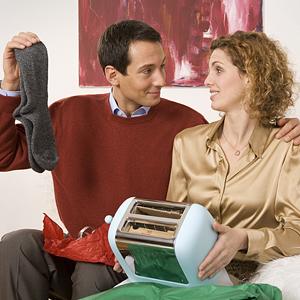 The survey finds that one in six couples have had a full-blown fight over a bad gift, and what's more, one in 20 couples have actually broken up for the same reason.
Related: 50 signs he's not that into you
John Starr Gift Card and Voucher Week, an annual event in November, commissioned the study, which included more than 2,000 men and women. Starr says he found it's mostly men who get gifts wrong. He told MSN's The Heart Beat:
 "It can be a little insulting for women when the person they know best in life hasn't got a clue what to get them."
But hey, it's not easy on guys, either:
"Even the most thoughtful of presents can be received with caution by women, who seem to assume that with every gift comes a hint."
Related: 20 'annoying' girl things he secretly loves about you
Bad gifting is nothing new, but the surprising statistic is that some couples actually split over poorly thought out presents.  I suppose if a relationship is liable to breakup over a present, the bond wasn't that strong to begin with. Or, maybe the gift was just that bad.
Starr also found that a whopping 80 percent of women think their partner genuinely tries but still gets the gift wrong. Conversely, 21 percent of men say their significant other doesn't get it right, either.
So what are these bad gifts that couples are receiving? Men complained that women have a tendency to buy them clothes and shoes they hate. Women, on the other hand, don't particularly appreciate sex toys or anti-aging products.
As the holidays close in on us, it's easy to get caught up in the materialism of gifting. But lovers, remember -- the greatest gifts are free. As Princess Diana once said: "I don't want expensive gifts … I just want someone to be there for me, to make me feel safe and secure." With that kind of support and love, who cares if you get an occasional bad gift?
But then again, Lady Di probably never got this.
At any rate, here are the top 10 gifts men get wrong, according to the study:
Underwear
Toiletries
Perfume
Kitchen utensils
Cheap jewelry
Chocolates
Shoes or slippers
Vacuum cleaner
Flowers
Exercise clothes or DVD
And the top 10 gifts women get wrong:
Clothes
Cheap gadgets
A man bag
Soft toys
Shoes
Jewelry
Chocolates
A meal out
Aftershave
A framed photo

Photo: Westend61/Getty Images
Bing: Get gift ideas for your boyfriend.
More Sex & Love on MSN Living:
How to determine if he's marriage material
10 habits that keep marriages strong
Marriage counselors: The trickiest issues we've ever solved
50 unique engagement rings
beauty tips and style advice
The redeeming factor of summer, sadly, not being endless? New seasons require a different wardrobe, and there's no time like the present to start your fall shopping. With autumn creeping up, I already know the boots and sweaters I'll be heaving out of the stuffed containers under my bed that I think of fondly as my second closet…but there's always room for fresh blood. I quizzed Shopbop's fashion director, Elle Strauss, for help with getting the best strategy in place. Herewith, the 10 pieces she suggests picking up now (plus chic ideas for how to start incorporating them into your current closet).

These jeans aren't just distressed, they're destroyed, and all the cooler for it — the perfect way to make a basic T-shirt feel totally badass.

These products are so great they've attained cult status among beauty insiders—yet you can find them just about anywhere without blowing your budget.

Those awesome back-to-school outfits are begging for some killer kicks! Strut down the hallway in fall's hottest shoe trends.

These stars don't sleep in a hyperbaric chamber (that we know of), yet they seem to look better with each passing year. That's because somewhere along the way, they discovered a few signature makeup tricks that make all the difference. Steal some of their game-changing moves.

Your closet update just got way easier. Sneakers, heels, boots, flats—we've got it all covered.

Dressing right gets tricky when summer turns to fall. It's too warm for tweed, but shorts just don't feel right anymore. Fortunately, Esquire's got it all figured out for you.

When you're flying in a metal tube at 30,000 feet, comfort trumps style. To help you avoid an in-flight fashion faux pas, avoid wearing the 5 items below.

In the pursuit of silky, swingy, frizz-free hair, there are a dizzying number of tempting in-salon services to choose from. We grilled chemists and stylists on what works (and what's safe). Here are the eight things you—and your hair—need to know before you commit.

Beauty products have a lot of power. Applied expertly, they can make you look vibrant, gorgeous and at least five years younger. If you aren't using them correctly, though, the same products can add a few years to your gorgeous visage. But before mothers of the bride go into panic mode, read on. We asked makeup artist Brigitte Reiss-Andersen, who's worked with the likes of Meryl Streep, Michelle Pfeiffer and Rachel Weisz, to divulge common beauty mistakes that you can nip in the bud before your daughter's wedding.

Some people apply makeup at a vanity that's crying out to be on Pinterest, and others rummage through a drawer overflowing with their 103 absolute must-have, use-daily products—but everybody can benefit from a few clever storage tricks. These are the smartest ways we've ever heard to keep your products and tools organized, accessible, and most of all, beautiful.

Squeeze days out of your style with smart tricks from blowout queen Alli Webb, founder of Drybar.