It's here: The onesie sweater for men
A cableknit onesie sweater for your man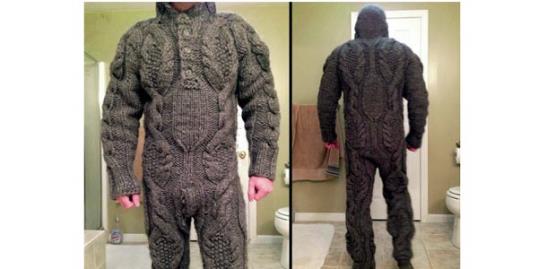 Our mouths were already hanging open earlier in the week after getting word that man tights (a.k.a. "meggings," as they've been dubbed) were rising in popularity. And now, the bar for strange male clothing continues to rise.

More from Living: The craziest nail designs of all time

We spied this full-body onesie on The Frisky and couldn't help but stare. A onesie cableknit sweater for dudes? Is this for real? It looks shockingly similar to what we would imagine an abominable snowman would wear (if, in fact, an abdominal snowman wore clothes in the first place, we which imagine he would not). 

More from Living: 20 party-ready hairstyles

The 'thick knit' sweater / bodysuit item was created by a Boston design studio for the man who just can't bear to shiver. How you go to the bathroom in that thing, well that's another story. 
Tell us: Would you buy your man a onesie?

Bing: Weirdest fashion trends 2012


Photo: Courtesy The Frisky
More from Simply Chic:

Latest trend for guys: Man tights
The biggest internet beauty trends of 2012
Three-year-old model walks the runway
fashion: trends & must-haves for your wardrobe
You may have spent years studiously ignoring your mother's advice (and she was right about that guy in high school, admit it), but eventually all that bossing and nagging adds up to something truly useful. Here, Allure staffers share their mothers' wisest words about beauty.

Just like a good pair of shoes, the right hair accessory can change your entire mood (and look!). We rounded up some of our favorites from the spring 2013 runways.

You can make your eyes look younger, brighter — even more lifted — in minutes, using just your basic makeup. Find your issue here, then follow our how-to guide to learn the techniques. It's so easy, you won't believe your eyes.

It's one of those workhorse pieces that can make women look crisp, laid-back, professional, or dead sexy. Meet the one shirt dress you'll wear for life.

Toss your tweezers. Everything from brows (thick!) to your workout is taking a cue from the Flintstones. Yabba-dabba-doo!

Big event? Focus on the outfit, because we've got your hair all figured out, whether you've got two minutes to do it or 20.