Are bras unnecessary?
A new study finds that wearing bras may make breasts sag sooner.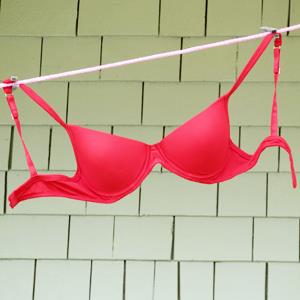 When it comes to supporting the girls, we've got just about every kind of bra out there to keep our boobs looking lifted and supple—strapless, sports bras, lifting, padded, lace, special occasion, you name it. It's one of the first things we put on in the morning and one of the last things we take off at night. But a new study claims we might be wasting our time wearing one. Instead, wearing a bra may actually be causing breasts to sag.

According to Mommylish, a new French study of over 300 women conducted by Jean-Denis Rouillon, a professor at the University of Franche-Comté in Besançon, bras may not be helping our breasts from sagging after all.
"Medically, physiologically, anatomically, the 
breast does not benefit from being deprived of gravity
," he said. The study took 15 years to complete and found that for each year a woman didn't wear a bra, they developed lifted, firmer breasts.
More Living Style:
How to be sexy: 7 weird (but true) rules of attraction
He went on to report the findings that in the long run, it was women who did not wear bras that benefited the most because they developed more muscle tissue to provide natural support. When a woman wears a bra, the restrictive material of it can prevent muscle  tissue from growing, which may then actually lead to accelerated sagging, sooner.
More Living Style:
13 celebrity hair switch-ups to try now
But do other doctors agree? "On the surface, this claim seems plausible," says Dr. Stafford Broumand, an NYC-based plastic surgeon, in regards to the theory that breasts can sag due to bra-wearing. "For younger women, not wearing a bra will lead to increased collagen production and elasticity, which improves life in a developing breast. Also, tension on the connective tissue and ligaments supporting the breast can be beneficial to help prevent sagging."
Tell us: Would you go without a bra?

More Simply Chic:
Summer fashion preview
Britain bans American Apparel ads (again)
Here's what Barbie looks like without makeup


Photo: Oliver Childs/Getty Images
beauty tips and style advice
Here's something to brighten up your Tuesday afternoon: The brilliant minds at Moschino have always been masters at combining fashion and whimsical, quirky humor—and this season, they've gone and outdone themselves.

It's looking to be a winter wonderland out there today and that means extreme sweater weather.

Check out these mind-blowing runway photos.

Click to see 10 must-have hair tools to streamline your beauty routine.

See 9 of the prettiest holiday hair accessories for the holidays.

Here's how to choose the neckline style that looks best on you.

This season, let your nails be as merry—and bright—as your mood.

Sure, a little black dress or le smoking is always on par for the party scene, but who says holiday dressing has to be so cut and dry? We have 15 ideas for switching it up this season—getting festive just got a whole lot more fun.

Super-fast (and easy) hair, makeup, and nail ideas that'll make you party-ready in minutes. Sorry, no more last-minute bailing because you're running late.

From straight and sleek to intricate braids and sky high topknots, some celebs just know how to do party hair

From a structured blazer to that awe-inducing statement clutch, Rachel Zoe shares her picks for December dressing with InStyle.com exclusively.

Simple style tricks to help your hair look better in an instant.