Are bras unnecessary?
A new study finds that wearing bras may make breasts sag sooner.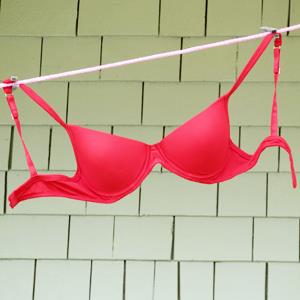 When it comes to supporting the girls, we've got just about every kind of bra out there to keep our boobs looking lifted and supple—strapless, sports bras, lifting, padded, lace, special occasion, you name it. It's one of the first things we put on in the morning and one of the last things we take off at night. But a new study claims we might be wasting our time wearing one. Instead, wearing a bra may actually be causing breasts to sag.

According to Mommylish, a new French study of over 300 women conducted by Jean-Denis Rouillon, a professor at the University of Franche-Comté in Besançon, bras may not be helping our breasts from sagging after all.
"Medically, physiologically, anatomically, the 
breast does not benefit from being deprived of gravity
," he said. The study took 15 years to complete and found that for each year a woman didn't wear a bra, they developed lifted, firmer breasts.
More Living Style:
How to be sexy: 7 weird (but true) rules of attraction
He went on to report the findings that in the long run, it was women who did not wear bras that benefited the most because they developed more muscle tissue to provide natural support. When a woman wears a bra, the restrictive material of it can prevent muscle  tissue from growing, which may then actually lead to accelerated sagging, sooner.
More Living Style:
13 celebrity hair switch-ups to try now
But do other doctors agree? "On the surface, this claim seems plausible," says Dr. Stafford Broumand, an NYC-based plastic surgeon, in regards to the theory that breasts can sag due to bra-wearing. "For younger women, not wearing a bra will lead to increased collagen production and elasticity, which improves life in a developing breast. Also, tension on the connective tissue and ligaments supporting the breast can be beneficial to help prevent sagging."
Tell us: Would you go without a bra?

More Simply Chic:
Summer fashion preview
Britain bans American Apparel ads (again)
Here's what Barbie looks like without makeup


Photo: Oliver Childs/Getty Images
beauty tips and style advice
Sunglasses: it may seem counterintuitive to invest in a wintertime accessory traditionally viewed as a sunny, warm-weather item. But spring is on the way and we're also currently being exposed to crazy amounts of UV rays—and then, of course, there's the reflective snow situation.

Some people look younger than they are, some look older. Even those with easy access to BOTOX and personal trainers. Can you guess the age of these celebrities?

Did anyone else hear wedding bells on the Oscars red carpet last night?

Then after the show, er, Oscars, it's the after party. Then after the party, it's the... Best Dressed List, of course. Nikki already picked her tops for the Academy Awards red carpet (did you vote yet?), so now it's time to see what the stars wore to the post-celebrations.

As I continue my personal campaign to swap out E!'s mani cam with a back-of-updo cam (and as a service to all the hardworking hairstylists who spent so much time creating beautiful hair looks for the 2014 Oscars), I'd like to point out that we miss a lot of gorgeous detail when we don't get the back view of a star's hair.

The bold new trend on the Oscars red carpet.

Trying new hairstyles is fun (have you picked up Allure Hair: The Ultimate How-To Hair Guide yet?).

When someone says "Julia Roberts," you think teeth. You think hair. But while you may not immediately think fashion, she has had a pretty consistent—and consistently pretty—style since her Mystic Pizza days: clean, classic, menswear-inspired looks that let her natural beauty—and rightly famous smile—take center stage. Here's how she has elevated that look over the years.

Lupita Nyong'o shows off the power of the pixie on the Oscars red carpet.

Walk a mile in a pair of SJP's stilettos? Well yes, we'd love to; thank you for asking.

Anti-aging doesn't have to take over your life. Here, expert tweaks to slow the clock.

We're at the tail end of a jam-packed awards season, with the grand finale—the Oscars, duh—just a few days away. We can't wait to see what our favorite nominees wear—we already know Jennifer Lawrence will step out in a breathtaking Dior, while we hope to see Lupita Nyong'o pick another brilliantly bold monochromatic gown. As for which designer she'll select—Gucci? Ralph Lauren?—that's anyone's guess.