Are bras unnecessary?
A new study finds that wearing bras may make breasts sag sooner.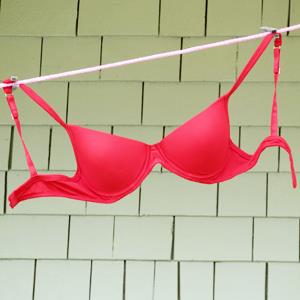 When it comes to supporting the girls, we've got just about every kind of bra out there to keep our boobs looking lifted and supple—strapless, sports bras, lifting, padded, lace, special occasion, you name it. It's one of the first things we put on in the morning and one of the last things we take off at night. But a new study claims we might be wasting our time wearing one. Instead, wearing a bra may actually be causing breasts to sag.

According to Mommylish, a new French study of over 300 women conducted by Jean-Denis Rouillon, a professor at the University of Franche-Comté in Besançon, bras may not be helping our breasts from sagging after all.
"Medically, physiologically, anatomically, the 
breast does not benefit from being deprived of gravity
," he said. The study took 15 years to complete and found that for each year a woman didn't wear a bra, they developed lifted, firmer breasts.
More Living Style:
How to be sexy: 7 weird (but true) rules of attraction
He went on to report the findings that in the long run, it was women who did not wear bras that benefited the most because they developed more muscle tissue to provide natural support. When a woman wears a bra, the restrictive material of it can prevent muscle  tissue from growing, which may then actually lead to accelerated sagging, sooner.
More Living Style:
13 celebrity hair switch-ups to try now
But do other doctors agree? "On the surface, this claim seems plausible," says Dr. Stafford Broumand, an NYC-based plastic surgeon, in regards to the theory that breasts can sag due to bra-wearing. "For younger women, not wearing a bra will lead to increased collagen production and elasticity, which improves life in a developing breast. Also, tension on the connective tissue and ligaments supporting the breast can be beneficial to help prevent sagging."
Tell us: Would you go without a bra?

More Simply Chic:
Summer fashion preview
Britain bans American Apparel ads (again)
Here's what Barbie looks like without makeup


Photo: Oliver Childs/Getty Images
beauty tips and style advice
Once the summer heat kicks in, it's all we can do not to slip into the breeziest beach dresses and flip-flops for the morning commute. So trust us when we say we understand that the humidity can have a powerful effect on your wardrobe — still, there are some things you just can't wear to your place of employment, no matter how hot it gets.

Wrinkle no blouse, tangle no jewelry, leave no beauty product behind, and still have room to spare.

Hue-changing dos we absolutely love.

Why your jean size varies from store to store.

Wait a month between waxing visits? Check. Pop a preappointment Advil? Duh. We all know the basics, but here are the tricks you don't know.

What to always—and never, ever—do to keep hair in top shape.

Get inspired to try these sweet and summery looks.

Stunning wedding styles that create a statement.

I attended the Abercrombie and Fitch holiday-season press preview yesterday, and in between checking out the cute gear that will hit stores this November, I picked up a little nugget of information I just have to share.

How to wear this cool-weather staple in the summer.

See how Miranda Kerr made a pair of Birkenstocks chic.

We love how a new nail polish has the ability to instantly change your look and your mood with a simple swipe. While happy lime greens and aquas are ruling the five million #nailpolish Instagrams this summer, there are a variety of great colors to choose from—whether you want an office-appropriate neutral or a fun going-out shade that'll give your LBD a punch of color.