Colorful Kors delves further into world of beauty
Kors says he's driven by perfection, and that means a total look.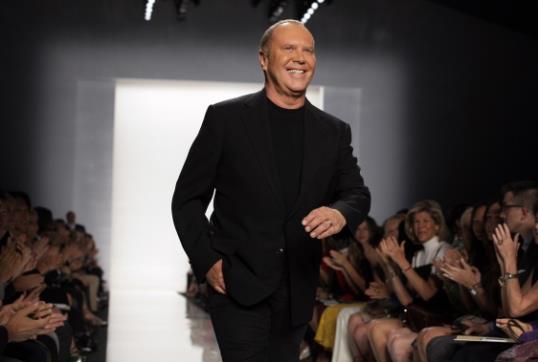 In this Sept. 12, 2012, file photo, designer Michael Kors acknowledges applause after his Spring 2013 collection was modeled during Fashion Week in New York. (AP Photo/Richard Drew)

NEW YORK (AP) — Michael Kors can't really be called just a fashion designer anymore. He's a full-fledged lifestyle brand, and that lifestyle is about to add color cosmetics and several new fragrances.

Kors says he's driven by perfection, and that means a total look. "Beauty is always such an important part of my runway. When we put on a fashion show — after this many years — I've learned the layers and the steps. When I first start thinking mood of the season, beauty is part of it from the start."

"The right dress with the wrong makeup is still wrong," he adds.

Kors' runway show is one of the hottest tickets of New York Fashion Week, which kicks off next week to preview styles of spring 2014.

Living fashion: Michael Kors' best fashion tips

Before that, though, Kors will be recognized by The Couture Council of The Museum at the Fashion Institute of Technology on Wednesday for his contribution in artistry to the industry.

He talked to The Associated Press about developing lifestyle products in a recent interview.

AP: How is the process different for you in developing beauty products versus clothing and accessories?

Kors: With accessories and clothes, first I have to fall in love with whatever it is, but then I get practical. Is the bag too heavy? Can you wear a bra with the dress? With beauty, it's more of a quick mood check. ... It's more gut. Immediately, if I smell something and it's evocative, I go with it. What takes so long is the packaging.
AP: What about beauty products?

Kors: When you buy something beauty, whether it's a lipstick, nail polish or a new fragrance, it's not a long shopping period. You either buy it or not. A perfume should take you away quickly — there's no trying on pants with a shoe, rolling the jean just right, pretending you have heels on when you try on a skirt.

AP: If women can get a pick-me-up from a new lipstick, how can you get that same quick fashion fix?

Kors: Considering I wear the same thing almost every day, there's not much I can do. For many men, the quick fix is the tie, and I don't wear a tie, so I change my aviators (sunglasses). I'll change the scale and color, whether it's vintage leather, gunmetal or gold, that's my mood quick-changer.

AP: There are three types of muses for your three new perfumes, Sexy, Sporty and Glam. Who are they?

Kors: There's the 'sexy,' who is all about confidence. She's not naked, she could be in jeans or a gown, but she's sexy. There's 'sporty,' the woman who could be headed to the red carpet or the gym, but she's the type who just goes. And there's 'glam,' who likes to be the center of attention.

AP: Did you have any of your famous friends in mind when you were making them?

Kors: I have a cast of characters that float by me, sometimes a friend, someone I work with, sometimes celebrity clients — all people who have those moods. For sporty, it's Blake Lively, can't you see her surfing and putting on a gown? Or Gwyneth (Paltrow) with her hair yanked back in a pony? Sexy is Angelina Jolie or Rihanna. They exude confidence. And then there's the glamorous Jennifer Lopez. She's never a wallflower. She goes big or goes home.

AP: Do you relate more to any one of the personas?

Kors: I'm sporty by nature in that I'm relaxed. I don't like to be stiff, but I'm the most uncoordinated sporty person. Roger Federer and I won't be playing sporty tennis anytime soon.

Subscribe to Simply Chic | Friend us on Facebook | Follow us on Twitter | Find us on Pinterest

More Simply Chic...
Michelle Obama looks fashionable in floral
Fashiony words that have been added to Oxford Dictionary
Are smaller fashion shows the next big thing?

Bing: Michael Kors new cosmetic line
beauty tips and style advice
Here's something to brighten up your Tuesday afternoon: The brilliant minds at Moschino have always been masters at combining fashion and whimsical, quirky humor—and this season, they've gone and outdone themselves.

It's looking to be a winter wonderland out there today and that means extreme sweater weather.

Check out these mind-blowing runway photos.

Click to see 10 must-have hair tools to streamline your beauty routine.

See 9 of the prettiest holiday hair accessories for the holidays.

Here's how to choose the neckline style that looks best on you.

This season, let your nails be as merry—and bright—as your mood.

Sure, a little black dress or le smoking is always on par for the party scene, but who says holiday dressing has to be so cut and dry? We have 15 ideas for switching it up this season—getting festive just got a whole lot more fun.

Super-fast (and easy) hair, makeup, and nail ideas that'll make you party-ready in minutes. Sorry, no more last-minute bailing because you're running late.

From straight and sleek to intricate braids and sky high topknots, some celebs just know how to do party hair

From a structured blazer to that awe-inducing statement clutch, Rachel Zoe shares her picks for December dressing with InStyle.com exclusively.

Simple style tricks to help your hair look better in an instant.