Perfect Pants
Gap's new Black Pant Collection offers seven flattering styles—and they're not all black.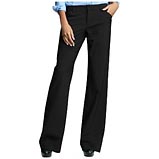 The perfect pair of black pants. Do they exist?

Let's be honest, even when you have found a great fitting pair that you want to wear forever, they don't last forever. The black begins to fade to a dimmer shade (not quite black, not quite gray) and the fit loses its crisp shape.

To the rescue: Gap's new Premium Black Pant Collection, offering a pant style for every body type. The seven silhouettes include the Perfect Trouser, Modern Boot, Curvy, True Straight, Really Skinny, Slim Crop and Boy Fit. The pants retail from $49.50 to $59.50, so they won't break the bank. Most of the pants are black, but they also come in navy pinstripe and gray (Bing: Shop for Gap black pants).

My favorite? The Perfect Trouser. The universally flattering style looks tailored and has a slightly flared leg). I was very impressed with the fit—not too snug and not too loose—and think they look expensive.

Another bonus feature: You can choose your pants' length (Ankle, Regular or Long). If you're in between lengths, why not buy two pairs—the shorter length for flats and the next longer length for heels?

So what do you think? Have you tried Gap's Black Pant Collection? Who makes your favorite black pants?

More on MSN Lifestyle: Get additional content on jeans perfect fit, fall fashion trends and latest beauty tips
beauty tips and style advice
Neatly sidestepping high fashion, the smiling, cheerful Kate Middleton is fast becoming the Duchess of Normcore.

This December, New Yorkers might notice something missing in the Christmas air.

When Madonna posted an image of herself wearing a full on Game of Thrones Khaleesi costume on Instagram last week we weren't exactly surprised—this is the woman who rolled into the Grammy Awards wearing a tuxedo and a grill earlier this winter, so why not celebrate the Jewish holiday of Purim with a leather corset and a pair of tiny dragons? Still, we were hypnotized by her white-blonde, braided Daenerys Targaryen hair. Functioning as a bleached out cultural weather vane of sorts, it tapped into multiple obsessions at once—the return of "Game of Thrones" to HBO, spring's new extreme hair lengths and, most notably, fashion's current platinum mania. Our own love of ice-blonde hair—which transforms any look from everyday to extraordinary—has been well documented of late, but last night's Game of Thrones premiere sent our platinum fever into overdrive. In celebration of fashion's favorite hair color, a look at the best platinum moments in history.

While you were sleeping, fast retail chain H&M H&M announced that its next designer collaboration is with Alexander Wang.

Formal, beachy, country club-chic or gorgeously rustic whatever the setting calls for, we've found a bevy of beautiful dresses to wear to a wedding this season.

Puffy, tired, weary no more. These tips take years off and create that "I slept great, thanks!" effect.