Perfect Pants
Gap's new Black Pant Collection offers seven flattering styles—and they're not all black.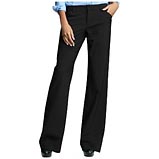 The perfect pair of black pants. Do they exist?

Let's be honest, even when you have found a great fitting pair that you want to wear forever, they don't last forever. The black begins to fade to a dimmer shade (not quite black, not quite gray) and the fit loses its crisp shape.

To the rescue: Gap's new Premium Black Pant Collection, offering a pant style for every body type. The seven silhouettes include the Perfect Trouser, Modern Boot, Curvy, True Straight, Really Skinny, Slim Crop and Boy Fit. The pants retail from $49.50 to $59.50, so they won't break the bank. Most of the pants are black, but they also come in navy pinstripe and gray (Bing: Shop for Gap black pants).

My favorite? The Perfect Trouser. The universally flattering style looks tailored and has a slightly flared leg). I was very impressed with the fit—not too snug and not too loose—and think they look expensive.

Another bonus feature: You can choose your pants' length (Ankle, Regular or Long). If you're in between lengths, why not buy two pairs—the shorter length for flats and the next longer length for heels?

So what do you think? Have you tried Gap's Black Pant Collection? Who makes your favorite black pants?

More on MSN Lifestyle: Get additional content on jeans perfect fit, fall fashion trends and latest beauty tips
beauty tips and style advice
In order to cope with the intense feelings of jealousy I experienced when seeing Jennifer Garner's flawless hairstyle last week, I decided to contact the stylist responsible for the look, Kylee Heath, and find out what exactly she did to produce these glorious results.

Apparently, every celebrity in the world decided to dye her hair over the last few days—or at least Duchess Catherine, Sienna Miller, and Pamela Anderson did.

It was the chicest family night out ever in London yesterday, as Victoria Beckham hit the red carpet, along with her ADORABLE sons, Brooklyn, little fashionisto Romeo, and Cruz, to support the premiere of the soccer football documentary Class of '92, featuring superstar dad David. And she looked perfect as always—in Victoria Beckham, of course.

There will always be a special place in our hearts for Pez—the completely absurd and impractical oblong candy that children are somehow meant to be patient enough to dispense, one by one, from a creaky plastic spring-loaded drawer contraption—and a newly minted shoe designer Camilla Elphick, a Cordwainers College graduate, has tapped into our oral fixation.

When it comes to her latest hair change, it's pretty clear that Sienna Miller was thinking pink!

She's followed by Michael Kors and Ralph Lauren.