File under "No way!": The Apollo spacesuits were made by Playtex
We'll never look at a bra in quite the same way again.
One small step for man, one giant leap for the undergarment industry?

We've just discovered perhaps one of the most fun facts in the history of the space program: The book Spacesuit: Fashioning Apollo (MIT Press) reveals that the outfits worn by first men on the moon Neil Armstrong and Buzz Aldrin were made by none other than...Playtex!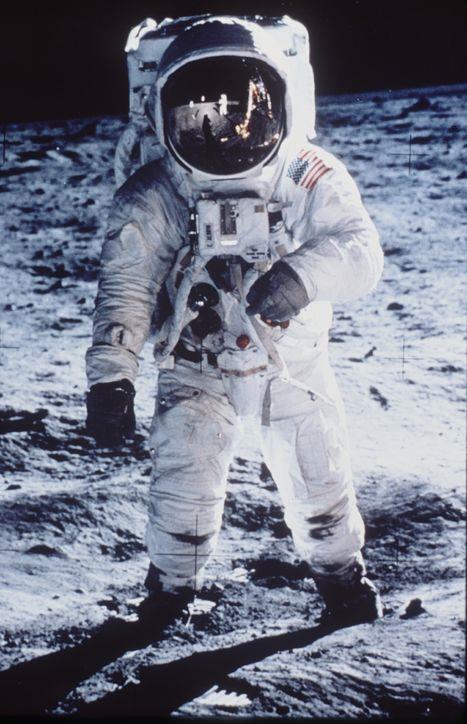 More from Glamour: 10 Turn-Ons That Aren't About Looks

The bra manufacturer was the underdog, to say the least, against a slew of military-industrial companies competing for the contract to design the spacesuits for the Apollo 11 mission. "Anticipating the space age, the International Latex Corporation (ILC), known by its consumer brand 'Playtex ,' conducted basic research on adapting its latex expertise to pressurized suits," the book explains. "Initially ignored, its research gained it center stage in Apollo suit manufacture after startling advances in mobility and comfort." Eventually, they created the A7L, which was comprised of 21 soft layers--a stark contrast to the other hopefuls' hard suits--and won the contract. "The spacesuit worn on the moon was not developed from military-industrial expertise, but rather adapted proficiency in underwear," the book reports. And even cooler? The suits themselves were sewn by assembly line seamstresses from Playtex.

More from Glamour: 30 Reasons Being a Woman Is Awesome 

How awesome is that!? We don't know about you, but we'll never look at a bra in quite the same way again...
Photo: Time & Life Pictures/Getty

More from Glamour:

10 Wardrobe Essentials Every Woman Should Own
The Best Coat for Your Body
10 Hot Date-Night Outfits (According to Guys)
Are you sure you want to delete this comment?
beauty tips and style advice
What to wear and what to avoid the next time you attend a wedding.

Want the most gorgeous hair of your life for your wedding day? Of course you do. Hairstylist Jen Atkin shares the top mistakes brides make that are getting in the way of that picture-perfect bridal hairstyle

So there are fashion mishaps. And then, there is the catastrophe known as....camel toe.

The top tips I've picked up thanks to my obsession with blowouts, highlights, and my favorite hairstylist.

Something happens to your head when you have a kid — not to mention your body completely changes, and you can barely recognize yourself through bleary eyes, a fog of tiredness, and matted hair from sleepless nights. Sounds sexy, right? But, when that glimmering light at the end of the tunnel is in the near distance and the kid actually starts to act like a human and sleep normal hours, just like magic, you start to look like your old self again.

Ever slip into the latest summer fashion trend and then realize it's not exactly traditionally attractive? So what? Today we're speaking out on behalf of our favorite awkward fashion trends, whether they're bulky, strangely proportioned, or just at the opposite end of sexy. If there's still something magnetic about its pull on you, we say go for it. It's all in the name of fashion.

One shopper's tweet of the emaciated-looking figure forced the store to take action.

Once the summer heat kicks in, it's all we can do not to slip into the breeziest beach dresses and flip-flops for the morning commute. So trust us when we say we understand that the humidity can have a powerful effect on your wardrobe — still, there are some things you just can't wear to your place of employment, no matter how hot it gets.

Wrinkle no blouse, tangle no jewelry, leave no beauty product behind, and still have room to spare.

Hue-changing dos we absolutely love.

Why your jean size varies from store to store.

Wait a month between waxing visits? Check. Pop a preappointment Advil? Duh. We all know the basics, but here are the tricks you don't know.