Does the way you hold your handbag reveal your personality?
Body language expert reveals insight on how women hold their purse.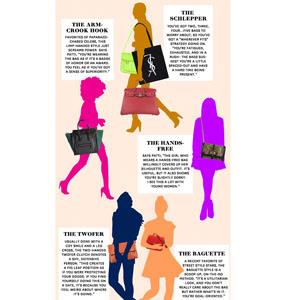 How do you schlep your handbag around town? Your purse-carrying style could be telling others what you're really like. A body language expert has revealed that the way a woman holds her handbag can reveal insight into her life and personality. The article was featured on Refinery 29.

If you carry your clutch with both hands and hold it in front of you, called the "Twofer," chances are you are shy or defensive.

More from Living: The top 10 fashion trends of 2012

Meanwhile, if you hold your bag under one arm like a clutch, you're doing the "Baguette," which is a "utilitarian look, and you don't really care about the bag, but rather what's in it. You're goal-oriented," says body language expert Patti Wood.

More from Living: The dos and don'ts of colored lace

And if you're like many of us who seem to be carrying large loads around via multiple purses slung over our shoulders at once (appropriately dubbed the Schlepper), you probably need a day off, because chances are you're the type that runs yourself ragged. "You're fatigued, exhausted, and in a rush," says Wood. "The bags suggest you're a little spaced-out and having a hard time being present."

See the rest of the bag-carrying styles at Refinery 29.

Tell us: How do you wear your handbag?
Bing: Does your style define your personality?


Photo: Refinery 29
More from Simply Chic:

Would you wear eyelash jewelry?
The hottest manicure styles of 2013
High heels make women look more attractive, study finds
beauty tips and style advice
One shopper's tweet of the emaciated-looking figure forced the store to take action.

Once the summer heat kicks in, it's all we can do not to slip into the breeziest beach dresses and flip-flops for the morning commute. So trust us when we say we understand that the humidity can have a powerful effect on your wardrobe — still, there are some things you just can't wear to your place of employment, no matter how hot it gets.

Wrinkle no blouse, tangle no jewelry, leave no beauty product behind, and still have room to spare.

Hue-changing dos we absolutely love.

Why your jean size varies from store to store.

Wait a month between waxing visits? Check. Pop a preappointment Advil? Duh. We all know the basics, but here are the tricks you don't know.

What to always—and never, ever—do to keep hair in top shape.

Get inspired to try these sweet and summery looks.

Stunning wedding styles that create a statement.

I attended the Abercrombie and Fitch holiday-season press preview yesterday, and in between checking out the cute gear that will hit stores this November, I picked up a little nugget of information I just have to share.

How to wear this cool-weather staple in the summer.

See how Miranda Kerr made a pair of Birkenstocks chic.