Does the way you hold your handbag reveal your personality?
Body language expert reveals insight on how women hold their purse.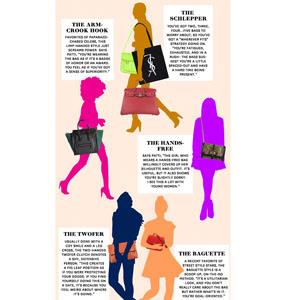 How do you schlep your handbag around town? Your purse-carrying style could be telling others what you're really like. A body language expert has revealed that the way a woman holds her handbag can reveal insight into her life and personality. The article was featured on Refinery 29.

If you carry your clutch with both hands and hold it in front of you, called the "Twofer," chances are you are shy or defensive.

More from Living: The top 10 fashion trends of 2012

Meanwhile, if you hold your bag under one arm like a clutch, you're doing the "Baguette," which is a "utilitarian look, and you don't really care about the bag, but rather what's in it. You're goal-oriented," says body language expert Patti Wood.

More from Living: The dos and don'ts of colored lace

And if you're like many of us who seem to be carrying large loads around via multiple purses slung over our shoulders at once (appropriately dubbed the Schlepper), you probably need a day off, because chances are you're the type that runs yourself ragged. "You're fatigued, exhausted, and in a rush," says Wood. "The bags suggest you're a little spaced-out and having a hard time being present."

See the rest of the bag-carrying styles at Refinery 29.

Tell us: How do you wear your handbag?
Bing: Does your style define your personality?


Photo: Refinery 29
More from Simply Chic:

Would you wear eyelash jewelry?
The hottest manicure styles of 2013
High heels make women look more attractive, study finds
beauty tips and style advice
And before you ask, sorry, the $325 dress is SOLD OUT on Matches.com and DVF.com—you snooze, you loose.

Click through the slideshow to shop some of our spring favorites.

French braid? Been there. Fishtail? Done that. The newest styles are all about unexpected texture, major volume, and one man's wild imagination.

Long hair, don't care? Think again…

She dishes on the routine that keeps her looking polished, even when she's pulling up to the <i>Mad Men</i> set at 5 a.m. Plus, the fragrance that helps Christina get her Joan on.

For inspiration, we've rounded up gorgeous (and easy to replicate) wedding makeup looks from the red carpet.

With a few insider tricks, you can enjoy short hair 365 days of the year and have a gorgeous style on your wedding day. Wedding hairstyles for short hair do exist.

I'm beyond excited to finally ditch my winter coat and heavy layers, but I'm not so eager to ditch my tights. Let's just say my legs are not as smooth and bronzed as they were the last time I showed them off many, many months ago.

After a jam-packed week in New Zealand, Kate Middleton and Prince William finally enjoyed a day off, but as of last night (or this morning..? Ah, time change!) they're back on the road again.

These travel-sized beauty products will do double-duty while you're on the road.

Neatly sidestepping high fashion, the smiling, cheerful Kate Middleton is fast becoming the Duchess of Normcore.

This December, New Yorkers might notice something missing in the Christmas air.