Authorities Seize $18 Million Worth Of Fake Louboutins!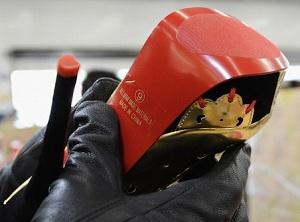 by Tracey Lomrantz Lester, Glamour

It's a crime of fashion even worse than wearing a white bra under a white T-shirt: The U.S. Customs and Border Protection seized a shipment of more than 20,000 pairs of fake Christian Louboutin shoes yesterday!

As ABC News reports, "U.S. Customs and Border Protection confiscated 20,457 pairs of counterfeit Christian Louboutin shoes at the Los Angeles/Long Beach seaport. According to the CBP, the knock-off shoes that were transported in five different shipments on a cargo ship in large boxes from China had a domestic value of more than $57,000, meaning it cost just less than $3 per pair to make them. Officials said there were enough of those red soles to add up to a suggested retail value of $18 million, an unbelievable profit."

Related: 31 Things to Wear This Month

So, what tipped authorities off that the stems were phonies? "The original [Christian Louboutin] shoe is made in Italy," said chief CBP officer Guillermina Escobar. "Once we saw it was coming in from China, we knew there was a problem with the shipment." The fakes are also pretty awful, if you ask us--check out the photo above, where they're clearly labeled "made in China" of "all man made materials."

Related: Ponytail Ideas to Steal From Celebs

Thankfully, all 20,000+ pairs will be destroyed, likely by burning.
Fashion industry 1, counterfeiters, 0!

Photo: Kevork Djansezian/Getty Images News

More from Glamour:
14 Seriously Cute Hairstyles for Curly Hair
7 Days of DIY Braids
14 Lies Men Tell Women


beauty tips and style advice
Once the summer heat kicks in, it's all we can do not to slip into the breeziest beach dresses and flip-flops for the morning commute. So trust us when we say we understand that the humidity can have a powerful effect on your wardrobe — still, there are some things you just can't wear to your place of employment, no matter how hot it gets.

Wrinkle no blouse, tangle no jewelry, leave no beauty product behind, and still have room to spare.

Hue-changing dos we absolutely love.

Why your jean size varies from store to store.

Wait a month between waxing visits? Check. Pop a preappointment Advil? Duh. We all know the basics, but here are the tricks you don't know.

What to always—and never, ever—do to keep hair in top shape.

Get inspired to try these sweet and summery looks.

Stunning wedding styles that create a statement.

I attended the Abercrombie and Fitch holiday-season press preview yesterday, and in between checking out the cute gear that will hit stores this November, I picked up a little nugget of information I just have to share.

How to wear this cool-weather staple in the summer.

See how Miranda Kerr made a pair of Birkenstocks chic.

We love how a new nail polish has the ability to instantly change your look and your mood with a simple swipe. While happy lime greens and aquas are ruling the five million #nailpolish Instagrams this summer, there are a variety of great colors to choose from—whether you want an office-appropriate neutral or a fun going-out shade that'll give your LBD a punch of color.