Authorities Seize $18 Million Worth Of Fake Louboutins!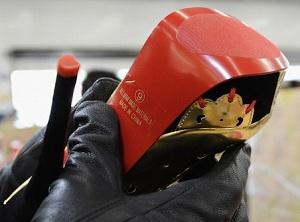 by Tracey Lomrantz Lester, Glamour

It's a crime of fashion even worse than wearing a white bra under a white T-shirt: The U.S. Customs and Border Protection seized a shipment of more than 20,000 pairs of fake Christian Louboutin shoes yesterday!

As ABC News reports, "U.S. Customs and Border Protection confiscated 20,457 pairs of counterfeit Christian Louboutin shoes at the Los Angeles/Long Beach seaport. According to the CBP, the knock-off shoes that were transported in five different shipments on a cargo ship in large boxes from China had a domestic value of more than $57,000, meaning it cost just less than $3 per pair to make them. Officials said there were enough of those red soles to add up to a suggested retail value of $18 million, an unbelievable profit."

Related: 31 Things to Wear This Month

So, what tipped authorities off that the stems were phonies? "The original [Christian Louboutin] shoe is made in Italy," said chief CBP officer Guillermina Escobar. "Once we saw it was coming in from China, we knew there was a problem with the shipment." The fakes are also pretty awful, if you ask us--check out the photo above, where they're clearly labeled "made in China" of "all man made materials."

Related: Ponytail Ideas to Steal From Celebs

Thankfully, all 20,000+ pairs will be destroyed, likely by burning.
Fashion industry 1, counterfeiters, 0!

Photo: Kevork Djansezian/Getty Images News

More from Glamour:
14 Seriously Cute Hairstyles for Curly Hair
7 Days of DIY Braids
14 Lies Men Tell Women


beauty tips and style advice
And before you ask, sorry, the $325 dress is SOLD OUT on Matches.com and DVF.com—you snooze, you loose.

Click through the slideshow to shop some of our spring favorites.

French braid? Been there. Fishtail? Done that. The newest styles are all about unexpected texture, major volume, and one man's wild imagination.

Long hair, don't care? Think again…

She dishes on the routine that keeps her looking polished, even when she's pulling up to the <i>Mad Men</i> set at 5 a.m. Plus, the fragrance that helps Christina get her Joan on.

For inspiration, we've rounded up gorgeous (and easy to replicate) wedding makeup looks from the red carpet.

With a few insider tricks, you can enjoy short hair 365 days of the year and have a gorgeous style on your wedding day. Wedding hairstyles for short hair do exist.

I'm beyond excited to finally ditch my winter coat and heavy layers, but I'm not so eager to ditch my tights. Let's just say my legs are not as smooth and bronzed as they were the last time I showed them off many, many months ago.

After a jam-packed week in New Zealand, Kate Middleton and Prince William finally enjoyed a day off, but as of last night (or this morning..? Ah, time change!) they're back on the road again.

These travel-sized beauty products will do double-duty while you're on the road.

Neatly sidestepping high fashion, the smiling, cheerful Kate Middleton is fast becoming the Duchess of Normcore.

This December, New Yorkers might notice something missing in the Christmas air.