Sex with an ex is common post-breakup
Plus, an expert tells us why revisiting romance is a terrible idea.
For many young adults, "ex sex" is just part of the breakup process. At least that's what a new study from Lucas County, Ohio has found.
Researchers collected data on 792 "emerging adults" between the ages of 17 to 24. All had been in a relationship in the past two years, and the study authors found that nearly half (44 percent) had hooked up with an ex post-breakup.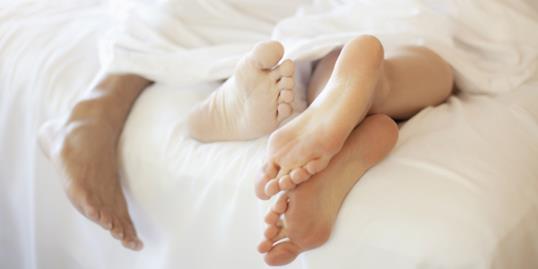 More on MSN Living: Kissing dos and don'ts
Researchers and relationship experts agree—post-breakup sex is a bad idea. In an article in the Journal of Adolescent Research, the study's authors wrote:
"Those who stay in contact following a breakup continue to feel the pain of the breakup more intensely and may have more difficulty moving on. Previous research found that college students who had sex with their exes mostly described this as a 'difficult or negative event.'"
More on MSN Living: 50 wedding cost-cutting tips from real brides
Dating expert Shay "
Your Date Diva
" Williams agrees. She's a certified dating and relationship coach and has written extensively on the topic of "ex sex." She tells
The Heart Beat
that young adults may be more likely to hop in the sack with an ex for three reasons:
"Most times it is their first time at love or really bonding with another, and it is hard to break away from those strong attachments."
Second, they lack the experience to realize that "sex with the ex is a dead end street that leads to more pain and heartache." And finally, it's a familiar and comfortable way to find sexual satisfaction. For young ladies, this may be especially appealing, as they can avoid the stigma of increasing their "sexual number," Williams explains.
Aside from the obvious issue of prolonged heartbreak, Williams says there are a variety of reasons why ex sex is an awful idea.
"My favorite saying is that 'if the paint was wet when you got up, it will be still wet when you try to sit back down!'  There is a reason why the relationship ended. Introducing sex into a situation with no boundaries leaves everyone emotionally vulnerable and unable to fully let go and trust each other.  This leads to a downhill spiral of dysfunction in the relationship as it removes any motivation for the male to win back the affections of his ex.  Sex with the ex is self-torture at it's best." 
If youth is wasted on the young, then so is precautionary advice. We've all lived through a time when "do now, think later" was our main mantra.  So what if you've already revisited romance and are now dealing with the repressions?
"The only way to start clearing your system of the surge of this hormone is to cut one's self off cold turkey," Williams tells us.  "It will hurt at first but with time, a growing self-love and determination, you will wonder what you ever saw in the ex in the first place."
More from The Heart Beat: 
Is courtship really dead?
Leaders are better at relationships, study finds
Cellphones are ruining relationships, study finds
Bing: It's divorce season?!
Love content like this? Friend us on Facebook, follow us on Twitter and find us on Pinterest
Photo: Assembly/Getty Images
fashion: trends & must-haves for your wardrobe
When morning talk shows and local newspapers dole out their seasonal swimsuit shopping advice, I'm usually pretty disappointed by the lack of body types represented. What about the women who don't resemble fruit? (Or aren't boy-shaped—the third "one of these things is not like the other" category I've never quite understood. Couldn't they say "banana?" Or is that somehow more offensive than "apple" and "pear" shapes?)

Ready to refresh your hair and makeup for spring? Well, look no further for your latest batch of inspiration. These ladies are bringing the beauty brilliance with megawatt lipstick shades, sleek haircuts, and must-try hair colors. Get ready to play copycat.

Long, layered, medium or wavy – we're sharing our favorite hairstyles of 2013 with a new 'do each day. Stuck in a hair rut? Check back daily for snappy new looks that are sure to give your locks some beauty inspiration.

Step into spring with style in June Ambrose's new shoe line for HSN.

Revamp your corporate look with graphic prints and bold color.

If you have only five makeup tools in your kit, make sure these are them. They do much more than just look cute on your vanity!

Think all it can do is shellac everything down, helmet-head style? So wrong! A can of whatever's in your cabinet is your secret beauty weapon. Try it like this.

You may not get wrinkles on your hair, but it ages all the same. Grays, dullness, thinning strands, and frizz are all (unfortunately) part of the hair's aging process, which starts happening in your 30s. The good news is that you don't need Botox to fix these problems. Here are six tips for hair that's shiny, bouncy, healthy—and, yes, younger looking.

Our fashion-savvy FLOTUS shows us she is truly a master at mixing high- and low-end designs.

Get ready for summer with these cute and easy to DIY nail art designs.

Brides, it's your big day and you want to look special. Please, whatever you do, don't wear one of these wedding dresses. These are truly the worst.

Even if you're the best friend of all time, no bridesmaid should ever have to wear these worst-ever bridesmaid dresses. Lace, ruffles and satin overload!