Sex with an ex is common post-breakup
Plus, an expert tells us why revisiting romance is a terrible idea.
For many young adults, "ex sex" is just part of the breakup process. At least that's what a new study from Lucas County, Ohio has found.
Researchers collected data on 792 "emerging adults" between the ages of 17 to 24. All had been in a relationship in the past two years, and the study authors found that nearly half (44 percent) had hooked up with an ex post-breakup.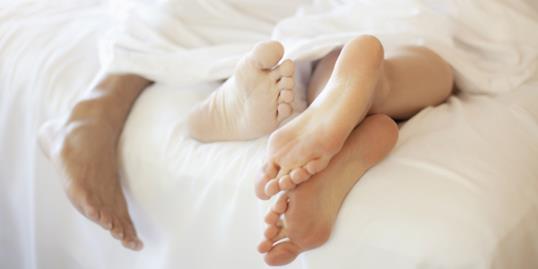 More on MSN Living: Kissing dos and don'ts
Researchers and relationship experts agree—post-breakup sex is a bad idea. In an article in the Journal of Adolescent Research, the study's authors wrote:
"Those who stay in contact following a breakup continue to feel the pain of the breakup more intensely and may have more difficulty moving on. Previous research found that college students who had sex with their exes mostly described this as a 'difficult or negative event.'"
More on MSN Living: 50 wedding cost-cutting tips from real brides
Dating expert Shay "
Your Date Diva
" Williams agrees. She's a certified dating and relationship coach and has written extensively on the topic of "ex sex." She tells
The Heart Beat
that young adults may be more likely to hop in the sack with an ex for three reasons:
"Most times it is their first time at love or really bonding with another, and it is hard to break away from those strong attachments."
Second, they lack the experience to realize that "sex with the ex is a dead end street that leads to more pain and heartache." And finally, it's a familiar and comfortable way to find sexual satisfaction. For young ladies, this may be especially appealing, as they can avoid the stigma of increasing their "sexual number," Williams explains.
Aside from the obvious issue of prolonged heartbreak, Williams says there are a variety of reasons why ex sex is an awful idea.
"My favorite saying is that 'if the paint was wet when you got up, it will be still wet when you try to sit back down!'  There is a reason why the relationship ended. Introducing sex into a situation with no boundaries leaves everyone emotionally vulnerable and unable to fully let go and trust each other.  This leads to a downhill spiral of dysfunction in the relationship as it removes any motivation for the male to win back the affections of his ex.  Sex with the ex is self-torture at it's best." 
If youth is wasted on the young, then so is precautionary advice. We've all lived through a time when "do now, think later" was our main mantra.  So what if you've already revisited romance and are now dealing with the repressions?
"The only way to start clearing your system of the surge of this hormone is to cut one's self off cold turkey," Williams tells us.  "It will hurt at first but with time, a growing self-love and determination, you will wonder what you ever saw in the ex in the first place."
More from The Heart Beat: 
Is courtship really dead?
Leaders are better at relationships, study finds
Cellphones are ruining relationships, study finds
Bing: It's divorce season?!
Love content like this? Friend us on Facebook, follow us on Twitter and find us on Pinterest
Photo: Assembly/Getty Images
beauty tips and style advice
Celebrity beauty looks made headlines this year. Super short cuts topped the news, but that wasn't the only trend creating a buzz. Punk looks turned haute, peroxide blonde became the color of the moment, and braids reached an unprecedented level of artistry. Here, we look back at the most memorable hits and misses. For more year-end roundups, check out the Best and Worst Red Carpet Looks of 2013.

From the good, the bad, to the just plain bizarre, we've rounded up the top 13 hits and misses to grace the red carpet this year. For more year-end roundups, check out the Best Hairstyles of 2013.

=Hairdresser Rossano Ferretti can expect plenty of business following my news that the Duchess of Cambridge booked in to his luxury hair spa for a marathon six-hour session recently.

Selena Gomez with short hair? Behold the evidence at the KISS FM Jingle Ball last night.

Having a sister means stealing each other's clothes and fighting over the bathroom mirror. It also means enjoying two wardrobes and sharing new beauty-product tips and tricks. Here, our five favorite sets of celebrity sisters and the beauty lessons we've learned from them.

Most regrettable trends come with warning signs: Do your teeth set off metal detectors? Are your lashes prone to tangling? Are your shoes ugly and uncomfortable? Here is this year's crop of bad fads.

Restoring botched brows can be a major pain in the...arch.

In order to cope with the intense feelings of jealousy I experienced when seeing Jennifer Garner's flawless hairstyle last week, I decided to contact the stylist responsible for the look, Kylee Heath, and find out what exactly she did to produce these glorious results.

Apparently, every celebrity in the world decided to dye her hair over the last few days—or at least Duchess Catherine, Sienna Miller, and Pamela Anderson did.

It was the chicest family night out ever in London yesterday, as Victoria Beckham hit the red carpet, along with her ADORABLE sons, Brooklyn, little fashionisto Romeo, and Cruz, to support the premiere of the soccer football documentary Class of '92, featuring superstar dad David. And she looked perfect as always—in Victoria Beckham, of course.

There will always be a special place in our hearts for Pez—the completely absurd and impractical oblong candy that children are somehow meant to be patient enough to dispense, one by one, from a creaky plastic spring-loaded drawer contraption—and a newly minted shoe designer Camilla Elphick, a Cordwainers College graduate, has tapped into our oral fixation.

When it comes to her latest hair change, it's pretty clear that Sienna Miller was thinking pink!