Sex with an ex is common post-breakup
Plus, an expert tells us why revisiting romance is a terrible idea.
For many young adults, "ex sex" is just part of the breakup process. At least that's what a new study from Lucas County, Ohio has found.
Researchers collected data on 792 "emerging adults" between the ages of 17 to 24. All had been in a relationship in the past two years, and the study authors found that nearly half (44 percent) had hooked up with an ex post-breakup.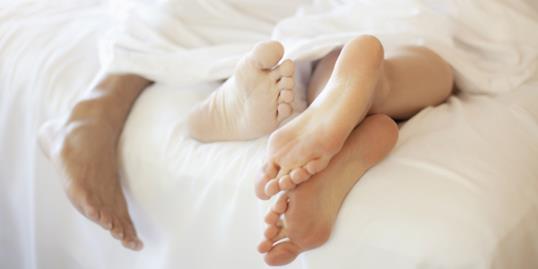 More on MSN Living: Kissing dos and don'ts
Researchers and relationship experts agree—post-breakup sex is a bad idea. In an article in the Journal of Adolescent Research, the study's authors wrote:
"Those who stay in contact following a breakup continue to feel the pain of the breakup more intensely and may have more difficulty moving on. Previous research found that college students who had sex with their exes mostly described this as a 'difficult or negative event.'"
More on MSN Living: 50 wedding cost-cutting tips from real brides
Dating expert Shay "
Your Date Diva
" Williams agrees. She's a certified dating and relationship coach and has written extensively on the topic of "ex sex." She tells
The Heart Beat
that young adults may be more likely to hop in the sack with an ex for three reasons:
"Most times it is their first time at love or really bonding with another, and it is hard to break away from those strong attachments."
Second, they lack the experience to realize that "sex with the ex is a dead end street that leads to more pain and heartache." And finally, it's a familiar and comfortable way to find sexual satisfaction. For young ladies, this may be especially appealing, as they can avoid the stigma of increasing their "sexual number," Williams explains.
Aside from the obvious issue of prolonged heartbreak, Williams says there are a variety of reasons why ex sex is an awful idea.
"My favorite saying is that 'if the paint was wet when you got up, it will be still wet when you try to sit back down!'  There is a reason why the relationship ended. Introducing sex into a situation with no boundaries leaves everyone emotionally vulnerable and unable to fully let go and trust each other.  This leads to a downhill spiral of dysfunction in the relationship as it removes any motivation for the male to win back the affections of his ex.  Sex with the ex is self-torture at it's best." 
If youth is wasted on the young, then so is precautionary advice. We've all lived through a time when "do now, think later" was our main mantra.  So what if you've already revisited romance and are now dealing with the repressions?
"The only way to start clearing your system of the surge of this hormone is to cut one's self off cold turkey," Williams tells us.  "It will hurt at first but with time, a growing self-love and determination, you will wonder what you ever saw in the ex in the first place."
More from The Heart Beat: 
Is courtship really dead?
Leaders are better at relationships, study finds
Cellphones are ruining relationships, study finds
Bing: It's divorce season?!
Love content like this? Friend us on Facebook, follow us on Twitter and find us on Pinterest
Photo: Assembly/Getty Images
beauty tips and style advice
"Unfortunately like most magazines, media and images you see on here, the girls have been retouched to look, taller, thinner ... all to see a product."

The redeeming factor of summer, sadly, not being endless? New seasons require a different wardrobe, and there's no time like the present to start your fall shopping. With autumn creeping up, I already know the boots and sweaters I'll be heaving out of the stuffed containers under my bed that I think of fondly as my second closet…but there's always room for fresh blood. I quizzed Shopbop's fashion director, Elle Strauss, for help with getting the best strategy in place. Herewith, the 10 pieces she suggests picking up now (plus chic ideas for how to start incorporating them into your current closet).

These jeans aren't just distressed, they're destroyed, and all the cooler for it — the perfect way to make a basic T-shirt feel totally badass.

These products are so great they've attained cult status among beauty insiders—yet you can find them just about anywhere without blowing your budget.

Those awesome back-to-school outfits are begging for some killer kicks! Strut down the hallway in fall's hottest shoe trends.

These stars don't sleep in a hyperbaric chamber (that we know of), yet they seem to look better with each passing year. That's because somewhere along the way, they discovered a few signature makeup tricks that make all the difference. Steal some of their game-changing moves.

Your closet update just got way easier. Sneakers, heels, boots, flats—we've got it all covered.

Dressing right gets tricky when summer turns to fall. It's too warm for tweed, but shorts just don't feel right anymore. Fortunately, Esquire's got it all figured out for you.

When you're flying in a metal tube at 30,000 feet, comfort trumps style. To help you avoid an in-flight fashion faux pas, avoid wearing the 5 items below.

In the pursuit of silky, swingy, frizz-free hair, there are a dizzying number of tempting in-salon services to choose from. We grilled chemists and stylists on what works (and what's safe). Here are the eight things you—and your hair—need to know before you commit.

Beauty products have a lot of power. Applied expertly, they can make you look vibrant, gorgeous and at least five years younger. If you aren't using them correctly, though, the same products can add a few years to your gorgeous visage. But before mothers of the bride go into panic mode, read on. We asked makeup artist Brigitte Reiss-Andersen, who's worked with the likes of Meryl Streep, Michelle Pfeiffer and Rachel Weisz, to divulge common beauty mistakes that you can nip in the bud before your daughter's wedding.

Some people apply makeup at a vanity that's crying out to be on Pinterest, and others rummage through a drawer overflowing with their 103 absolute must-have, use-daily products—but everybody can benefit from a few clever storage tricks. These are the smartest ways we've ever heard to keep your products and tools organized, accessible, and most of all, beautiful.