Wedding Dress Designer Claire Pettibone Has Been Slammed Since Mrs. Mark Zuckerberg Wore One of Her Dresses!
Here Are 6 More Dresses by Claire! Which Would You Wear?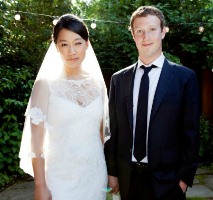 by Kim Fusaro, Glamour Magazine

Facebook stock might be losing value, but everyone wants a piece of Claire Pettibone, the wedding dress designer behind the dress worn by Priscilla Chan, who married Facebook founder Mark Zuckerberg in a surprise ceremony over the weekend.

The bride wore the Sky Between the Branches wedding dress, which features an illusion neckline and matte sequins. According to Women's Wear Daily, the designer "was besieged with phone calls Sunday and Monday from buyers looking for the $4,700 laser-cut floral gown." Her website picked up 26,000 unique visitors Monday; an average day sees around 1,500 uniques.
Read the full story here.

Here are six more Claire Pettibone wedding dresses. (The top is from her Spring 2013 collection, the next four are Fall 2012, and the final one is Spring 2012.) Do you find these equally as enchanting as Priscilla's dress?

Related: 57 Jaw-Dropping Gorgeous Wedding Gowns

Wedding Dress 1


Wedding Dress 2


Wedding Dress 3


Wedding Dress 4


Wedding Dress 5


Wedding Dress 6


Visit Brides.com for more wedding dresses by Claire Pettibone.

Would you wear any of the other Claire Pettibone designs? Or would you want Priscilla's wedding dress?

Related: Beautiful Engagement Rings, All Less Than $1,000

I think No. 2 is my fave!

p.s. Claire had NO idea Priscilla picked her dress before she saw photos! (This makes me like Priscilla even more, because it means she wasn't shmoozing for a free dress, which plenty of people would do in her shoes!)

Photo 1: Courtesy of Facebook for Brides.com. Photos 2 & 7: George Chinsee for Brides.com. Photos 3, 4, 5 & 6: Thomas Iannacone for Brides.com.

More from Glamour:
10 Shoes Every Woman Should Own
What Your Hairstyle Says About You (According to Guys)
Things All Brides Should Know About Wedding Planning
beauty tips and style advice
Even if everyone at school will be rocking their most festive shades of emerald on March 17, you don't want to end up looking like a Leprechaun in head-to-toe green.

How to dress your baby bump.

Things we learned backstage at the fall 2014 runway shows: Bold brows aren't going anywhere, bright green can actually look subtle, and glitter is amazing almost anywhere (within reason). Here, our favorite makeup looks of the season so far.

The fall runways showcased a broad range of hairstyles—braids, buns, ponytails, and even wigs. But there were unifying themes, too: A pervasive sense of ease; experimentation with texture; and an apparent belief that anything goes.

It's not always about the ladies of style. Check out these fashion icons.

Do you hear that? It's the sound of hundreds of cover bands beginning to tune their guitars and trying to remember the lyrics to "Shout." Ladies and gentlemen (but mostly ladies), it's nearly wedding season.

So, it hasn't snowed in nearly a week—does that mean it's summer yet? Well, almost. But alas, just because you're confident setting aside your trusty Sorel boots unfortunately doesn't mean you get to hop right into an itsy-bitsy-teenie-weenie yellow polka dot bikini just yet. Unless, of course, you're headed somewhere tropical in the next few weeks (lucky you!) and really do need to stock up on sexy swimsuits right now.

Getting away from it all for a bit? Your vacation wardrobe should be just like your plans: laid-back but totally fabulous. Take a cue from these celebrities, whose low-effort, high-style outfit ideas are officially on our must-copy list.

These fun and flattering vintage-style suits blend the best of the old with the best of the new.

Although it's not officially spring yet—the best time to start shopping for warm-weather clothes is now, while stores still have a good selection. Waiting until it's actually balmy enough to go bare-legged and short-sleeved leaves far too many factors to chance: what if your size sells out? Or the wrong color is left? And let's not forget about gross makeup stains from 10 other people trying it on!

From patriotic bikinis to retro two pieces, these celebs' stylish swimsuits will have you counting down to beach season! Check out your favorite stars rocking the hottest swim trends!

Neutral tones and beautiful metallics were a huge trend on the Oscars red carpet. And we saw so many dresses that would be exceptionally beautiful walking down the aisle. Here are our favorites!