Wedding Dress Designer Claire Pettibone Has Been Slammed Since Mrs. Mark Zuckerberg Wore One of Her Dresses!
Here Are 6 More Dresses by Claire! Which Would You Wear?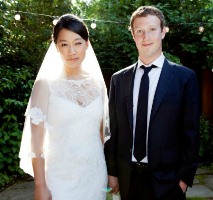 by Kim Fusaro, Glamour Magazine

Facebook stock might be losing value, but everyone wants a piece of Claire Pettibone, the wedding dress designer behind the dress worn by Priscilla Chan, who married Facebook founder Mark Zuckerberg in a surprise ceremony over the weekend.

The bride wore the Sky Between the Branches wedding dress, which features an illusion neckline and matte sequins. According to Women's Wear Daily, the designer "was besieged with phone calls Sunday and Monday from buyers looking for the $4,700 laser-cut floral gown." Her website picked up 26,000 unique visitors Monday; an average day sees around 1,500 uniques.
Read the full story here.

Here are six more Claire Pettibone wedding dresses. (The top is from her Spring 2013 collection, the next four are Fall 2012, and the final one is Spring 2012.) Do you find these equally as enchanting as Priscilla's dress?

Related: 57 Jaw-Dropping Gorgeous Wedding Gowns

Wedding Dress 1


Wedding Dress 2


Wedding Dress 3


Wedding Dress 4


Wedding Dress 5


Wedding Dress 6


Visit Brides.com for more wedding dresses by Claire Pettibone.

Would you wear any of the other Claire Pettibone designs? Or would you want Priscilla's wedding dress?

Related: Beautiful Engagement Rings, All Less Than $1,000

I think No. 2 is my fave!

p.s. Claire had NO idea Priscilla picked her dress before she saw photos! (This makes me like Priscilla even more, because it means she wasn't shmoozing for a free dress, which plenty of people would do in her shoes!)

Photo 1: Courtesy of Facebook for Brides.com. Photos 2 & 7: George Chinsee for Brides.com. Photos 3, 4, 5 & 6: Thomas Iannacone for Brides.com.

More from Glamour:
10 Shoes Every Woman Should Own
What Your Hairstyle Says About You (According to Guys)
Things All Brides Should Know About Wedding Planning
beauty tips and style advice
Here's something to brighten up your Tuesday afternoon: The brilliant minds at Moschino have always been masters at combining fashion and whimsical, quirky humor—and this season, they've gone and outdone themselves.

It's looking to be a winter wonderland out there today and that means extreme sweater weather.

Check out these mind-blowing runway photos.

Click to see 10 must-have hair tools to streamline your beauty routine.

See 9 of the prettiest holiday hair accessories for the holidays.

Here's how to choose the neckline style that looks best on you.

This season, let your nails be as merry—and bright—as your mood.

Sure, a little black dress or le smoking is always on par for the party scene, but who says holiday dressing has to be so cut and dry? We have 15 ideas for switching it up this season—getting festive just got a whole lot more fun.

Super-fast (and easy) hair, makeup, and nail ideas that'll make you party-ready in minutes. Sorry, no more last-minute bailing because you're running late.

From straight and sleek to intricate braids and sky high topknots, some celebs just know how to do party hair

From a structured blazer to that awe-inducing statement clutch, Rachel Zoe shares her picks for December dressing with InStyle.com exclusively.

Simple style tricks to help your hair look better in an instant.