Wedding Dress Designer Claire Pettibone Has Been Slammed Since Mrs. Mark Zuckerberg Wore One of Her Dresses!
Here Are 6 More Dresses by Claire! Which Would You Wear?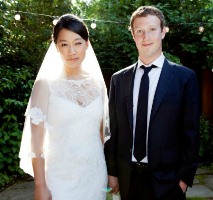 by Kim Fusaro, Glamour Magazine

Facebook stock might be losing value, but everyone wants a piece of Claire Pettibone, the wedding dress designer behind the dress worn by Priscilla Chan, who married Facebook founder Mark Zuckerberg in a surprise ceremony over the weekend.

The bride wore the Sky Between the Branches wedding dress, which features an illusion neckline and matte sequins. According to Women's Wear Daily, the designer "was besieged with phone calls Sunday and Monday from buyers looking for the $4,700 laser-cut floral gown." Her website picked up 26,000 unique visitors Monday; an average day sees around 1,500 uniques.
Read the full story here.

Here are six more Claire Pettibone wedding dresses. (The top is from her Spring 2013 collection, the next four are Fall 2012, and the final one is Spring 2012.) Do you find these equally as enchanting as Priscilla's dress?

Related: 57 Jaw-Dropping Gorgeous Wedding Gowns

Wedding Dress 1


Wedding Dress 2


Wedding Dress 3


Wedding Dress 4


Wedding Dress 5


Wedding Dress 6


Visit Brides.com for more wedding dresses by Claire Pettibone.

Would you wear any of the other Claire Pettibone designs? Or would you want Priscilla's wedding dress?

Related: Beautiful Engagement Rings, All Less Than $1,000

I think No. 2 is my fave!

p.s. Claire had NO idea Priscilla picked her dress before she saw photos! (This makes me like Priscilla even more, because it means she wasn't shmoozing for a free dress, which plenty of people would do in her shoes!)

Photo 1: Courtesy of Facebook for Brides.com. Photos 2 & 7: George Chinsee for Brides.com. Photos 3, 4, 5 & 6: Thomas Iannacone for Brides.com.

More from Glamour:
10 Shoes Every Woman Should Own
What Your Hairstyle Says About You (According to Guys)
Things All Brides Should Know About Wedding Planning
beauty tips and style advice
I can't tell you how many times one ill-timed sneeze ruined all of my hard work with a mascara wand. #allergyproblems.

While we're not averse to shelling out upwards of $30 for an amazing lipstick, many of our standby lip colors cost a whole lot less than that. The drugstore is full of high-quality, long-lasting lipsticks in gorgeous shades that—wait for it!—ring in under $10. Click through above to shop our favorites!

What's the perfect add-on to your beauty look? A hair accessory, of course! Just when you think you've seen it all, every year there seems to be a new "it" hair piece that rules the moment. In the '50s, a dainty bow-tied head scarf was perfectly housewife-chic. In the '60s and '70s, real flower crowns officially became the epitome of boho style—your outfit simply wasn't complete without a daisy topper. Fast-forward to the '90s and you had a bevy of creative hair charms and baubles, including butterfly clips, hair wraps and those infamous bra strap headbands (shudder).

The right blush can warm up your complexion, create the illusion of cheekbones, and even make you look younger. (Yes, really!) Here, the most flattering shades for fair, medium, olive, and dark skin.

Think you can't put a price on looking younger? Well, we did—and it's $25. We challenged dermatologists to find great products that don't cost even one cent over that amount.

You want to dress in a way that's young and cool but that doesn't suggest you're on your way to a One Direction concert. "The trick to looking younger is adding one fashionable piece to a classic outfit," says stylist Cher Coulter. Here's how to nail it.