Wedding Dress Designer Claire Pettibone Has Been Slammed Since Mrs. Mark Zuckerberg Wore One of Her Dresses!
Here Are 6 More Dresses by Claire! Which Would You Wear?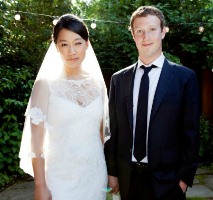 by Kim Fusaro, Glamour Magazine

Facebook stock might be losing value, but everyone wants a piece of Claire Pettibone, the wedding dress designer behind the dress worn by Priscilla Chan, who married Facebook founder Mark Zuckerberg in a surprise ceremony over the weekend.

The bride wore the Sky Between the Branches wedding dress, which features an illusion neckline and matte sequins. According to Women's Wear Daily, the designer "was besieged with phone calls Sunday and Monday from buyers looking for the $4,700 laser-cut floral gown." Her website picked up 26,000 unique visitors Monday; an average day sees around 1,500 uniques.
Read the full story here.

Here are six more Claire Pettibone wedding dresses. (The top is from her Spring 2013 collection, the next four are Fall 2012, and the final one is Spring 2012.) Do you find these equally as enchanting as Priscilla's dress?

Related: 57 Jaw-Dropping Gorgeous Wedding Gowns

Wedding Dress 1


Wedding Dress 2


Wedding Dress 3


Wedding Dress 4


Wedding Dress 5


Wedding Dress 6


Visit Brides.com for more wedding dresses by Claire Pettibone.

Would you wear any of the other Claire Pettibone designs? Or would you want Priscilla's wedding dress?

Related: Beautiful Engagement Rings, All Less Than $1,000

I think No. 2 is my fave!

p.s. Claire had NO idea Priscilla picked her dress before she saw photos! (This makes me like Priscilla even more, because it means she wasn't shmoozing for a free dress, which plenty of people would do in her shoes!)

Photo 1: Courtesy of Facebook for Brides.com. Photos 2 & 7: George Chinsee for Brides.com. Photos 3, 4, 5 & 6: Thomas Iannacone for Brides.com.

More from Glamour:
10 Shoes Every Woman Should Own
What Your Hairstyle Says About You (According to Guys)
Things All Brides Should Know About Wedding Planning
beauty tips and style advice
The first thing I noticed about this photo of Keira Knightley at a London gala last night was her 90s-chic makeup, featuring matte pale foundation and lots of black eyeliner.

It's the stuff of pinups, old Hollywood glamour, and even science study after study says guys really go for it. But that classic Rita Hayworth red doesn't necessarily flatter every complexion. We rounded up the absolute best reds for every skin tone, so you can breeze through the sea of cherries, raspberries, and any other scarlet fruit.

It's finally tights season, that wonderful time of year where you can simultaneously hide your pale legs and still wear that Saint Laurent slip dress. But who says you have to stick to boring black stockings? Why not keep your look above cool and clean, and let your bottom half shine? From patterned polka dots to colorful camouflage, here are six options that will make a statement all on their own.

How many holiday parties do you all have this season?

Nicole Kidman plays Grace Kelly, the glamorous movie star turned princess, in Grace of Monaco (out in March).

What if they were covered in Swarovski crystals?