Wedding Dress Designer Claire Pettibone Has Been Slammed Since Mrs. Mark Zuckerberg Wore One of Her Dresses!
Here Are 6 More Dresses by Claire! Which Would You Wear?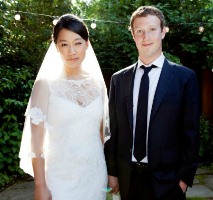 by Kim Fusaro, Glamour Magazine

Facebook stock might be losing value, but everyone wants a piece of Claire Pettibone, the wedding dress designer behind the dress worn by Priscilla Chan, who married Facebook founder Mark Zuckerberg in a surprise ceremony over the weekend.

The bride wore the Sky Between the Branches wedding dress, which features an illusion neckline and matte sequins. According to Women's Wear Daily, the designer "was besieged with phone calls Sunday and Monday from buyers looking for the $4,700 laser-cut floral gown." Her website picked up 26,000 unique visitors Monday; an average day sees around 1,500 uniques.
Read the full story here.

Here are six more Claire Pettibone wedding dresses. (The top is from her Spring 2013 collection, the next four are Fall 2012, and the final one is Spring 2012.) Do you find these equally as enchanting as Priscilla's dress?

Related: 57 Jaw-Dropping Gorgeous Wedding Gowns

Wedding Dress 1


Wedding Dress 2


Wedding Dress 3


Wedding Dress 4


Wedding Dress 5


Wedding Dress 6


Visit Brides.com for more wedding dresses by Claire Pettibone.

Would you wear any of the other Claire Pettibone designs? Or would you want Priscilla's wedding dress?

Related: Beautiful Engagement Rings, All Less Than $1,000

I think No. 2 is my fave!

p.s. Claire had NO idea Priscilla picked her dress before she saw photos! (This makes me like Priscilla even more, because it means she wasn't shmoozing for a free dress, which plenty of people would do in her shoes!)

Photo 1: Courtesy of Facebook for Brides.com. Photos 2 & 7: George Chinsee for Brides.com. Photos 3, 4, 5 & 6: Thomas Iannacone for Brides.com.

More from Glamour:
10 Shoes Every Woman Should Own
What Your Hairstyle Says About You (According to Guys)
Things All Brides Should Know About Wedding Planning
fashion: trends & must-haves for your wardrobe
You may have spent years studiously ignoring your mother's advice (and she was right about that guy in high school, admit it), but eventually all that bossing and nagging adds up to something truly useful. Here, Allure staffers share their mothers' wisest words about beauty.

Just like a good pair of shoes, the right hair accessory can change your entire mood (and look!). We rounded up some of our favorites from the spring 2013 runways.

You can make your eyes look younger, brighter — even more lifted — in minutes, using just your basic makeup. Find your issue here, then follow our how-to guide to learn the techniques. It's so easy, you won't believe your eyes.

It's one of those workhorse pieces that can make women look crisp, laid-back, professional, or dead sexy. Meet the one shirt dress you'll wear for life.

Toss your tweezers. Everything from brows (thick!) to your workout is taking a cue from the Flintstones. Yabba-dabba-doo!

Big event? Focus on the outfit, because we've got your hair all figured out, whether you've got two minutes to do it or 20.