Tyra Banks Says All 'America's Next Top Model' Contestants Must Take an IQ Test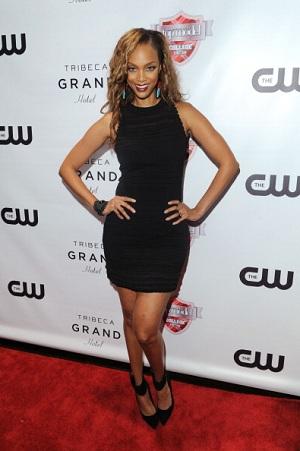 by Tracey Lomrantz Lester
,
Glamour Magazine
Here's a little reality-TV reality check: The contestants on America's Next Top Model have to submit to an IQ test as part of the casting process, according to the show's creator and host, Tyra Banks.

Last night at the cycle 19 premiere party at the Tribeca Grand Hotel, we put this question to Tyra: "Since this cycle is the college edition, are the girls smarter than usual?" Her answer seriously surprised us:
"Their IQs are higher than ever. We test the IQs every year as part of our screening process. Yeah, I'm probably saying too much here. But yes their IQs are higher than ever. These are college girls."


Related:  The Dos and Don'ts of Fall 2012 Fashion Trends

As soon as we picked our jaws up off the floor, we followed up by wondering if that meant they were better behaved or otherwise more savvy on set. Thankfully for lovers of good reality TV drama, the answer was:

"No. They may know a little calculus or statistics or whatever but they were still just girls fighting. There was one fight going on in the second episode about who's a real bitch. 'I'm a real bitch, no I'm a real bitch.' What? You guys are college girls! What is a real bitch anyway?"

Related: Ponytail Ideas to Steal From Celebs

The executive producers of the show gave us the following statement, via the CW's press rep, about finding out if the models have brains in addition to beauty: "Testing basic intelligence is very common in reality shows, especially competition ones, and just one of several factors that are considered in the casting process."

What do you ladies make of Top Model IQ-testing its contestants? Surprised? Discuss!

"America's Next Top Model" cycle 19 premieres Friday, August 24 at 8/7c on the CW.

Photo: Craig Barritt/Getty Images Entertainment

More from Glamour:
25 Pictures of David Beckham, Shirtless 
35 New Ways to Wear Your Jeans
30 September Outfit Ideas

beauty tips and style advice
And before you ask, sorry, the $325 dress is SOLD OUT on Matches.com and DVF.com—you snooze, you loose.

Click through the slideshow to shop some of our spring favorites.

French braid? Been there. Fishtail? Done that. The newest styles are all about unexpected texture, major volume, and one man's wild imagination.

Long hair, don't care? Think again…

She dishes on the routine that keeps her looking polished, even when she's pulling up to the <i>Mad Men</i> set at 5 a.m. Plus, the fragrance that helps Christina get her Joan on.

For inspiration, we've rounded up gorgeous (and easy to replicate) wedding makeup looks from the red carpet.

With a few insider tricks, you can enjoy short hair 365 days of the year and have a gorgeous style on your wedding day. Wedding hairstyles for short hair do exist.

I'm beyond excited to finally ditch my winter coat and heavy layers, but I'm not so eager to ditch my tights. Let's just say my legs are not as smooth and bronzed as they were the last time I showed them off many, many months ago.

After a jam-packed week in New Zealand, Kate Middleton and Prince William finally enjoyed a day off, but as of last night (or this morning..? Ah, time change!) they're back on the road again.

These travel-sized beauty products will do double-duty while you're on the road.

Neatly sidestepping high fashion, the smiling, cheerful Kate Middleton is fast becoming the Duchess of Normcore.

This December, New Yorkers might notice something missing in the Christmas air.