28 reasons Thanksgiving is the least sexy holiday
Thanksgiving has many wonderful things about it — most of them edible — but it does not include a boost to your sex life.
By Gena Kaufman
While I love, love, love Thanksgiving and the week of delicious leftovers after it, it has to be said: Thanksgiving is not sexy. In fact, it might be the least sexy holiday ever.
It's got none of the romance of Valentine's Day, it lacks the sex appeal of Halloween costumes, and it's much too cold for outdoor barbecues or pool parties.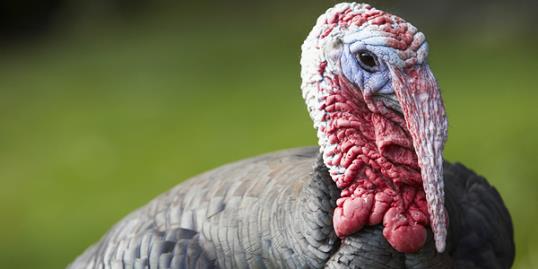 More from Glamour: 10 turn-ons that aren't about looks
Here are just a few things that may contribute to a very unsexy celebration of thanks, whether you're spending it alone or with your guy:

1.       Overcrowded airline travel.
2.       Screaming babies on overcrowded airline travel.
3.       Screaming babies at your grandma's house.
4.       The hangover you're nursing after Thanksgiving Eve, the all-important night of judging your old high school friends at the local bar.
5.       Being stuck in traffic.
6.       The huge fight you get in while stuck in traffic.
7.       Your mother.
8.       His mother.
9.       Your drunken aunt who can't stop asking when you two are getting married already.
10.   His drunken uncle with a wandering eye and penchant for dirty jokes.
11.   Voluntarily sticking your hand into a turkey's cavity.
12.   Accidentally sticking your hand on a hot pan.
13.   Or jamming a knife in your finger while slicing sweet potatoes.
14.   Political, religious or assorted family drama at the dinner table.
15.   Your sister's three loud kids who spill everything, everywhere. Loudly.
16.   Turkey coma.
17.   Tofurkey coma, if you're vegetarian.
18.   Pumpkin pie moustache (OK, that's not a real thing but it could be).
19.   The way you both unbutton your jeans to make room for seconds.
20.   Painful indigestion for the rest of the night.
21.   Washing 4,000 dirty dishes and grimy pots.
22.   The hideous sweater he wore because his mom bought it for him.
23.   The matching footie pajamas your mom bought for the whole family to sleep in.
24.   Separate rooms when you're under your parents' roof.
25.   The fear of overhearing your parents having sex.
26.   The possibility of running into your high school boyfriend while sporting sweats, gravy stains and a greasy ponytail on Black Friday.
27.   The possibility that your mom will find out that you made out with said high school boyfriend on Thanksgiving Eve.
28.   Leftover turkey coma, Day Two.
See? It's just not a holiday that's conducive to sex or romance. And do not suggest spicing it up with some sort of tacky Pilgrim and Native American reenactment.
More from Glamour: 30 sex tips every woman should consider 
But, sexy or not, I'm more than thankful for an excuse to spend time with my loved ones. And by loved ones, I mean my friends, my family and my mashed potatoes.
What are your Thanksgiving plans this year? What other unsexy aspects of this delicious holiday did I forget?
Photo: Noel Hendrickson/Getty Images
Bing: Thanksgiving Day outfit ideas
More from Glamour:
6 signs he's ready for a baby
25 first-date dos and don'ts
9 sex secrets men want you to know

what does giving thanks have to do with being "sexy" ? I am giving thanks for family,friends ,health , a roof over my head , food to eat , and especially for the troops that give their time (and lives) to make the rest possible. This country has been developing a one track mind ; everything has to be about sex. Give it a break , even if just for a day , and be thankful .
Are you sure you want to delete this comment?
beauty tips and style advice
See 14 holiday dresses you'll love under $100.

This season, let your nails be as merry—and bright—as your mood.

A few things are certain in life: death, taxes and the fact that a gal pretty much can't go bare legged from November to March.

See 15 fragrances for every personality on your holiday list.

Click to see 15 dog-walking outfits inspired by celebrities.

We're sure this enigmatic purple shade will be everywhere next year, from fashion and beauty to home, and we're pumped for its impending takeover. We've rounded up some of our favorite celebrity looks in Radiant Orchid, including Jessica Paré, Kristen Bell, Amy Adams, and Krysten Ritter, to give you a preview of what you can expect to see in 2014. Commit Radiant Orchid to memory—you're going to be spotting much more of it in the coming months.

What do you wear to a holiday party? Whether you're heading to a family shindig or an after-work office soiree, crib these style tips and lessons learned from some of our favorite celebrity dos and don'ts of the festive season.

We caught up with the new mommy to find out the trick to keeping her makeup on point—even when she's not in front of the cameras.

Kristen Stewart is known for her casual style, both on and off the red carpet

You can rent a couture dress or a designer bag, but would you rent hair extensions?

To get the scoop on quick office party beauty tricks, we turned to Landy Dean, celebrity makeup artist at Marie Robinson salon. His simple tutorial requires only a handful of products, starting with the darkest, inkiest eyeliner you can find. Dean swears by the Nars Larger Than Life liners smudged over the waterline and lashline, topped off with a few coats of Maybelline The Falsies mascara. Before you dash off to apply product, there's one small step that involves removing makeup. "If your foundation and concealer have caked or creased, I recommend a quick removal with a cleansing towelette and a redo to avoid heavy looking skin," he cautions. For those who would prefer to go the easy route, apply a hydrating moisturizer using a stippling motion and a sponge. Finish the look with a dusting of BareMinerals Mineral Veil—"this will even out discolorations and give a reflective finish that still looks natural"—swap your work bag for a chic clutch, and get ready to ring in the season.

Here's something to brighten up your Tuesday afternoon: The brilliant minds at Moschino have always been masters at combining fashion and whimsical, quirky humor—and this season, they've gone and outdone themselves.