28 reasons Thanksgiving is the least sexy holiday
Thanksgiving has many wonderful things about it — most of them edible — but it does not include a boost to your sex life.
By Gena Kaufman
While I love, love, love Thanksgiving and the week of delicious leftovers after it, it has to be said: Thanksgiving is not sexy. In fact, it might be the least sexy holiday ever.
It's got none of the romance of Valentine's Day, it lacks the sex appeal of Halloween costumes, and it's much too cold for outdoor barbecues or pool parties.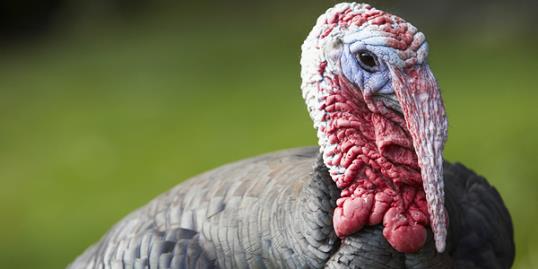 More from Glamour: 10 turn-ons that aren't about looks
Here are just a few things that may contribute to a very unsexy celebration of thanks, whether you're spending it alone or with your guy:

1.       Overcrowded airline travel.
2.       Screaming babies on overcrowded airline travel.
3.       Screaming babies at your grandma's house.
4.       The hangover you're nursing after Thanksgiving Eve, the all-important night of judging your old high school friends at the local bar.
5.       Being stuck in traffic.
6.       The huge fight you get in while stuck in traffic.
7.       Your mother.
8.       His mother.
9.       Your drunken aunt who can't stop asking when you two are getting married already.
10.   His drunken uncle with a wandering eye and penchant for dirty jokes.
11.   Voluntarily sticking your hand into a turkey's cavity.
12.   Accidentally sticking your hand on a hot pan.
13.   Or jamming a knife in your finger while slicing sweet potatoes.
14.   Political, religious or assorted family drama at the dinner table.
15.   Your sister's three loud kids who spill everything, everywhere. Loudly.
16.   Turkey coma.
17.   Tofurkey coma, if you're vegetarian.
18.   Pumpkin pie moustache (OK, that's not a real thing but it could be).
19.   The way you both unbutton your jeans to make room for seconds.
20.   Painful indigestion for the rest of the night.
21.   Washing 4,000 dirty dishes and grimy pots.
22.   The hideous sweater he wore because his mom bought it for him.
23.   The matching footie pajamas your mom bought for the whole family to sleep in.
24.   Separate rooms when you're under your parents' roof.
25.   The fear of overhearing your parents having sex.
26.   The possibility of running into your high school boyfriend while sporting sweats, gravy stains and a greasy ponytail on Black Friday.
27.   The possibility that your mom will find out that you made out with said high school boyfriend on Thanksgiving Eve.
28.   Leftover turkey coma, Day Two.
See? It's just not a holiday that's conducive to sex or romance. And do not suggest spicing it up with some sort of tacky Pilgrim and Native American reenactment.
More from Glamour: 30 sex tips every woman should consider 
But, sexy or not, I'm more than thankful for an excuse to spend time with my loved ones. And by loved ones, I mean my friends, my family and my mashed potatoes.
What are your Thanksgiving plans this year? What other unsexy aspects of this delicious holiday did I forget?
Photo: Noel Hendrickson/Getty Images
Bing: Thanksgiving Day outfit ideas
More from Glamour:
6 signs he's ready for a baby
25 first-date dos and don'ts
9 sex secrets men want you to know
fashion: trends & must-haves for your wardrobe
When morning talk shows and local newspapers dole out their seasonal swimsuit shopping advice, I'm usually pretty disappointed by the lack of body types represented. What about the women who don't resemble fruit? (Or aren't boy-shaped—the third "one of these things is not like the other" category I've never quite understood. Couldn't they say "banana?" Or is that somehow more offensive than "apple" and "pear" shapes?)

Ready to refresh your hair and makeup for spring? Well, look no further for your latest batch of inspiration. These ladies are bringing the beauty brilliance with megawatt lipstick shades, sleek haircuts, and must-try hair colors. Get ready to play copycat.

Long, layered, medium or wavy – we're sharing our favorite hairstyles of 2013 with a new 'do each day. Stuck in a hair rut? Check back daily for snappy new looks that are sure to give your locks some beauty inspiration.

Step into spring with style in June Ambrose's new shoe line for HSN.

Revamp your corporate look with graphic prints and bold color.

If you have only five makeup tools in your kit, make sure these are them. They do much more than just look cute on your vanity!

Think all it can do is shellac everything down, helmet-head style? So wrong! A can of whatever's in your cabinet is your secret beauty weapon. Try it like this.

You may not get wrinkles on your hair, but it ages all the same. Grays, dullness, thinning strands, and frizz are all (unfortunately) part of the hair's aging process, which starts happening in your 30s. The good news is that you don't need Botox to fix these problems. Here are six tips for hair that's shiny, bouncy, healthy—and, yes, younger looking.

Our fashion-savvy FLOTUS shows us she is truly a master at mixing high- and low-end designs.

Get ready for summer with these cute and easy to DIY nail art designs.

Brides, it's your big day and you want to look special. Please, whatever you do, don't wear one of these wedding dresses. These are truly the worst.

Even if you're the best friend of all time, no bridesmaid should ever have to wear these worst-ever bridesmaid dresses. Lace, ruffles and satin overload!