Science says everlasting love is a myth
Love isn't what we think it is, one researcher says—but it might be better.
If you have fairy tale expectations, you may want to proceed with caution.
This week, the Atlantic posted a piece on Barbara Fredrickson's new book, Love 2.0: How Our Supreme Emotion Affects Everything We Feel, Think, Do, and Become. In her book, Fredrickson describes a new concept of love that is dramatically different from our traditional definition. Instead of an everlasting, always-present emotion, Fredrickson says that love is a "micro-moment of positivity romance."
Fredrickson explains that love is simply a rush of positive emotions one feels in a certain instance. This rush can happen with anyone, even a stranger on the street, the article points out.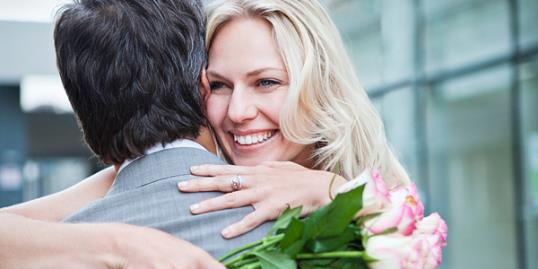 More on MSN Living: 9 sex & dating myths
The Heart Beat spoke with Fredrickson about this new view of love. Specifically, we were curious how it fit in with marriage, science and soul mates.
"People have strong personal beliefs about love and may mistakenly think that I am asking them to trade in their own cherished view of love in favor of this new definition," Fredrickson told The Heart Beat. " A concept as rich as love, however, can be approached and understood from many different angles…"
More on MSN Living: 28 ways to have a sexy February
Fredrickson's definition of love is more universal. It's less about romance and more about compassion. It's what's at the heart of 'Love Makes the World Go 'Round.'
"I wrote the book because the scientific evidence has convinced me that how we think about love matters," Fredrickson continues.
The vagus nerve is one of three biological factors responsible for the feeling of love. Scientists believed a person's capacity to love—their vagal tone—was stable; it wasn't something that could increase, they thought. But Fredrickson debunked that notion in a 2010 study.
Fredrickson asked participants to practice a Buddhist "loving-kindness meditation."  Subjects cultivated feelings of love and peace toward another human being. After the meditation, Fredrickson measured the participants' vagal tone and found that there was a significant increase. Her findings were so substantial that she was asked to present them to the Dalai Lama.
So if love isn't some star-crossed, meant-to-be force and instead a series of controllable biological functions, what does this mean for the concept of soul mates?
"I have no quarrel with the idea of 'soul mates,'" Fredrickson said. "A soul mate, according to this new perspective, is someone who deeply understands your inner-workings and uses this privileged knowledge thoughtfully, for your benefit, to create frequent moments of connection, or what I call 'positivity resonance.'"
Her theory also doesn't discount marriage:
"I see marriage as a commitment ceremony, a pledge to be loyal to one another to the end. Such commitments create foundations of safety and trust that support more frequent experiences of positivity resonance, which over time help each partner become their best."
Overall, Fredrickson's theory may be an improved view of love. Her angle expands the definition to include the compassion and warmth we're able to feel for those around us.
"It offers new lenses through which to view your every interaction with others and can help you see those interactions as precious opportunities to nourish health, both your own and that of others, and to unlock collective capacity. Love becomes a forever-renewable resource, if you know how to tap into it."
More from The Heart Beat:
Is courtship really dead?

Politics, religion & relationships: When couples don't agree
Study: Confidence before marriage leads to a happy union
Love content like this? Friend us on Facebook, follow us on Twitter and find us on Pinterest
Photo: Dimitri Vervitsiotis/Getty Images
beauty tips and style advice
The redeeming factor of summer, sadly, not being endless? New seasons require a different wardrobe, and there's no time like the present to start your fall shopping. With autumn creeping up, I already know the boots and sweaters I'll be heaving out of the stuffed containers under my bed that I think of fondly as my second closet…but there's always room for fresh blood. I quizzed Shopbop's fashion director, Elle Strauss, for help with getting the best strategy in place. Herewith, the 10 pieces she suggests picking up now (plus chic ideas for how to start incorporating them into your current closet).

These jeans aren't just distressed, they're destroyed, and all the cooler for it — the perfect way to make a basic T-shirt feel totally badass.

These products are so great they've attained cult status among beauty insiders—yet you can find them just about anywhere without blowing your budget.

Those awesome back-to-school outfits are begging for some killer kicks! Strut down the hallway in fall's hottest shoe trends.

These stars don't sleep in a hyperbaric chamber (that we know of), yet they seem to look better with each passing year. That's because somewhere along the way, they discovered a few signature makeup tricks that make all the difference. Steal some of their game-changing moves.

Your closet update just got way easier. Sneakers, heels, boots, flats—we've got it all covered.

Dressing right gets tricky when summer turns to fall. It's too warm for tweed, but shorts just don't feel right anymore. Fortunately, Esquire's got it all figured out for you.

When you're flying in a metal tube at 30,000 feet, comfort trumps style. To help you avoid an in-flight fashion faux pas, avoid wearing the 5 items below.

In the pursuit of silky, swingy, frizz-free hair, there are a dizzying number of tempting in-salon services to choose from. We grilled chemists and stylists on what works (and what's safe). Here are the eight things you—and your hair—need to know before you commit.

Beauty products have a lot of power. Applied expertly, they can make you look vibrant, gorgeous and at least five years younger. If you aren't using them correctly, though, the same products can add a few years to your gorgeous visage. But before mothers of the bride go into panic mode, read on. We asked makeup artist Brigitte Reiss-Andersen, who's worked with the likes of Meryl Streep, Michelle Pfeiffer and Rachel Weisz, to divulge common beauty mistakes that you can nip in the bud before your daughter's wedding.

Some people apply makeup at a vanity that's crying out to be on Pinterest, and others rummage through a drawer overflowing with their 103 absolute must-have, use-daily products—but everybody can benefit from a few clever storage tricks. These are the smartest ways we've ever heard to keep your products and tools organized, accessible, and most of all, beautiful.

Squeeze days out of your style with smart tricks from blowout queen Alli Webb, founder of Drybar.