Science says everlasting love is a myth
Love isn't what we think it is, one researcher says—but it might be better.
If you have fairy tale expectations, you may want to proceed with caution.
This week, the Atlantic posted a piece on Barbara Fredrickson's new book, Love 2.0: How Our Supreme Emotion Affects Everything We Feel, Think, Do, and Become. In her book, Fredrickson describes a new concept of love that is dramatically different from our traditional definition. Instead of an everlasting, always-present emotion, Fredrickson says that love is a "micro-moment of positivity romance."
Fredrickson explains that love is simply a rush of positive emotions one feels in a certain instance. This rush can happen with anyone, even a stranger on the street, the article points out.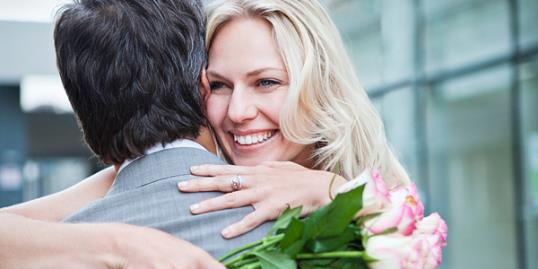 More on MSN Living: 9 sex & dating myths
The Heart Beat spoke with Fredrickson about this new view of love. Specifically, we were curious how it fit in with marriage, science and soul mates.
"People have strong personal beliefs about love and may mistakenly think that I am asking them to trade in their own cherished view of love in favor of this new definition," Fredrickson told The Heart Beat. " A concept as rich as love, however, can be approached and understood from many different angles…"
More on MSN Living: 28 ways to have a sexy February
Fredrickson's definition of love is more universal. It's less about romance and more about compassion. It's what's at the heart of 'Love Makes the World Go 'Round.'
"I wrote the book because the scientific evidence has convinced me that how we think about love matters," Fredrickson continues.
The vagus nerve is one of three biological factors responsible for the feeling of love. Scientists believed a person's capacity to love—their vagal tone—was stable; it wasn't something that could increase, they thought. But Fredrickson debunked that notion in a 2010 study.
Fredrickson asked participants to practice a Buddhist "loving-kindness meditation."  Subjects cultivated feelings of love and peace toward another human being. After the meditation, Fredrickson measured the participants' vagal tone and found that there was a significant increase. Her findings were so substantial that she was asked to present them to the Dalai Lama.
So if love isn't some star-crossed, meant-to-be force and instead a series of controllable biological functions, what does this mean for the concept of soul mates?
"I have no quarrel with the idea of 'soul mates,'" Fredrickson said. "A soul mate, according to this new perspective, is someone who deeply understands your inner-workings and uses this privileged knowledge thoughtfully, for your benefit, to create frequent moments of connection, or what I call 'positivity resonance.'"
Her theory also doesn't discount marriage:
"I see marriage as a commitment ceremony, a pledge to be loyal to one another to the end. Such commitments create foundations of safety and trust that support more frequent experiences of positivity resonance, which over time help each partner become their best."
Overall, Fredrickson's theory may be an improved view of love. Her angle expands the definition to include the compassion and warmth we're able to feel for those around us.
"It offers new lenses through which to view your every interaction with others and can help you see those interactions as precious opportunities to nourish health, both your own and that of others, and to unlock collective capacity. Love becomes a forever-renewable resource, if you know how to tap into it."
More from The Heart Beat:
Is courtship really dead?

Politics, religion & relationships: When couples don't agree
Study: Confidence before marriage leads to a happy union
Love content like this? Friend us on Facebook, follow us on Twitter and find us on Pinterest
Photo: Dimitri Vervitsiotis/Getty Images
beauty tips and style advice
Click through the slideshow to shop some of our spring favorites.

French braid? Been there. Fishtail? Done that. The newest styles are all about unexpected texture, major volume, and one man's wild imagination.

Long hair, don't care? Think again…

She dishes on the routine that keeps her looking polished, even when she's pulling up to the <i>Mad Men</i> set at 5 a.m. Plus, the fragrance that helps Christina get her Joan on.

For inspiration, we've rounded up gorgeous (and easy to replicate) wedding makeup looks from the red carpet.

With a few insider tricks, you can enjoy short hair 365 days of the year and have a gorgeous style on your wedding day. Wedding hairstyles for short hair do exist.

I'm beyond excited to finally ditch my winter coat and heavy layers, but I'm not so eager to ditch my tights. Let's just say my legs are not as smooth and bronzed as they were the last time I showed them off many, many months ago.

After a jam-packed week in New Zealand, Kate Middleton and Prince William finally enjoyed a day off, but as of last night (or this morning..? Ah, time change!) they're back on the road again.

These travel-sized beauty products will do double-duty while you're on the road.

Neatly sidestepping high fashion, the smiling, cheerful Kate Middleton is fast becoming the Duchess of Normcore.

This December, New Yorkers might notice something missing in the Christmas air.

When Madonna posted an image of herself wearing a full on Game of Thrones Khaleesi costume on Instagram last week we weren't exactly surprised—this is the woman who rolled into the Grammy Awards wearing a tuxedo and a grill earlier this winter, so why not celebrate the Jewish holiday of Purim with a leather corset and a pair of tiny dragons? Still, we were hypnotized by her white-blonde, braided Daenerys Targaryen hair. Functioning as a bleached out cultural weather vane of sorts, it tapped into multiple obsessions at once—the return of "Game of Thrones" to HBO, spring's new extreme hair lengths and, most notably, fashion's current platinum mania. Our own love of ice-blonde hair—which transforms any look from everyday to extraordinary—has been well documented of late, but last night's Game of Thrones premiere sent our platinum fever into overdrive. In celebration of fashion's favorite hair color, a look at the best platinum moments in history.