Samantha Brick Gripes About Being Too Gorgeous, Breaks Internet (Almost)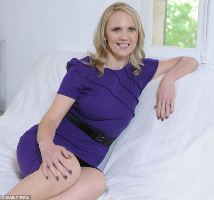 By Laura T. Coffey,
The Look on TODAY Style
Remember when supermodel Gisele Bundchen made women everywhere seethe when she said many moms-to-be turn their bodies into "garbage disposals" and noted how easy it had been for her to lose weight after her pregnancy? Well, this is kind of like that, only weirder.
Samantha Brick
, 41, a British freelance journalist who lives in France, is gaining notoriety for an essay she wrote for the Daily Mail. The headline?
'There are downsides to looking this pretty': Why women hate me for being beautiful
.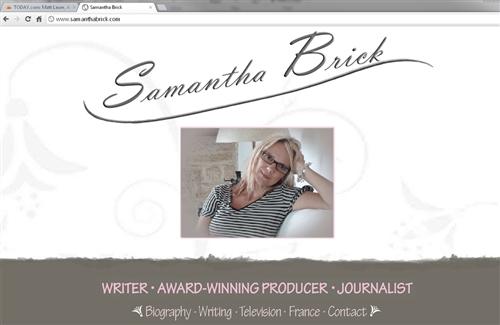 Samanthabrick.com -- Here is an image from the website of Samantha Brick, who maintains that "there are downsides to looking this pretty."

It goes without saying that the essay's premise — author faces hardships and unfair treatment from other women because she's stunningly gorgeous — is asking for trouble. But ... WOW. Samantha Brick created so much buzz that she practically broke the Internet. She became a trending topic on Twitter and generated thousands of comments from readers over what BuzzFeed described as "quite possibly the least relatable essay ever written."

Much of the backlash seems to center on the idea that Brick's opinion of her looks is
— to, ummm, put this as delicately as possible — disproportionately positive.

The Daily Mail piece ran with seven photos of Brick, which elicited these sorts of comments and tweets from readers:
"Seriously?!"
"I'm obviously missing something...."
"This is so ridiculous I still can't quite stop laughing. Thank you — you've made my day!"
"I just went to get chocolate & I was made to pay for it. Might've been a different story if I was Samantha Brick."

The backlash gets meaner than that — much meaner — as noted in a thoughtful post by the Telegraph's Brendan O'Neill headlined "The Twitterstorm against Samantha Brick is infinitely uglier and nastier than the article she wrote."

In short, it seems that the wolves couldn't resist the red meat dangled before them when those seven photos were juxtaposed alongside Brick's lamentations.

Here are some excerpts from Brick's essay:
"While I'm no Elle Macpherson, I'm tall, slim, blonde and, so I'm often told, a good-looking woman. I know how lucky I am. But there are downsides to being pretty — the main one being that other women hate me for no other reason than my lovely looks."
"It is not just jealous wives who have frozen me out of their lives. Insecure female bosses have also barred me from promotions at work. And most poignantly of all, not one girlfriend has ever asked me to be her bridesmaid."
"You'd think we women would applaud each other for taking pride in our appearances. I work at mine — I don't drink or smoke, I work out, even when I don't feel like it, and very rarely succumb to chocolate. Unfortunately women find nothing more annoying than someone else being the most attractive girl in a room."
"So now I'm 41 and probably one of very few women entering her fifth decade welcoming the decline of my looks. I can't wait for the wrinkles and the grey hair that will help me blend into the background."

OK. So. What do you think about all of this? Is it a freaky example of oversharing? A commentary on how women treat one another? A slightly belated April Fool's joke?

Top Photo: Courtesy of The Daily Mail

More from The Look on TODAY Style:
Get Giuliana Rancic's $28 sexy fishtail skirt
Transgender beauty queen criticizes Donald Trump
Nail news: Designer stickers, Kate Spade polish and more
beauty tips and style advice
Even if everyone at school will be rocking their most festive shades of emerald on March 17, you don't want to end up looking like a Leprechaun in head-to-toe green.

How to dress your baby bump.

Things we learned backstage at the fall 2014 runway shows: Bold brows aren't going anywhere, bright green can actually look subtle, and glitter is amazing almost anywhere (within reason). Here, our favorite makeup looks of the season so far.

The fall runways showcased a broad range of hairstyles—braids, buns, ponytails, and even wigs. But there were unifying themes, too: A pervasive sense of ease; experimentation with texture; and an apparent belief that anything goes.

It's not always about the ladies of style. Check out these fashion icons.

Do you hear that? It's the sound of hundreds of cover bands beginning to tune their guitars and trying to remember the lyrics to "Shout." Ladies and gentlemen (but mostly ladies), it's nearly wedding season.

So, it hasn't snowed in nearly a week—does that mean it's summer yet? Well, almost. But alas, just because you're confident setting aside your trusty Sorel boots unfortunately doesn't mean you get to hop right into an itsy-bitsy-teenie-weenie yellow polka dot bikini just yet. Unless, of course, you're headed somewhere tropical in the next few weeks (lucky you!) and really do need to stock up on sexy swimsuits right now.

Getting away from it all for a bit? Your vacation wardrobe should be just like your plans: laid-back but totally fabulous. Take a cue from these celebrities, whose low-effort, high-style outfit ideas are officially on our must-copy list.

These fun and flattering vintage-style suits blend the best of the old with the best of the new.

Although it's not officially spring yet—the best time to start shopping for warm-weather clothes is now, while stores still have a good selection. Waiting until it's actually balmy enough to go bare-legged and short-sleeved leaves far too many factors to chance: what if your size sells out? Or the wrong color is left? And let's not forget about gross makeup stains from 10 other people trying it on!

From patriotic bikinis to retro two pieces, these celebs' stylish swimsuits will have you counting down to beach season! Check out your favorite stars rocking the hottest swim trends!

Neutral tones and beautiful metallics were a huge trend on the Oscars red carpet. And we saw so many dresses that would be exceptionally beautiful walking down the aisle. Here are our favorites!