Samantha Brick Gripes About Being Too Gorgeous, Breaks Internet (Almost)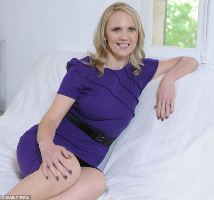 By Laura T. Coffey,
The Look on TODAY Style
Remember when supermodel Gisele Bundchen made women everywhere seethe when she said many moms-to-be turn their bodies into "garbage disposals" and noted how easy it had been for her to lose weight after her pregnancy? Well, this is kind of like that, only weirder.
Samantha Brick
, 41, a British freelance journalist who lives in France, is gaining notoriety for an essay she wrote for the Daily Mail. The headline?
'There are downsides to looking this pretty': Why women hate me for being beautiful
.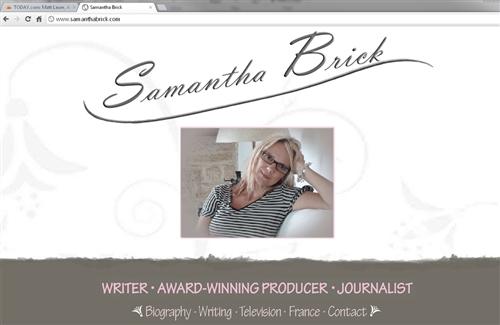 Samanthabrick.com -- Here is an image from the website of Samantha Brick, who maintains that "there are downsides to looking this pretty."

It goes without saying that the essay's premise — author faces hardships and unfair treatment from other women because she's stunningly gorgeous — is asking for trouble. But ... WOW. Samantha Brick created so much buzz that she practically broke the Internet. She became a trending topic on Twitter and generated thousands of comments from readers over what BuzzFeed described as "quite possibly the least relatable essay ever written."

Much of the backlash seems to center on the idea that Brick's opinion of her looks is
— to, ummm, put this as delicately as possible — disproportionately positive.

The Daily Mail piece ran with seven photos of Brick, which elicited these sorts of comments and tweets from readers:
"Seriously?!"
"I'm obviously missing something...."
"This is so ridiculous I still can't quite stop laughing. Thank you — you've made my day!"
"I just went to get chocolate & I was made to pay for it. Might've been a different story if I was Samantha Brick."

The backlash gets meaner than that — much meaner — as noted in a thoughtful post by the Telegraph's Brendan O'Neill headlined "The Twitterstorm against Samantha Brick is infinitely uglier and nastier than the article she wrote."

In short, it seems that the wolves couldn't resist the red meat dangled before them when those seven photos were juxtaposed alongside Brick's lamentations.

Here are some excerpts from Brick's essay:
"While I'm no Elle Macpherson, I'm tall, slim, blonde and, so I'm often told, a good-looking woman. I know how lucky I am. But there are downsides to being pretty — the main one being that other women hate me for no other reason than my lovely looks."
"It is not just jealous wives who have frozen me out of their lives. Insecure female bosses have also barred me from promotions at work. And most poignantly of all, not one girlfriend has ever asked me to be her bridesmaid."
"You'd think we women would applaud each other for taking pride in our appearances. I work at mine — I don't drink or smoke, I work out, even when I don't feel like it, and very rarely succumb to chocolate. Unfortunately women find nothing more annoying than someone else being the most attractive girl in a room."
"So now I'm 41 and probably one of very few women entering her fifth decade welcoming the decline of my looks. I can't wait for the wrinkles and the grey hair that will help me blend into the background."

OK. So. What do you think about all of this? Is it a freaky example of oversharing? A commentary on how women treat one another? A slightly belated April Fool's joke?

Top Photo: Courtesy of The Daily Mail

More from The Look on TODAY Style:
Get Giuliana Rancic's $28 sexy fishtail skirt
Transgender beauty queen criticizes Donald Trump
Nail news: Designer stickers, Kate Spade polish and more
beauty tips and style advice
Stunning wedding styles that create a statement.

Hue-changing dos we absolutely love.

In case you weren't already overwhelmed enough by the daunting task of jeans shopping (or really, clothes shopping in general), our friends over at Racked published a handy little infographic today comparing the sizing of a variety of different retailers that you've likely frequented at least a handful of times in your lifetime.

I attended the Abercrombie and Fitch holiday-season press preview yesterday, and in between checking out the cute gear that will hit stores this November, I picked up a little nugget of information I just have to share.

How to wear this cool-weather staple in the summer.

See how Miranda Kerr made a pair of Birkenstocks chic.

We love how a new nail polish has the ability to instantly change your look and your mood with a simple swipe. While happy lime greens and aquas are ruling the five million #nailpolish Instagrams this summer, there are a variety of great colors to choose from—whether you want an office-appropriate neutral or a fun going-out shade that'll give your LBD a punch of color.

You already know wearing white after Labor Day is cool. But menswear is reinventing itself rapidly, leaving some long-held mandates by the wayside, not to mention a bunch of men with a lot of questions. Sure, some style laws are truly inviolable. Showing a quarter-inch of cuff will always be crucial, but with designers and dandies flaunting so many former taboos it's hard to tell what's in play these days. So we thought we'd take this opportunity to let you know which rules no longer apply.

Put down the wrinkled button-down, step away from the Crocs, and open your closet. We need to talk about the new rules of casual.

Buying a brush is like getting a new smartphone: once you learn how to use it, it's indispensable.

Surfers are the epitome of cool, laid-back American style. And if we can't be them, at least we can copy their hair.

It's time for bridal beauty to loosen up. Hair doesn't have to be tightly wound, makeup perfectly contoured, and nails French manicured (on this last point, really, please don't). You can, in fact, look gorgeously and timelessly cool at your wedding. Here's how.