Samantha Brick Gripes About Being Too Gorgeous, Breaks Internet (Almost)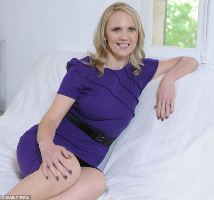 By Laura T. Coffey,
The Look on TODAY Style
Remember when supermodel Gisele Bundchen made women everywhere seethe when she said many moms-to-be turn their bodies into "garbage disposals" and noted how easy it had been for her to lose weight after her pregnancy? Well, this is kind of like that, only weirder.
Samantha Brick
, 41, a British freelance journalist who lives in France, is gaining notoriety for an essay she wrote for the Daily Mail. The headline?
'There are downsides to looking this pretty': Why women hate me for being beautiful
.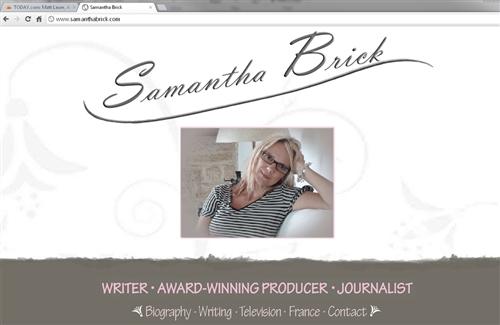 Samanthabrick.com -- Here is an image from the website of Samantha Brick, who maintains that "there are downsides to looking this pretty."

It goes without saying that the essay's premise — author faces hardships and unfair treatment from other women because she's stunningly gorgeous — is asking for trouble. But ... WOW. Samantha Brick created so much buzz that she practically broke the Internet. She became a trending topic on Twitter and generated thousands of comments from readers over what BuzzFeed described as "quite possibly the least relatable essay ever written."

Much of the backlash seems to center on the idea that Brick's opinion of her looks is
— to, ummm, put this as delicately as possible — disproportionately positive.

The Daily Mail piece ran with seven photos of Brick, which elicited these sorts of comments and tweets from readers:
"Seriously?!"
"I'm obviously missing something...."
"This is so ridiculous I still can't quite stop laughing. Thank you — you've made my day!"
"I just went to get chocolate & I was made to pay for it. Might've been a different story if I was Samantha Brick."

The backlash gets meaner than that — much meaner — as noted in a thoughtful post by the Telegraph's Brendan O'Neill headlined "The Twitterstorm against Samantha Brick is infinitely uglier and nastier than the article she wrote."

In short, it seems that the wolves couldn't resist the red meat dangled before them when those seven photos were juxtaposed alongside Brick's lamentations.

Here are some excerpts from Brick's essay:
"While I'm no Elle Macpherson, I'm tall, slim, blonde and, so I'm often told, a good-looking woman. I know how lucky I am. But there are downsides to being pretty — the main one being that other women hate me for no other reason than my lovely looks."
"It is not just jealous wives who have frozen me out of their lives. Insecure female bosses have also barred me from promotions at work. And most poignantly of all, not one girlfriend has ever asked me to be her bridesmaid."
"You'd think we women would applaud each other for taking pride in our appearances. I work at mine — I don't drink or smoke, I work out, even when I don't feel like it, and very rarely succumb to chocolate. Unfortunately women find nothing more annoying than someone else being the most attractive girl in a room."
"So now I'm 41 and probably one of very few women entering her fifth decade welcoming the decline of my looks. I can't wait for the wrinkles and the grey hair that will help me blend into the background."

OK. So. What do you think about all of this? Is it a freaky example of oversharing? A commentary on how women treat one another? A slightly belated April Fool's joke?

Top Photo: Courtesy of The Daily Mail

More from The Look on TODAY Style:
Get Giuliana Rancic's $28 sexy fishtail skirt
Transgender beauty queen criticizes Donald Trump
Nail news: Designer stickers, Kate Spade polish and more
beauty tips and style advice
Avoid the hype at the makeup counter by sticking to this list of tried and true performers that will help you look your best day in and day out.

See Kate's best looks from Australia.

The springtime is the best time to press the reset button on your wardrobe, and given the great new fashion that's hitting stores right now, there are a myriad of ways to reboot and refresh. Of the nine must-try trends this season, it can be tough to choose a favorite. Perhaps you're feeling for a graphic floral? And maybe the season's sport-luxe look fits your style too? That said, if you're picking battles where your budget is concerned, the idea of a complete spring makeover can be overwhelming. Fret not, our biannual 100+ Under $100 Guide pulls pieces inspired by both the runways and the pages of the magazine together—at the perfect price.

We raided the aisles to find the best cheapie formulas for you.

As of this morning, I have decided that Kate Middleton should just tour things forever so we get to see more updos like the one she wore last night at a reception hosted by the Governor General Peter Cosgrove in Canberra, Australia.

Dressing for the office doesn't have to boring. Follow these style and beauty tips and you'll be sure to impress.

Every year, we look to the biggest names in bridal beauty and fashion design to pinpoint the hottest bridal hair and makeup ideas – keeping in mind of course that this is a wedding (no crazy neon mascara here). This year, bridal beauty has gone extra natural and romantic -- think messy braids, wispy hair, natural eye makeup and more.

You've got the dress. You've got the venue, date, and invitations. The last thing you need to complete your wedding day? An amazing pair of shoes to wear as you walk down the aisle!

With the dress as the main focus, you want the hair to be understated. An updo does just that. But there's a difference between understated and boring. Adding simple accessories, like a pin or flower, is just enough decoration to the hair. Let these gorgeous pins serve as inspiration for finding a simple, yet understated, wedding hairstyle.

Just when we were getting used to seeing beards everywhere, it may be time for men who enjoy the attention of the opposite sex to invest in some shaving paraphernalia. In a new University of New South Wales study, researchers found that "when people are confronted by a succession of bearded men, clean-shaven men become [...]

If your arm aches just thinking about blow-drying, take heart: These easy hair-saving tips will cut down on your mirror time and deliver salon-level results.

From designer maxi dresses by Roberto Cavalli and Temperley London to contemporary finds by Alice + Olivia and Zimmermann, there's a dress for every kind of seaside bride.