Do 'friends with benefits' have safer sex?
Sex buddies may be casual, but they're also careful.
Friends with benefits relationships are known to be ripe with unpleasant possibilities, but a new study has found a silver lining to the casual sex conundrum.
According to a recent poll, friends who engage in no-strings-attached sexual relationships are more likely to use condoms than couples in traditional relationships.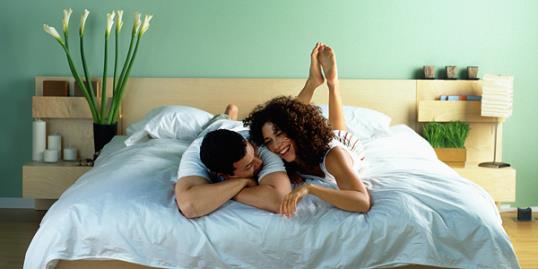 More on MSN Living: 10 foolproof ways to get in the mood
The poll, which was published in the Nov. 26 issue of the Journal of Sex Research, surveyed 376 people. Most were college-age—in their mid-20s. About half of those polled were in a friends-with-benefit​s relationship; the other half said they were in a traditional romantic relationship. Subjects in both groups said they'd known their partner for about four years.
Overall, researchers found that friends-with-benefit​s couples were less sexually satisfied, less likely to communicate about sex and more likely to have multiple sex partners.
More on MSN Living: The real reasons men shut down
It's not news that this type of relationship comes with its share of risks, but it may be somewhat surprising that casual-sex couples are proactive about managing these risks. They may not be committed, but they're cautious.
Justin Lehmiller, a social psychologist at Harvard University, explains that traditional couples are probably less likely to use condoms because they're more committed to their partner. Traditional couples trust that the relationship is monogamous; thus, they aren't as concerned about the health risks.
Researchers also found that friends-with-benefit​s relationships are fairly common. They point out that half of college-age students have at least some experience in this arena. Because of this, researchers argue that sex education "should consider explicitly addressing the unique health implications of involvement in these relationships."
Photo: Karen Moskowitz/Getty Images
Bing: Celebrity best friends
More Sex & Love on MSN Living:
How to pick a wedding band that works with your engagement ring
Wedding welcome basket shopping list
7 stories of lost wedding rings with happy endings 
Most common holiday arguments—and how to avoid them
beauty tips and style advice
And before you ask, sorry, the $325 dress is SOLD OUT on Matches.com and DVF.com—you snooze, you loose.

Click through the slideshow to shop some of our spring favorites.

French braid? Been there. Fishtail? Done that. The newest styles are all about unexpected texture, major volume, and one man's wild imagination.

Long hair, don't care? Think again…

She dishes on the routine that keeps her looking polished, even when she's pulling up to the <i>Mad Men</i> set at 5 a.m. Plus, the fragrance that helps Christina get her Joan on.

For inspiration, we've rounded up gorgeous (and easy to replicate) wedding makeup looks from the red carpet.

With a few insider tricks, you can enjoy short hair 365 days of the year and have a gorgeous style on your wedding day. Wedding hairstyles for short hair do exist.

I'm beyond excited to finally ditch my winter coat and heavy layers, but I'm not so eager to ditch my tights. Let's just say my legs are not as smooth and bronzed as they were the last time I showed them off many, many months ago.

After a jam-packed week in New Zealand, Kate Middleton and Prince William finally enjoyed a day off, but as of last night (or this morning..? Ah, time change!) they're back on the road again.

These travel-sized beauty products will do double-duty while you're on the road.

Neatly sidestepping high fashion, the smiling, cheerful Kate Middleton is fast becoming the Duchess of Normcore.

This December, New Yorkers might notice something missing in the Christmas air.