Votes are in: Meggings are the year's worst fashion trend
New poll reveals the most hideous styles of 2012.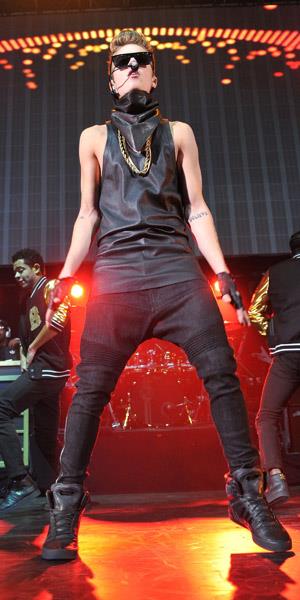 Not that we're surprised on this one, but among all the hideous fashion trends out there -- and there are a lot, people -- the votes are in. Money-saving site www.CouponCodes4u.co​m polled 2,107 fashion-savvy Americans and found that among all the bad trends of the past year, meggings -- aka leggings for men -- were the least favorite trend, garnering 57 percent of votes.

Meggings were followed closely in lack of love by head-to-toe animal print, with 53 percent of votes, and onesies at 49 percent.

But even though many people hated on the trend, they still may have worn it at one point or another.

More Living Style: Guys: 10 affordable buys for your spring wardrobe

"It is interesting to see how interested Americans are in the latest fashion trends, and one thing they seem to be able to agree on is that the worst fashion trend from 2012 was the meggings trend," said Mark Pearson, chairman of the site. "While many fashion-savvy shoppers were happy to vote on which trends they felt were the worst, what struck me was how many consumers admitted that they not only wore the fashion trend in question, but many of them even liked the piece at the time."

More Living Style: Editors' picks: What we love right now

So if you were caught sporting one of the least-liked trends, you're definitely not alone. "Just goes to show how quickly trends change, which isn't good news for our wallets. People should keep their wardrobes fashionable by customizing their clothes or pairing certain items with other fashion pieces to change the look but keep it current. You don't have to spend a fortune to look good, especially with so many coupons and sales available."

The worst fashion trends of 2012:

1. Meggings -57%
2. Head to toe animal print - 53%
3. Onesies - 49%
4. Lensless glasses - 48%
5. The PJ trend - 44%
6. Double denim -41%
7. Overalls -37%
8. Platform flip-flops -34%
9. Over the forehead headbands -32%
10. Gladiator sandals - 26%
Tell us on Facebook: Which is your least-favorite fashion trend of 2012?
More Simply Chic:
Spanx for men: Coming to a store near you
Barbie goes au naturel
Meet Underella: Ella Moss' flirty new lingerie line
Bing:
Meggings for men
beauty tips and style advice
=Hairdresser Rossano Ferretti can expect plenty of business following my news that the Duchess of Cambridge booked in to his luxury hair spa for a marathon six-hour session recently.

Selena Gomez with short hair? Behold the evidence at the KISS FM Jingle Ball last night.

Having a sister means stealing each other's clothes and fighting over the bathroom mirror. It also means enjoying two wardrobes and sharing new beauty-product tips and tricks. Here, our five favorite sets of celebrity sisters and the beauty lessons we've learned from them.

Most regrettable trends come with warning signs: Do your teeth set off metal detectors? Are your lashes prone to tangling? Are your shoes ugly and uncomfortable? Here is this year's crop of bad fads.

Restoring botched brows can be a major pain in the...arch.

In order to cope with the intense feelings of jealousy I experienced when seeing Jennifer Garner's flawless hairstyle last week, I decided to contact the stylist responsible for the look, Kylee Heath, and find out what exactly she did to produce these glorious results.

Apparently, every celebrity in the world decided to dye her hair over the last few days—or at least Duchess Catherine, Sienna Miller, and Pamela Anderson did.

It was the chicest family night out ever in London yesterday, as Victoria Beckham hit the red carpet, along with her ADORABLE sons, Brooklyn, little fashionisto Romeo, and Cruz, to support the premiere of the soccer football documentary Class of '92, featuring superstar dad David. And she looked perfect as always—in Victoria Beckham, of course.

There will always be a special place in our hearts for Pez—the completely absurd and impractical oblong candy that children are somehow meant to be patient enough to dispense, one by one, from a creaky plastic spring-loaded drawer contraption—and a newly minted shoe designer Camilla Elphick, a Cordwainers College graduate, has tapped into our oral fixation.

When it comes to her latest hair change, it's pretty clear that Sienna Miller was thinking pink!

She's followed by Michael Kors and Ralph Lauren.

Tis the season for gift-giving, mistletoe, snowmen – and ugly holiday sweaters. Whether you're headed to an ugly sweater party or just want to stay cozy in a festive, patterned pullover, Pinterest is chock full of joyful style inspiration this holiday season.