Votes are in: Meggings are the year's worst fashion trend
New poll reveals the most hideous styles of 2012.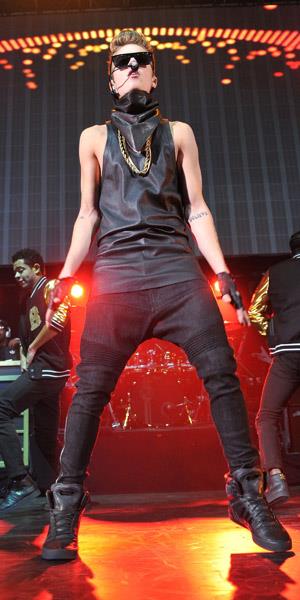 Not that we're surprised on this one, but among all the hideous fashion trends out there -- and there are a lot, people -- the votes are in. Money-saving site www.CouponCodes4u.co​m polled 2,107 fashion-savvy Americans and found that among all the bad trends of the past year, meggings -- aka leggings for men -- were the least favorite trend, garnering 57 percent of votes.

Meggings were followed closely in lack of love by head-to-toe animal print, with 53 percent of votes, and onesies at 49 percent.

But even though many people hated on the trend, they still may have worn it at one point or another.

More Living Style: Guys: 10 affordable buys for your spring wardrobe

"It is interesting to see how interested Americans are in the latest fashion trends, and one thing they seem to be able to agree on is that the worst fashion trend from 2012 was the meggings trend," said Mark Pearson, chairman of the site. "While many fashion-savvy shoppers were happy to vote on which trends they felt were the worst, what struck me was how many consumers admitted that they not only wore the fashion trend in question, but many of them even liked the piece at the time."

More Living Style: Editors' picks: What we love right now

So if you were caught sporting one of the least-liked trends, you're definitely not alone. "Just goes to show how quickly trends change, which isn't good news for our wallets. People should keep their wardrobes fashionable by customizing their clothes or pairing certain items with other fashion pieces to change the look but keep it current. You don't have to spend a fortune to look good, especially with so many coupons and sales available."

The worst fashion trends of 2012:

1. Meggings -57%
2. Head to toe animal print - 53%
3. Onesies - 49%
4. Lensless glasses - 48%
5. The PJ trend - 44%
6. Double denim -41%
7. Overalls -37%
8. Platform flip-flops -34%
9. Over the forehead headbands -32%
10. Gladiator sandals - 26%
Tell us on Facebook: Which is your least-favorite fashion trend of 2012?
More Simply Chic:
Spanx for men: Coming to a store near you
Barbie goes au naturel
Meet Underella: Ella Moss' flirty new lingerie line
Bing:
Meggings for men
beauty tips and style advice
Once the summer heat kicks in, it's all we can do not to slip into the breeziest beach dresses and flip-flops for the morning commute. So trust us when we say we understand that the humidity can have a powerful effect on your wardrobe — still, there are some things you just can't wear to your place of employment, no matter how hot it gets.

Wrinkle no blouse, tangle no jewelry, leave no beauty product behind, and still have room to spare.

Hue-changing dos we absolutely love.

Why your jean size varies from store to store.

Wait a month between waxing visits? Check. Pop a preappointment Advil? Duh. We all know the basics, but here are the tricks you don't know.

What to always—and never, ever—do to keep hair in top shape.

Get inspired to try these sweet and summery looks.

Stunning wedding styles that create a statement.

I attended the Abercrombie and Fitch holiday-season press preview yesterday, and in between checking out the cute gear that will hit stores this November, I picked up a little nugget of information I just have to share.

How to wear this cool-weather staple in the summer.

See how Miranda Kerr made a pair of Birkenstocks chic.

We love how a new nail polish has the ability to instantly change your look and your mood with a simple swipe. While happy lime greens and aquas are ruling the five million #nailpolish Instagrams this summer, there are a variety of great colors to choose from—whether you want an office-appropriate neutral or a fun going-out shade that'll give your LBD a punch of color.