Ask A Dude: Do Heels Really Make A Difference?
By Lawrence Schlossman, Lucky Magazine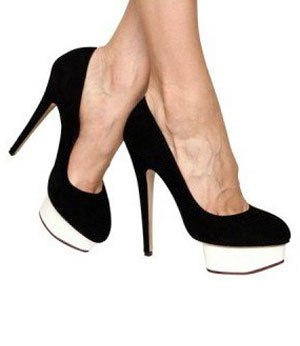 Dear Dude,From a guy's perspective, do heels really make that big a difference when it comes to a date-night outfit? Do you really care if we wear heels rather than, say, boots or flat sandals? And what if a particular pair of stilettos makes a girl as tall as—or taller than—her man friend?

I would imagine that when you go out on date night, whether it be a first date or just another date with the person you are currently getting to know/seeing/married to/settling with/employed you via Craigslist/etc., you have a certain set of expectations. Now, don't get it twisted—when I say "expectations," I don't mean the kind of exaggerated expectations that tend to follow the typical "women be shopping" dialogue. Simply put, you want the other person to take you and the time they spend with you seriously.

So, while the guy you're dating isn't going to magically show up and be Michael Fassbender, Daniel Craig or (at the very least) Paul Rudd, you'd hope he took things seriously enough to impress you with his appearance. I think the same thing applies in the reverse scenario. Whether or not he is expecting heels, and he probably is because "sexy shoes" are, like, the bare minimum of "fashion" signifiers that the average man understands, I think wearing them is the right move. You and I both know that you put thought—maybe too much thought—into what you're wearing to date night. Your date probably does not. But when he sees heels, I think it's safe to assume that he knows you mean business.

Personally, I have nothing against boots or flats. Actually, I take back the flats part. A cute pair of sneakers or sandals beats those fancy socks masquerading as middle school ballerina practice slippers any day. But for those of you looking to lead by example, I think they fall a little on deaf ears.

As for the worry of being as tall or (gasp!) taller than your man friend, I wouldn't sweat it too much. Everyone knows someone who knows that weird short dude that is creepily obsessed with taller girls. You hear about him and it sounds shocking and bizarre. To be honest, I've never met a guy, short or tall, who had a problem with getting together with a tall woman. Seriously! Let's chalk that one up to ridiculous gender roles, forget about it and talk about how awesome Hillary Clinton is.

Lawrence is a writer living in New York. Got a guy-related fashion question for him? Leave it in the comments, tweet him at @SartoriallyInc or email him on

luckydude467@gmail.c​om

.More From Lucky:

    •   

Ask A Dude: First Date Outfit

    •   

Ask A Dude: Are Guys Into Cologne These Days?

    •   

Ask A Dude: Crazy Nail Art
beauty tips and style advice
Sunglasses: it may seem counterintuitive to invest in a wintertime accessory traditionally viewed as a sunny, warm-weather item. But spring is on the way and we're also currently being exposed to crazy amounts of UV rays—and then, of course, there's the reflective snow situation.

Some people look younger than they are, some look older. Even those with easy access to BOTOX and personal trainers. Can you guess the age of these celebrities?

Did anyone else hear wedding bells on the Oscars red carpet last night?

Then after the show, er, Oscars, it's the after party. Then after the party, it's the... Best Dressed List, of course. Nikki already picked her tops for the Academy Awards red carpet (did you vote yet?), so now it's time to see what the stars wore to the post-celebrations.

As I continue my personal campaign to swap out E!'s mani cam with a back-of-updo cam (and as a service to all the hardworking hairstylists who spent so much time creating beautiful hair looks for the 2014 Oscars), I'd like to point out that we miss a lot of gorgeous detail when we don't get the back view of a star's hair.

The bold new trend on the Oscars red carpet.

Trying new hairstyles is fun (have you picked up Allure Hair: The Ultimate How-To Hair Guide yet?).

When someone says "Julia Roberts," you think teeth. You think hair. But while you may not immediately think fashion, she has had a pretty consistent—and consistently pretty—style since her Mystic Pizza days: clean, classic, menswear-inspired looks that let her natural beauty—and rightly famous smile—take center stage. Here's how she has elevated that look over the years.

Lupita Nyong'o shows off the power of the pixie on the Oscars red carpet.

Walk a mile in a pair of SJP's stilettos? Well yes, we'd love to; thank you for asking.

Anti-aging doesn't have to take over your life. Here, expert tweaks to slow the clock.

We're at the tail end of a jam-packed awards season, with the grand finale—the Oscars, duh—just a few days away. We can't wait to see what our favorite nominees wear—we already know Jennifer Lawrence will step out in a breathtaking Dior, while we hope to see Lupita Nyong'o pick another brilliantly bold monochromatic gown. As for which designer she'll select—Gucci? Ralph Lauren?—that's anyone's guess.