Ask A Dude: Do Heels Really Make A Difference?
By Lawrence Schlossman, Lucky Magazine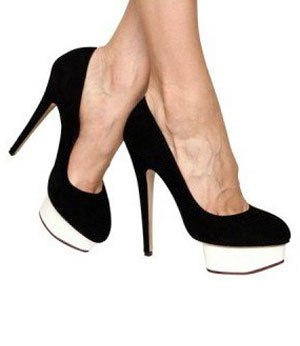 Dear Dude,From a guy's perspective, do heels really make that big a difference when it comes to a date-night outfit? Do you really care if we wear heels rather than, say, boots or flat sandals? And what if a particular pair of stilettos makes a girl as tall as—or taller than—her man friend?

I would imagine that when you go out on date night, whether it be a first date or just another date with the person you are currently getting to know/seeing/married to/settling with/employed you via Craigslist/etc., you have a certain set of expectations. Now, don't get it twisted—when I say "expectations," I don't mean the kind of exaggerated expectations that tend to follow the typical "women be shopping" dialogue. Simply put, you want the other person to take you and the time they spend with you seriously.

So, while the guy you're dating isn't going to magically show up and be Michael Fassbender, Daniel Craig or (at the very least) Paul Rudd, you'd hope he took things seriously enough to impress you with his appearance. I think the same thing applies in the reverse scenario. Whether or not he is expecting heels, and he probably is because "sexy shoes" are, like, the bare minimum of "fashion" signifiers that the average man understands, I think wearing them is the right move. You and I both know that you put thought—maybe too much thought—into what you're wearing to date night. Your date probably does not. But when he sees heels, I think it's safe to assume that he knows you mean business.

Personally, I have nothing against boots or flats. Actually, I take back the flats part. A cute pair of sneakers or sandals beats those fancy socks masquerading as middle school ballerina practice slippers any day. But for those of you looking to lead by example, I think they fall a little on deaf ears.

As for the worry of being as tall or (gasp!) taller than your man friend, I wouldn't sweat it too much. Everyone knows someone who knows that weird short dude that is creepily obsessed with taller girls. You hear about him and it sounds shocking and bizarre. To be honest, I've never met a guy, short or tall, who had a problem with getting together with a tall woman. Seriously! Let's chalk that one up to ridiculous gender roles, forget about it and talk about how awesome Hillary Clinton is.

Lawrence is a writer living in New York. Got a guy-related fashion question for him? Leave it in the comments, tweet him at @SartoriallyInc or email him on

luckydude467@gmail.c​om

.More From Lucky:

    •   

Ask A Dude: First Date Outfit

    •   

Ask A Dude: Are Guys Into Cologne These Days?

    •   

Ask A Dude: Crazy Nail Art
beauty tips and style advice
The famous Parisian shoe designer has unveiled a luxurious new nail polish, his first foray into the world of beauty, and there are no prizes for guessing what color it comes in.

Average shoe size is up about two sizes since the '70s, study says.

They can't escape wedding season, so they might as well look their best.

Front-row style star Miroslava Duma just clears 5′, Oscar winner Reese Witherspoon one-ups her—literally—at 5′ 1″, and fashion crush Rachel Bilson barely tops them both at a whopping 5′ 2″. But aside from standing at the diminutive end of the height spectrum, these three ladies have something else in common: the ability to nail every summer fashion trend. If you're part of the petite girls' club, take a look at these 12 fashion essentials—from closet staples to chic accessories—to keep you at the top of your style game this summer.

Quick, easy, everywhere-appropriate: There's no summer piece quite as versatile--or flattering.

These fresh, cute outfit ideas range from unexpected mash-ups to completely coordinated looks. What they all have in common is they'll get you out the door feeling totally confident.

Because it actually takes some makeup—maybe even a few false lashes—to look beautifully bare-faced.

Make a good impression by presenting the best form of yourself. Even when luck's against you--for instance, you encounter a huge zit the week before an important presentation--take action now. Here are fixes for your most common grooming mishaps.

We're still dreaming about Olivia Palermo's unconventional yet impossibly chic wedding-day ensemble. The shorts! The jutting tulle skirt overlay! The creamy cashmere sweater! Everything about this layered look is as trend-setting as it is unique.And though she may be the first star to walk down the aisle in shorts, Olivia isn't the first celebrity to say "I do" in something nontraditional. Several boundary-pushing stars have skipped the all-white look, and instead opted for a colorful wedding dress.

Keep your tresses looking their best, even on the muggiest of summer days, with these tips

Wide-leg pants are blowing up. Six women show us how to style a pair by Lauren Ralph Lauren.

It's the best and worst time to be a single girl in the dating world. On the one hand, past generations of women didn't have the freedom, financial independence, access to birth control (depending on your state and employer, of course), or plethora of options to meet new people—online and off—that we enjoy today. On the other hand, they also didn't have to worry about sexting, selecting the best selfie for their profile picture, or accidentally swiping right on a coworker.