Ask A Dude: Do Heels Really Make A Difference?
By Lawrence Schlossman, Lucky Magazine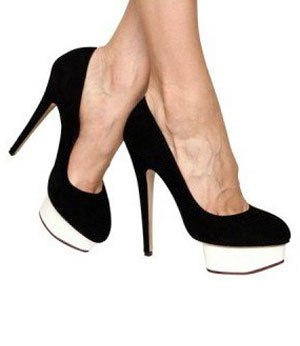 Dear Dude,From a guy's perspective, do heels really make that big a difference when it comes to a date-night outfit? Do you really care if we wear heels rather than, say, boots or flat sandals? And what if a particular pair of stilettos makes a girl as tall as—or taller than—her man friend?

I would imagine that when you go out on date night, whether it be a first date or just another date with the person you are currently getting to know/seeing/married to/settling with/employed you via Craigslist/etc., you have a certain set of expectations. Now, don't get it twisted—when I say "expectations," I don't mean the kind of exaggerated expectations that tend to follow the typical "women be shopping" dialogue. Simply put, you want the other person to take you and the time they spend with you seriously.

So, while the guy you're dating isn't going to magically show up and be Michael Fassbender, Daniel Craig or (at the very least) Paul Rudd, you'd hope he took things seriously enough to impress you with his appearance. I think the same thing applies in the reverse scenario. Whether or not he is expecting heels, and he probably is because "sexy shoes" are, like, the bare minimum of "fashion" signifiers that the average man understands, I think wearing them is the right move. You and I both know that you put thought—maybe too much thought—into what you're wearing to date night. Your date probably does not. But when he sees heels, I think it's safe to assume that he knows you mean business.

Personally, I have nothing against boots or flats. Actually, I take back the flats part. A cute pair of sneakers or sandals beats those fancy socks masquerading as middle school ballerina practice slippers any day. But for those of you looking to lead by example, I think they fall a little on deaf ears.

As for the worry of being as tall or (gasp!) taller than your man friend, I wouldn't sweat it too much. Everyone knows someone who knows that weird short dude that is creepily obsessed with taller girls. You hear about him and it sounds shocking and bizarre. To be honest, I've never met a guy, short or tall, who had a problem with getting together with a tall woman. Seriously! Let's chalk that one up to ridiculous gender roles, forget about it and talk about how awesome Hillary Clinton is.

Lawrence is a writer living in New York. Got a guy-related fashion question for him? Leave it in the comments, tweet him at @SartoriallyInc or email him on

luckydude467@gmail.c​om

.More From Lucky:

    •   

Ask A Dude: First Date Outfit

    •   

Ask A Dude: Are Guys Into Cologne These Days?

    •   

Ask A Dude: Crazy Nail Art
beauty tips and style advice
These travel-sized beauty products will do double-duty while you're on the road.

Neatly sidestepping high fashion, the smiling, cheerful Kate Middleton is fast becoming the Duchess of Normcore.

This December, New Yorkers might notice something missing in the Christmas air.

When Madonna posted an image of herself wearing a full on Game of Thrones Khaleesi costume on Instagram last week we weren't exactly surprised—this is the woman who rolled into the Grammy Awards wearing a tuxedo and a grill earlier this winter, so why not celebrate the Jewish holiday of Purim with a leather corset and a pair of tiny dragons? Still, we were hypnotized by her white-blonde, braided Daenerys Targaryen hair. Functioning as a bleached out cultural weather vane of sorts, it tapped into multiple obsessions at once—the return of "Game of Thrones" to HBO, spring's new extreme hair lengths and, most notably, fashion's current platinum mania. Our own love of ice-blonde hair—which transforms any look from everyday to extraordinary—has been well documented of late, but last night's Game of Thrones premiere sent our platinum fever into overdrive. In celebration of fashion's favorite hair color, a look at the best platinum moments in history.

While you were sleeping, fast retail chain H&M H&M announced that its next designer collaboration is with Alexander Wang.

Formal, beachy, country club-chic or gorgeously rustic whatever the setting calls for, we've found a bevy of beautiful dresses to wear to a wedding this season.

Puffy, tired, weary no more. These tips take years off and create that "I slept great, thanks!" effect.

Top dermatologists, cosmetic chemists, makeup artists, and hairstylists reveal quick tips and tricks that can peel back years in a matter of seconds

We're all for sartorial freedom, but there are certain once-on-trend items that, when worn today, appear anything but current. Consider this your official out list.

If you're a practitioner of reselling your clothes—a good way to clear out some space in your wardrobe and make a few extra bucks—you might already be familiar with San Francisco-based thredUP.

A picture may be worth a thousand words, but emoji must be worth at least a million. Here we show you how to channel your favorites: Go ahead, express yourself!

11 earth-friendly beauty products we love.