Seeing is believing: Plus-size models may boost body image
A new study shows that society's seeming preference for super-skinny models may be only in the eyes of their beholders.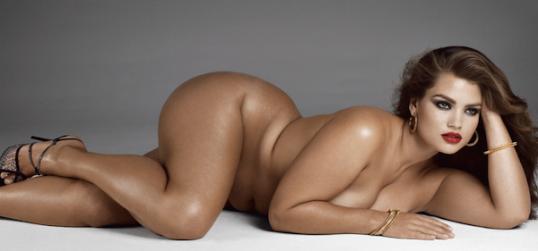 Preliminary research from Durham University in the United Kingdom reveals (yet again!) that what women see in the media shapes their views about their own shape. It seems logical, but it's a message that's only recently filtering in to top fashion magazines and couture catwalks – namely that if plus-size models are used in advertising and glam fashion shoots, women will find those body types beautiful and aspirational. And this may also have the side effect of boosting the self-esteem of average and plus-size women.
Related: Browse millions of women's plus-size clothing choices
In the study, the more images of thin models the participants saw, the more they preferred that body type. Yet, when they were shown pictures of plus-size models, their preference shifted to that figure. What this reveals is that women have a much more diverse view of female beauty than our media portrays, and what we're exposed to absolutely affects our definition of an "ideal body." Follow-up studies with more women (and men!) are forthcoming.
Related: Plus-size fall fashion guide 
Bing: See more photos of plus-size models
More on Simply Chic:
The 5 craziest looks from the Victoria's Secret fashion show 
Are these cheerleaders' outfits too skimpy?
Kate Middleton recycles another outfit
Tell us: Do you think that we'd all be better served by a fashion industry that reflected our true diversity?
Photo: Courtesy of Scenicreflections.co​m

beauty tips and style advice
That elusive, perfect-every-day haircut can be yours. Don't be skeptical, now; these sweet, shorter styles are as easy to pull off as they are flattering. So chop chop!

The wedding dresses on the spring 2015 runways were beautiful, breezy, and fresh—just like a breath of warm spring air. No matter where or when you'll say your vows (or how big or small your budget is), your dream wedding dress is just a few clicks away.

The results were crazy awesome.

There are no bad bodies, just bad jeans! Consider your denim problem areas solved (thanks to our 50-pair editor try-on).

Mascara wands are getting fatter, but that may not help your lashes. There's a better way to gain weight.

Three summers ago, I bought a pair of soft, white-calfskin Chanel loafers. I spent months trying to keep them pristine, but it wasn't long before a July thunderstorm left them and me soaked. I began steeling myself for what I thought was inevitable: a solemn drop in the trash. But once the loafers dried, I found the shoes' stained stitching—now storm-cloud gray—was lovely and a few new wrinkles in the leather were charming, like smile lines for shoes. I started to wear them freely—taking on puddles and tossing them onto the sand at the beach—and before long, they transformed. The roughened toe-tops reminded me of a welcoming, worn armchair, and a wet-and-hot summer had molded the material perfectly to my feet.

When the clock's ticking, digging though every compact in your bathroom is an exercise in frustration. What you need is one simple bag with a selection of products that help you pull yourself together as quickly as possible, at home or on the road. In it:

You know the freshly scrubbed, athletic look that defines American beauty? Turns out it's been centuries in the making.

According to Hollywood's top hairstylists, celebrity clients get sticky fingers when it comes to these no-fail products.

The American company that helped to popularize the shapewear trend has moved into the world of denim with a new jeans collection.

What to wear and what to avoid the next time you attend a wedding.

Want the most gorgeous hair of your life for your wedding day? Of course you do. Hairstylist Jen Atkin shares the top mistakes brides make that are getting in the way of that picture-perfect bridal hairstyle