Seeing is believing: Plus-size models may boost body image
A new study shows that society's seeming preference for super-skinny models may be only in the eyes of their beholders.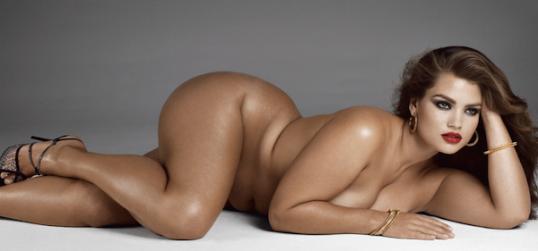 Preliminary research from Durham University in the United Kingdom reveals (yet again!) that what women see in the media shapes their views about their own shape. It seems logical, but it's a message that's only recently filtering in to top fashion magazines and couture catwalks – namely that if plus-size models are used in advertising and glam fashion shoots, women will find those body types beautiful and aspirational. And this may also have the side effect of boosting the self-esteem of average and plus-size women.
Related: Browse millions of women's plus-size clothing choices
In the study, the more images of thin models the participants saw, the more they preferred that body type. Yet, when they were shown pictures of plus-size models, their preference shifted to that figure. What this reveals is that women have a much more diverse view of female beauty than our media portrays, and what we're exposed to absolutely affects our definition of an "ideal body." Follow-up studies with more women (and men!) are forthcoming.
Related: Plus-size fall fashion guide 
Bing: See more photos of plus-size models
More on Simply Chic:
The 5 craziest looks from the Victoria's Secret fashion show 
Are these cheerleaders' outfits too skimpy?
Kate Middleton recycles another outfit
Tell us: Do you think that we'd all be better served by a fashion industry that reflected our true diversity?
Photo: Courtesy of Scenicreflections.co​m

beauty tips and style advice
I can't tell you how many times one ill-timed sneeze ruined all of my hard work with a mascara wand. #allergyproblems.

While we're not averse to shelling out upwards of $30 for an amazing lipstick, many of our standby lip colors cost a whole lot less than that. The drugstore is full of high-quality, long-lasting lipsticks in gorgeous shades that—wait for it!—ring in under $10. Click through above to shop our favorites!

What's the perfect add-on to your beauty look? A hair accessory, of course! Just when you think you've seen it all, every year there seems to be a new "it" hair piece that rules the moment. In the '50s, a dainty bow-tied head scarf was perfectly housewife-chic. In the '60s and '70s, real flower crowns officially became the epitome of boho style—your outfit simply wasn't complete without a daisy topper. Fast-forward to the '90s and you had a bevy of creative hair charms and baubles, including butterfly clips, hair wraps and those infamous bra strap headbands (shudder).

The right blush can warm up your complexion, create the illusion of cheekbones, and even make you look younger. (Yes, really!) Here, the most flattering shades for fair, medium, olive, and dark skin.

Think you can't put a price on looking younger? Well, we did—and it's $25. We challenged dermatologists to find great products that don't cost even one cent over that amount.

You want to dress in a way that's young and cool but that doesn't suggest you're on your way to a One Direction concert. "The trick to looking younger is adding one fashionable piece to a classic outfit," says stylist Cher Coulter. Here's how to nail it.