Seeing is believing: Plus-size models may boost body image
A new study shows that society's seeming preference for super-skinny models may be only in the eyes of their beholders.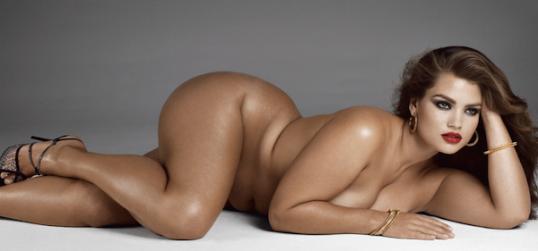 Preliminary research from Durham University in the United Kingdom reveals (yet again!) that what women see in the media shapes their views about their own shape. It seems logical, but it's a message that's only recently filtering in to top fashion magazines and couture catwalks – namely that if plus-size models are used in advertising and glam fashion shoots, women will find those body types beautiful and aspirational. And this may also have the side effect of boosting the self-esteem of average and plus-size women.
Related: Browse millions of women's plus-size clothing choices
In the study, the more images of thin models the participants saw, the more they preferred that body type. Yet, when they were shown pictures of plus-size models, their preference shifted to that figure. What this reveals is that women have a much more diverse view of female beauty than our media portrays, and what we're exposed to absolutely affects our definition of an "ideal body." Follow-up studies with more women (and men!) are forthcoming.
Related: Plus-size fall fashion guide 
Bing: See more photos of plus-size models
More on Simply Chic:
The 5 craziest looks from the Victoria's Secret fashion show 
Are these cheerleaders' outfits too skimpy?
Kate Middleton recycles another outfit
Tell us: Do you think that we'd all be better served by a fashion industry that reflected our true diversity?
Photo: Courtesy of Scenicreflections.co​m

beauty tips and style advice
Neatly sidestepping high fashion, the smiling, cheerful Kate Middleton is fast becoming the Duchess of Normcore.

This December, New Yorkers might notice something missing in the Christmas air.

When Madonna posted an image of herself wearing a full on Game of Thrones Khaleesi costume on Instagram last week we weren't exactly surprised—this is the woman who rolled into the Grammy Awards wearing a tuxedo and a grill earlier this winter, so why not celebrate the Jewish holiday of Purim with a leather corset and a pair of tiny dragons? Still, we were hypnotized by her white-blonde, braided Daenerys Targaryen hair. Functioning as a bleached out cultural weather vane of sorts, it tapped into multiple obsessions at once—the return of "Game of Thrones" to HBO, spring's new extreme hair lengths and, most notably, fashion's current platinum mania. Our own love of ice-blonde hair—which transforms any look from everyday to extraordinary—has been well documented of late, but last night's Game of Thrones premiere sent our platinum fever into overdrive. In celebration of fashion's favorite hair color, a look at the best platinum moments in history.

While you were sleeping, fast retail chain H&M H&M announced that its next designer collaboration is with Alexander Wang.

Formal, beachy, country club-chic or gorgeously rustic whatever the setting calls for, we've found a bevy of beautiful dresses to wear to a wedding this season.

Puffy, tired, weary no more. These tips take years off and create that "I slept great, thanks!" effect.