Seeing is believing: Plus-size models may boost body image
A new study shows that society's seeming preference for super-skinny models may be only in the eyes of their beholders.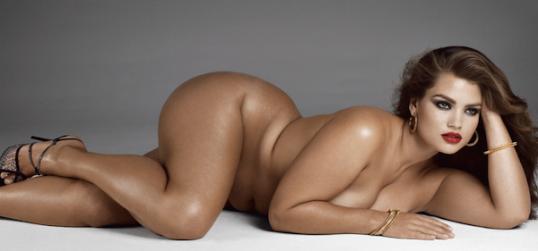 Preliminary research from Durham University in the United Kingdom reveals (yet again!) that what women see in the media shapes their views about their own shape. It seems logical, but it's a message that's only recently filtering in to top fashion magazines and couture catwalks – namely that if plus-size models are used in advertising and glam fashion shoots, women will find those body types beautiful and aspirational. And this may also have the side effect of boosting the self-esteem of average and plus-size women.
Related: Browse millions of women's plus-size clothing choices
In the study, the more images of thin models the participants saw, the more they preferred that body type. Yet, when they were shown pictures of plus-size models, their preference shifted to that figure. What this reveals is that women have a much more diverse view of female beauty than our media portrays, and what we're exposed to absolutely affects our definition of an "ideal body." Follow-up studies with more women (and men!) are forthcoming.
Related: Plus-size fall fashion guide 
Bing: See more photos of plus-size models
More on Simply Chic:
The 5 craziest looks from the Victoria's Secret fashion show 
Are these cheerleaders' outfits too skimpy?
Kate Middleton recycles another outfit
Tell us: Do you think that we'd all be better served by a fashion industry that reflected our true diversity?
Photo: Courtesy of Scenicreflections.co​m

beauty tips and style advice
While you were sleeping, fast retail chain H&M H&M announced that its next designer collaboration is with Alexander Wang.

Formal, beachy, country club-chic or gorgeously rustic whatever the setting calls for, we've found a bevy of beautiful dresses to wear to a wedding this season.

Puffy, tired, weary no more. These tips take years off and create that "I slept great, thanks!" effect.

Top dermatologists, cosmetic chemists, makeup artists, and hairstylists reveal quick tips and tricks that can peel back years in a matter of seconds

We're all for sartorial freedom, but there are certain once-on-trend items that, when worn today, appear anything but current. Consider this your official out list.

If you're a practitioner of reselling your clothes—a good way to clear out some space in your wardrobe and make a few extra bucks—you might already be familiar with San Francisco-based thredUP.

A picture may be worth a thousand words, but emoji must be worth at least a million. Here we show you how to channel your favorites: Go ahead, express yourself!

11 earth-friendly beauty products we love.

The secret to effortlessly beautiful hair? Embracing what you're born with! Twenty celebs show you how to do it.

Last year's beauty buzz may have been all about J. Law's cropped cut, M'Obama's bangs and Miley Cyrus' pixie, but we're not even halfway through 2014 and we're pretty sure we've already topped 2013. From Margot Robbie's glossy brunette dye-job to Katie Holmes' irresistible set of bangs, we're obsessed with all these recent celebrity transformations—all of which are perfect inspiration for a new spring hairstyle. Click through above to see a round-up of our favorites!

The green coat is pretty much as Middleton as it gets.

Monday's New Zealand itinerary brought Kate and William to the cricket field.