Seeing is believing: Plus-size models may boost body image
A new study shows that society's seeming preference for super-skinny models may be only in the eyes of their beholders.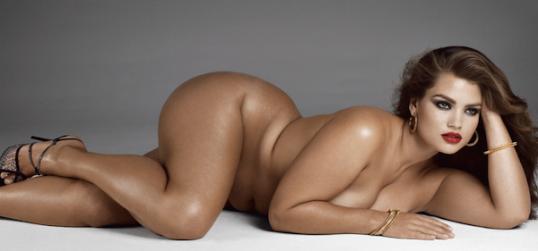 Preliminary research from Durham University in the United Kingdom reveals (yet again!) that what women see in the media shapes their views about their own shape. It seems logical, but it's a message that's only recently filtering in to top fashion magazines and couture catwalks – namely that if plus-size models are used in advertising and glam fashion shoots, women will find those body types beautiful and aspirational. And this may also have the side effect of boosting the self-esteem of average and plus-size women.
Related: Browse millions of women's plus-size clothing choices
In the study, the more images of thin models the participants saw, the more they preferred that body type. Yet, when they were shown pictures of plus-size models, their preference shifted to that figure. What this reveals is that women have a much more diverse view of female beauty than our media portrays, and what we're exposed to absolutely affects our definition of an "ideal body." Follow-up studies with more women (and men!) are forthcoming.
Related: Plus-size fall fashion guide 
Bing: See more photos of plus-size models
More on Simply Chic:
The 5 craziest looks from the Victoria's Secret fashion show 
Are these cheerleaders' outfits too skimpy?
Kate Middleton recycles another outfit
Tell us: Do you think that we'd all be better served by a fashion industry that reflected our true diversity?
Photo: Courtesy of Scenicreflections.co​m

fashion: trends & must-haves for your wardrobe
That's right. We said it. These nail polish colors aren't just sexy—they're the hottest things you can put on your feet this summer. Now the hard part: choosing one.

Days are getting longer, skirts are getting shorter, and our feet haven't seen the light of day since the autumnal equinox. A seasonal beauty overhaul is in order.

There's no hair hotline for all your summer freakouts—but for every strand, type, and texture, there is an Allure editor who's tested tons of products (in millions of combinations) to fix any problem. Here, our roundup of tried-and-true hot-weather hair regimens.

When heat and humidity strike, the last thing you want to do is spend an eternity styling your hair, only for it to end in the F word: frizz. But that doesn't mean you need to settle for a ho-hum hair day. These ten hairstyles are quick, simple, and not the least bit boring.

She's chosen designer gowns that you can rent from the new Beyoncé Boutique.

Long, layered, medium or wavy – we're sharing our favorite hairstyles of 2013 with a new 'do each day. Stuck in a hair rut? Check back daily for snappy new looks that are sure to give your locks some beauty inspiration.

Big event? Focus on the outfit, because we've got your hair all figured out, whether you've got two minutes to do it or 20.

When morning talk shows and local newspapers dole out their seasonal swimsuit shopping advice, I'm usually pretty disappointed by the lack of body types represented. What about the women who don't resemble fruit? (Or aren't boy-shaped—the third "one of these things is not like the other" category I've never quite understood. Couldn't they say "banana?" Or is that somehow more offensive than "apple" and "pear" shapes?)

Ready to refresh your hair and makeup for spring? Well, look no further for your latest batch of inspiration. These ladies are bringing the beauty brilliance with megawatt lipstick shades, sleek haircuts, and must-try hair colors. Get ready to play copycat.

Step into spring with style in June Ambrose's new shoe line for HSN.

Revamp your corporate look with graphic prints and bold color.

If you have only five makeup tools in your kit, make sure these are them. They do much more than just look cute on your vanity!