I'm Sorry Miley Cyrus, But This Nail Polish Is Just Wrong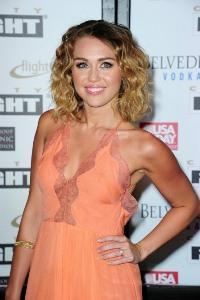 by Petra Guglielmetti, Glamour Magazine
I was kind of thinking peach nail polish would be my thing this spring, but now I'm starting to think it's one of those ideas that's prettier in theory than practice. And this pic of Miley Cyrus with peach nails is part of what's making me think that.

The problem with peach nail polish is that the subtler peaches I've found look lovely in the bottle but then slick on looking like plain ol' pink, and the more apricot shades can often look icky against pale skin like mine.

Which brings me to the topic at hand: the particular peach nail polish Miley Cyrus wore to Muhammad Ali's Celebrity Fight Night in Phoenix on Saturday night.

As you can see, Miley's dress was a vivid light orange.
Related: Beautiful Engagement Rings, All Less Than $1,000

Now look at her peach-painted nails.
Perhaps it's the combo of the two colors together (dress, nails) that feels off-kilter to me, but this peach just looks ... icky. If motion sickness were a color, this would be it, I think. Not a fan.

Related: Gorgeous Wedding Dresses (From $100 to $1,000!)

Am I alone here, or is this peachy nail polish not really looking so keen? (Sorry, sorry, couldn't resist). Have you found a peach nail polish color you love? Or will you be sticking with safer pinks this season?
Photo: Getty Images


More from Glamour:
50 Dreamy Dresses From Fashion Week
Cute Haircut Ideas for Midlength Hair
What Your Hairstyle Says About You (According to Guys)

Okay, I'm really sick of Miley Cyrus. That said, peach is a difficult color to pull off. I've tried tons of peaches, corals, etc, and never really found the right color (pale, but not too pale, not too orange, not pink). But I just found a color that is great for summer, and looks great against my also pale skin. It's a bright-ish color, so I'm sure it would look great on tan skin too. It's called "Let's Get Sushi" and it's made by Spoiled NYC. I'm usually a nail polish (and makeup) snob, and only use OPI and Essie, but this caught my eye while shopping at CVS the other day-and it was only $1.99! Give it a try, it's cute!
Are you sure you want to delete this comment?
beauty tips and style advice
From pretty pastels to bold brights and cool textures, up your #ManicureMonday game with spring's top nail polish trends!

Even if everyone at school will be rocking their most festive shades of emerald on March 17, you don't want to end up looking like a Leprechaun in head-to-toe green.

Neutral tones and beautiful metallics were a huge trend on the Oscars red carpet. And we saw so many dresses that would be exceptionally beautiful walking down the aisle. Here are our favorites!

Sorry, winter, we're way over you. It's time to refresh your look for spring with bold lippies, fun nail art and major brows—here's how to rock the hottest new trends, just like these stylish celebs!

Time to say buh-bye to the same old, played-out 'dos. Celebrity stylist Jen Atkin tells you how to update these 7 classic hairstyles for spring.

How to dress your baby bump.

Things we learned backstage at the fall 2014 runway shows: Bold brows aren't going anywhere, bright green can actually look subtle, and glitter is amazing almost anywhere (within reason). Here, our favorite makeup looks of the season so far.

The fall runways showcased a broad range of hairstyles—braids, buns, ponytails, and even wigs. But there were unifying themes, too: A pervasive sense of ease; experimentation with texture; and an apparent belief that anything goes.

It's not always about the ladies of style. Check out these fashion icons.

Do you hear that? It's the sound of hundreds of cover bands beginning to tune their guitars and trying to remember the lyrics to "Shout." Ladies and gentlemen (but mostly ladies), it's nearly wedding season.

So, it hasn't snowed in nearly a week—does that mean it's summer yet? Well, almost. But alas, just because you're confident setting aside your trusty Sorel boots unfortunately doesn't mean you get to hop right into an itsy-bitsy-teenie-weenie yellow polka dot bikini just yet. Unless, of course, you're headed somewhere tropical in the next few weeks (lucky you!) and really do need to stock up on sexy swimsuits right now.

Getting away from it all for a bit? Your vacation wardrobe should be just like your plans: laid-back but totally fabulous. Take a cue from these celebrities, whose low-effort, high-style outfit ideas are officially on our must-copy list.