I'm Sorry Miley Cyrus, But This Nail Polish Is Just Wrong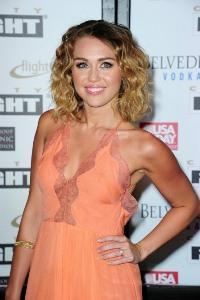 by Petra Guglielmetti, Glamour Magazine
I was kind of thinking peach nail polish would be my thing this spring, but now I'm starting to think it's one of those ideas that's prettier in theory than practice. And this pic of Miley Cyrus with peach nails is part of what's making me think that.

The problem with peach nail polish is that the subtler peaches I've found look lovely in the bottle but then slick on looking like plain ol' pink, and the more apricot shades can often look icky against pale skin like mine.

Which brings me to the topic at hand: the particular peach nail polish Miley Cyrus wore to Muhammad Ali's Celebrity Fight Night in Phoenix on Saturday night.

As you can see, Miley's dress was a vivid light orange.
Related: Beautiful Engagement Rings, All Less Than $1,000

Now look at her peach-painted nails.
Perhaps it's the combo of the two colors together (dress, nails) that feels off-kilter to me, but this peach just looks ... icky. If motion sickness were a color, this would be it, I think. Not a fan.

Related: Gorgeous Wedding Dresses (From $100 to $1,000!)

Am I alone here, or is this peachy nail polish not really looking so keen? (Sorry, sorry, couldn't resist). Have you found a peach nail polish color you love? Or will you be sticking with safer pinks this season?
Photo: Getty Images


More from Glamour:
50 Dreamy Dresses From Fashion Week
Cute Haircut Ideas for Midlength Hair
What Your Hairstyle Says About You (According to Guys)

Okay, I'm really sick of Miley Cyrus. That said, peach is a difficult color to pull off. I've tried tons of peaches, corals, etc, and never really found the right color (pale, but not too pale, not too orange, not pink). But I just found a color that is great for summer, and looks great against my also pale skin. It's a bright-ish color, so I'm sure it would look great on tan skin too. It's called "Let's Get Sushi" and it's made by Spoiled NYC. I'm usually a nail polish (and makeup) snob, and only use OPI and Essie, but this caught my eye while shopping at CVS the other day-and it was only $1.99! Give it a try, it's cute!
Are you sure you want to delete this comment?
beauty tips and style advice
Stunning wedding styles that create a statement.

Hue-changing dos we absolutely love.

In case you weren't already overwhelmed enough by the daunting task of jeans shopping (or really, clothes shopping in general), our friends over at Racked published a handy little infographic today comparing the sizing of a variety of different retailers that you've likely frequented at least a handful of times in your lifetime.

I attended the Abercrombie and Fitch holiday-season press preview yesterday, and in between checking out the cute gear that will hit stores this November, I picked up a little nugget of information I just have to share.

How to wear this cool-weather staple in the summer.

See how Miranda Kerr made a pair of Birkenstocks chic.

We love how a new nail polish has the ability to instantly change your look and your mood with a simple swipe. While happy lime greens and aquas are ruling the five million #nailpolish Instagrams this summer, there are a variety of great colors to choose from—whether you want an office-appropriate neutral or a fun going-out shade that'll give your LBD a punch of color.

You already know wearing white after Labor Day is cool. But menswear is reinventing itself rapidly, leaving some long-held mandates by the wayside, not to mention a bunch of men with a lot of questions. Sure, some style laws are truly inviolable. Showing a quarter-inch of cuff will always be crucial, but with designers and dandies flaunting so many former taboos it's hard to tell what's in play these days. So we thought we'd take this opportunity to let you know which rules no longer apply.

Put down the wrinkled button-down, step away from the Crocs, and open your closet. We need to talk about the new rules of casual.

Buying a brush is like getting a new smartphone: once you learn how to use it, it's indispensable.

Surfers are the epitome of cool, laid-back American style. And if we can't be them, at least we can copy their hair.

It's time for bridal beauty to loosen up. Hair doesn't have to be tightly wound, makeup perfectly contoured, and nails French manicured (on this last point, really, please don't). You can, in fact, look gorgeously and timelessly cool at your wedding. Here's how.