I'm Sorry Miley Cyrus, But This Nail Polish Is Just Wrong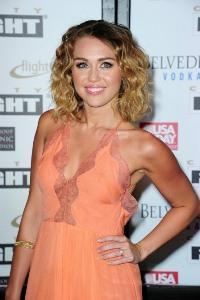 by Petra Guglielmetti, Glamour Magazine
I was kind of thinking peach nail polish would be my thing this spring, but now I'm starting to think it's one of those ideas that's prettier in theory than practice. And this pic of Miley Cyrus with peach nails is part of what's making me think that.

The problem with peach nail polish is that the subtler peaches I've found look lovely in the bottle but then slick on looking like plain ol' pink, and the more apricot shades can often look icky against pale skin like mine.

Which brings me to the topic at hand: the particular peach nail polish Miley Cyrus wore to Muhammad Ali's Celebrity Fight Night in Phoenix on Saturday night.

As you can see, Miley's dress was a vivid light orange.
Related: Beautiful Engagement Rings, All Less Than $1,000

Now look at her peach-painted nails.
Perhaps it's the combo of the two colors together (dress, nails) that feels off-kilter to me, but this peach just looks ... icky. If motion sickness were a color, this would be it, I think. Not a fan.

Related: Gorgeous Wedding Dresses (From $100 to $1,000!)

Am I alone here, or is this peachy nail polish not really looking so keen? (Sorry, sorry, couldn't resist). Have you found a peach nail polish color you love? Or will you be sticking with safer pinks this season?
Photo: Getty Images


More from Glamour:
50 Dreamy Dresses From Fashion Week
Cute Haircut Ideas for Midlength Hair
What Your Hairstyle Says About You (According to Guys)

Okay, I'm really sick of Miley Cyrus. That said, peach is a difficult color to pull off. I've tried tons of peaches, corals, etc, and never really found the right color (pale, but not too pale, not too orange, not pink). But I just found a color that is great for summer, and looks great against my also pale skin. It's a bright-ish color, so I'm sure it would look great on tan skin too. It's called "Let's Get Sushi" and it's made by Spoiled NYC. I'm usually a nail polish (and makeup) snob, and only use OPI and Essie, but this caught my eye while shopping at CVS the other day-and it was only $1.99! Give it a try, it's cute!
Are you sure you want to delete this comment?
beauty tips and style advice
And before you ask, sorry, the $325 dress is SOLD OUT on Matches.com and DVF.com—you snooze, you loose.

Click through the slideshow to shop some of our spring favorites.

French braid? Been there. Fishtail? Done that. The newest styles are all about unexpected texture, major volume, and one man's wild imagination.

Long hair, don't care? Think again…

She dishes on the routine that keeps her looking polished, even when she's pulling up to the <i>Mad Men</i> set at 5 a.m. Plus, the fragrance that helps Christina get her Joan on.

For inspiration, we've rounded up gorgeous (and easy to replicate) wedding makeup looks from the red carpet.

With a few insider tricks, you can enjoy short hair 365 days of the year and have a gorgeous style on your wedding day. Wedding hairstyles for short hair do exist.

I'm beyond excited to finally ditch my winter coat and heavy layers, but I'm not so eager to ditch my tights. Let's just say my legs are not as smooth and bronzed as they were the last time I showed them off many, many months ago.

After a jam-packed week in New Zealand, Kate Middleton and Prince William finally enjoyed a day off, but as of last night (or this morning..? Ah, time change!) they're back on the road again.

These travel-sized beauty products will do double-duty while you're on the road.

Neatly sidestepping high fashion, the smiling, cheerful Kate Middleton is fast becoming the Duchess of Normcore.

This December, New Yorkers might notice something missing in the Christmas air.