Has the cat trend officially jumped the shark?
"Tailly," a wearable kitty tail, makes us think yes.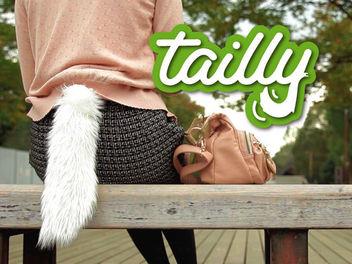 by Tracey Lomrantz Lester

The fashion crowd has been obsessed with cats for the better part of a year, from Grace Coddington's kitty-adorned Balenciaga bag collection to Choupette Lagerfeld to United Bamboo's cat calendar, but at long last, it looks like the trend may have jumped the shark.

More from Glamour: 10 Wardrobe Essentials Every Woman Should Own
Thanks to "Tailly"--which the Daily News
describes
as "a furry faux tail attached to a belt, designed to react to your emotions just like a real tail would"--human beings can tap into their inner feline. It was designed by Japanese inventor Shota Ishiwatari, whose wiggling kitten ears were such a success that customers demanded a matching tail to go with them. Unfortunately the time has lapsed on
his Kickstarter page
to get the project funded, but that doesn't make this thing any less ogle-able.
More from Glamour: 10 Hot Date-Night Outfits (According to Guys)
I mean...can you actually imagine anything sillier? Cat lovers out there, do you think this trend has gone too far, or are you hoping it has staying power? Let's hear it!
Bing: Tailly

More from Glamour:
The Best Coat for Your Body
Cute Boots for Every Budget
60 Winter Nail Polish Ideas
beauty tips and style advice
Even if everyone at school will be rocking their most festive shades of emerald on March 17, you don't want to end up looking like a Leprechaun in head-to-toe green.

How to dress your baby bump.

Things we learned backstage at the fall 2014 runway shows: Bold brows aren't going anywhere, bright green can actually look subtle, and glitter is amazing almost anywhere (within reason). Here, our favorite makeup looks of the season so far.

The fall runways showcased a broad range of hairstyles—braids, buns, ponytails, and even wigs. But there were unifying themes, too: A pervasive sense of ease; experimentation with texture; and an apparent belief that anything goes.

It's not always about the ladies of style. Check out these fashion icons.

Do you hear that? It's the sound of hundreds of cover bands beginning to tune their guitars and trying to remember the lyrics to "Shout." Ladies and gentlemen (but mostly ladies), it's nearly wedding season.

So, it hasn't snowed in nearly a week—does that mean it's summer yet? Well, almost. But alas, just because you're confident setting aside your trusty Sorel boots unfortunately doesn't mean you get to hop right into an itsy-bitsy-teenie-weenie yellow polka dot bikini just yet. Unless, of course, you're headed somewhere tropical in the next few weeks (lucky you!) and really do need to stock up on sexy swimsuits right now.

Getting away from it all for a bit? Your vacation wardrobe should be just like your plans: laid-back but totally fabulous. Take a cue from these celebrities, whose low-effort, high-style outfit ideas are officially on our must-copy list.

These fun and flattering vintage-style suits blend the best of the old with the best of the new.

Although it's not officially spring yet—the best time to start shopping for warm-weather clothes is now, while stores still have a good selection. Waiting until it's actually balmy enough to go bare-legged and short-sleeved leaves far too many factors to chance: what if your size sells out? Or the wrong color is left? And let's not forget about gross makeup stains from 10 other people trying it on!

From patriotic bikinis to retro two pieces, these celebs' stylish swimsuits will have you counting down to beach season! Check out your favorite stars rocking the hottest swim trends!

Neutral tones and beautiful metallics were a huge trend on the Oscars red carpet. And we saw so many dresses that would be exceptionally beautiful walking down the aisle. Here are our favorites!