Has the cat trend officially jumped the shark?
"Tailly," a wearable kitty tail, makes us think yes.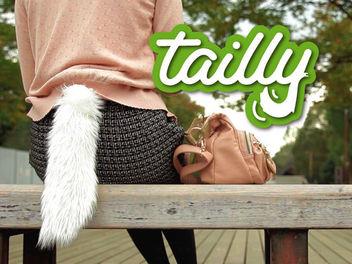 by Tracey Lomrantz Lester

The fashion crowd has been obsessed with cats for the better part of a year, from Grace Coddington's kitty-adorned Balenciaga bag collection to Choupette Lagerfeld to United Bamboo's cat calendar, but at long last, it looks like the trend may have jumped the shark.

More from Glamour: 10 Wardrobe Essentials Every Woman Should Own
Thanks to "Tailly"--which the Daily News
describes
as "a furry faux tail attached to a belt, designed to react to your emotions just like a real tail would"--human beings can tap into their inner feline. It was designed by Japanese inventor Shota Ishiwatari, whose wiggling kitten ears were such a success that customers demanded a matching tail to go with them. Unfortunately the time has lapsed on
his Kickstarter page
to get the project funded, but that doesn't make this thing any less ogle-able.
More from Glamour: 10 Hot Date-Night Outfits (According to Guys)
I mean...can you actually imagine anything sillier? Cat lovers out there, do you think this trend has gone too far, or are you hoping it has staying power? Let's hear it!
Bing: Tailly

More from Glamour:
The Best Coat for Your Body
Cute Boots for Every Budget
60 Winter Nail Polish Ideas
fashion: trends & must-haves for your wardrobe
Toss your tweezers. Everything from brows (thick!) to your workout is taking a cue from the Flintstones. Yabba-dabba-doo!

Big event? Focus on the outfit, because we've got your hair all figured out, whether you've got two minutes to do it or 20.

If every morning seems like a Manic Monday, then you'll love these clever, minute-shaving beauty tips. Learn the secrets to spending less time getting gorgeous straight from pros!

More American women are trading their itsy bitsy bikinis in for one piece swimwear.

Punk, with its undercurrents of rebellion and reinvention, brought out the best of the fashion flock at last night's Met Gala—where more than a few beauty transformations made their winning debut. Actress Anne Hathaway turned up on the red carpet with an extreme bleach-blonde crop that sent photographers into overdrive, while model Joan Smalls showed off a cool new ombré hair color that graduated sharply from brown to blonde.

Experts tell you the simple things you can do to get gorgeous while you sleep.