Has the cat trend officially jumped the shark?
"Tailly," a wearable kitty tail, makes us think yes.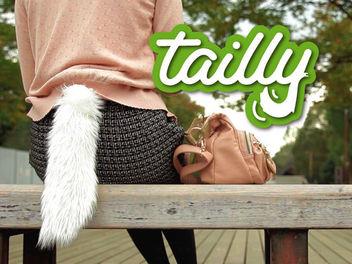 by Tracey Lomrantz Lester

The fashion crowd has been obsessed with cats for the better part of a year, from Grace Coddington's kitty-adorned Balenciaga bag collection to Choupette Lagerfeld to United Bamboo's cat calendar, but at long last, it looks like the trend may have jumped the shark.

More from Glamour: 10 Wardrobe Essentials Every Woman Should Own
Thanks to "Tailly"--which the Daily News
describes
as "a furry faux tail attached to a belt, designed to react to your emotions just like a real tail would"--human beings can tap into their inner feline. It was designed by Japanese inventor Shota Ishiwatari, whose wiggling kitten ears were such a success that customers demanded a matching tail to go with them. Unfortunately the time has lapsed on
his Kickstarter page
to get the project funded, but that doesn't make this thing any less ogle-able.
More from Glamour: 10 Hot Date-Night Outfits (According to Guys)
I mean...can you actually imagine anything sillier? Cat lovers out there, do you think this trend has gone too far, or are you hoping it has staying power? Let's hear it!
Bing: Tailly

More from Glamour:
The Best Coat for Your Body
Cute Boots for Every Budget
60 Winter Nail Polish Ideas
beauty tips and style advice
Hair color is one of the most effective anti-aging tools we have—except when it isn't. Take your dye job too far (or inky, or frosty) and you can add years to your appearance. Three top colorists weigh in on what to avoid.

News flash: Your youth fix doesn't have to come in a bottle—or a needle. Your hairstyle could actually take years off (or add them to) your look. Don't believe us? Check out these celebrities—each one gorgeous, of course, but also looking older due to certain overly perfect hairdos. Anti-aging tip number one? Mess it up a little.

In feel-good fashion news of the day: Victoria Beckham will design a set of mommy-daughter dresses to benefit Born Free Africa, a non-profit with the mission to end mother-to-child HIV transmission by 2015.

See Duchess Catherin's perfect beach look.

These travel-sized beauty products will do double-duty while you're on the road.

And before you ask, sorry, the $325 dress is SOLD OUT on Matches.com and DVF.com—you snooze, you loose.