Has the cat trend officially jumped the shark?
"Tailly," a wearable kitty tail, makes us think yes.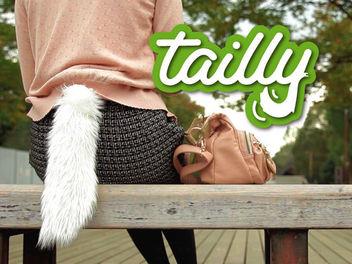 by Tracey Lomrantz Lester

The fashion crowd has been obsessed with cats for the better part of a year, from Grace Coddington's kitty-adorned Balenciaga bag collection to Choupette Lagerfeld to United Bamboo's cat calendar, but at long last, it looks like the trend may have jumped the shark.

More from Glamour: 10 Wardrobe Essentials Every Woman Should Own
Thanks to "Tailly"--which the Daily News
describes
as "a furry faux tail attached to a belt, designed to react to your emotions just like a real tail would"--human beings can tap into their inner feline. It was designed by Japanese inventor Shota Ishiwatari, whose wiggling kitten ears were such a success that customers demanded a matching tail to go with them. Unfortunately the time has lapsed on
his Kickstarter page
to get the project funded, but that doesn't make this thing any less ogle-able.
More from Glamour: 10 Hot Date-Night Outfits (According to Guys)
I mean...can you actually imagine anything sillier? Cat lovers out there, do you think this trend has gone too far, or are you hoping it has staying power? Let's hear it!
Bing: Tailly

More from Glamour:
The Best Coat for Your Body
Cute Boots for Every Budget
60 Winter Nail Polish Ideas
beauty tips and style advice
Every flight seems to have one: that girl who, even after spending several hours enduring the same dry, cramped conditions as everybody else, deplanes looking mind-bogglingly dewy and well-rested. She leaves you too intrigued to be jealous, because who survives air travel without getting puffy eyes and dry patches? Does that mean you can as well? According to our editors, the answer is yes. As you'll see in the slideshow above, which includes their in-flight beauty routines, maintaining your skin, health and hair while traveling through the sky all comes down to the right products. Click through to see what they use, and to stock up before your next big trip—next time, you'll be the one everyone notices.

Got a destination on the horizon? Emulate any one of these 19 outfits and you'll have stylish jet-setting fashion down pat in no time.

Take a look at Jessica Alba's new blonde hair and tell us, do you like it?

Make it through the holidays without repeating an outfit! Our editors show you how.

Each year, we dust off our tree ornaments and holiday-party makeup looks (red lips, smoky eyes, and snowflake-size flecks of glitter). But not this winter. We've traded in our frequent flyer miles for bright, beachy shades and a holiday in the sun.

Holiday parties are the perfect opportunity to experiment with the most inspiring celebrity hairstyles you spend the rest of the year pining (and pinning) away for. We've rounded up a month's worth of stunning options, complete with styling tips and product recommendations straight from some of the pros who created them.