Has the cat trend officially jumped the shark?
"Tailly," a wearable kitty tail, makes us think yes.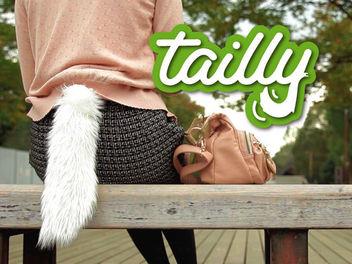 by Tracey Lomrantz Lester

The fashion crowd has been obsessed with cats for the better part of a year, from Grace Coddington's kitty-adorned Balenciaga bag collection to Choupette Lagerfeld to United Bamboo's cat calendar, but at long last, it looks like the trend may have jumped the shark.

More from Glamour: 10 Wardrobe Essentials Every Woman Should Own
Thanks to "Tailly"--which the Daily News
describes
as "a furry faux tail attached to a belt, designed to react to your emotions just like a real tail would"--human beings can tap into their inner feline. It was designed by Japanese inventor Shota Ishiwatari, whose wiggling kitten ears were such a success that customers demanded a matching tail to go with them. Unfortunately the time has lapsed on
his Kickstarter page
to get the project funded, but that doesn't make this thing any less ogle-able.
More from Glamour: 10 Hot Date-Night Outfits (According to Guys)
I mean...can you actually imagine anything sillier? Cat lovers out there, do you think this trend has gone too far, or are you hoping it has staying power? Let's hear it!
Bing: Tailly

More from Glamour:
The Best Coat for Your Body
Cute Boots for Every Budget
60 Winter Nail Polish Ideas
beauty tips and style advice
Still searching for your dream wedding dress? You'll get a kick out of these fun facts about your most important wedding-day purchase.

From detachable tulle overskirts to romantic off-the-shoulder necklines, check out these emerging trends from the Spring 2015 bridal runways.

Who says you have to wear white on your wedding day? Get some colorful inspiration from these seven wedding dresses.

Since its inception in 1940, the International Best-Dressed List—revealed in Vanity Fair for the last decade—has lauded the most polished, eclectic, and stylish of dressers. From royalty to politicians, athletes to fashion designers, the poll is comprehensive in the personalities it celebrates. Those appearing multiple times over the years are considered for induction into the Hall of Fame—the List's highest honor.

Most of us have a post-workout beauty routine that's basically a mad dash from locker to shower to mirror to door—with a quick swipe of lip balm and a one-minute hairstyle in between. To save time and look (and smell) better than ever, stock your gym bag with these key multitaskers and read on for surprising ways to hack them. Guarantee your get-ready sprint will go a bit smoother.

Even if you're not going back to school this season, that doesn't mean new style supplies, like a fresh haircut, aren't in order. So whether you're looking to chop it all off, add a few pieces, or finally try bangs, here are 30 red-carpet-inspired cuts worth giving a shot.