Woman Who Owns 1,200 Pairs of Shoes Will Launch a Shoe Collection
She has enough shoes in her private collection to fill a store, but Beth Shak is taking her love of heels to a new level with the announcement that she will launch a shoe collection.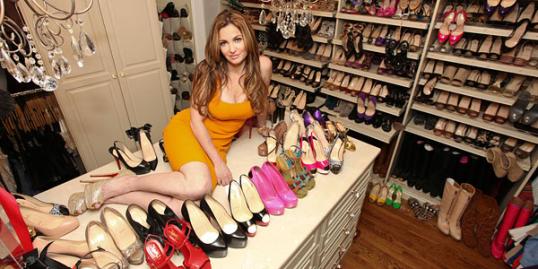 According to the New York Post, Shak, who became famous after her now ex-husband sued her over her massive accumulation of shoes (he claims she failed to disclose the value of the shoes during the divorce), says it was her daughter who came up with the brilliant idea.

"My almost-18-year-old daughter wasn't happy having a mom that traveled and was gambling. She kept saying, 'Why don't you design a shoe line?' and one day I was like, 'You know, she's right.'" The line, unlike a large portion of her shoe collection (she boasts a bevy of designer shoes that she keeps in a password-protected closet, including more than 700 pairs of Christian Louboutins), will be a lower-priced assortment running from $160-$190.

Tell us: Are you excited to see what designs Shak comes up with?

Photo: Laurentiu Garofeanu/Barcroft Media /Landov

More from Living:
The 30 Hottest Heels, Flats, and Boots for Fall
33 Outfit Ideas to Steal From New York Fashion Week Spring 2013
Vogue's 120 Under $120: Fall Finds

My kind of woman, she's a beautiful, adventurous, risk taker and a little dangerous. Her ex probably divorced her because he thought she was to high maintenance. What he probably missed was that she is a free spirit and not someone you keep tabs on let alone try to control. And she must be a good mother because not only is her daughter still in her life, it was her daughter who suggested for her to design her own shoe line. "Like mother, like daughter".
If only I could meet a woman like her.
Are you sure you want to delete this comment?
beauty tips and style advice
Once the summer heat kicks in, it's all we can do not to slip into the breeziest beach dresses and flip-flops for the morning commute. So trust us when we say we understand that the humidity can have a powerful effect on your wardrobe — still, there are some things you just can't wear to your place of employment, no matter how hot it gets.

Wrinkle no blouse, tangle no jewelry, leave no beauty product behind, and still have room to spare.

Hue-changing dos we absolutely love.

Why your jean size varies from store to store.

Wait a month between waxing visits? Check. Pop a preappointment Advil? Duh. We all know the basics, but here are the tricks you don't know.

What to always—and never, ever—do to keep hair in top shape.

Get inspired to try these sweet and summery looks.

Stunning wedding styles that create a statement.

I attended the Abercrombie and Fitch holiday-season press preview yesterday, and in between checking out the cute gear that will hit stores this November, I picked up a little nugget of information I just have to share.

How to wear this cool-weather staple in the summer.

See how Miranda Kerr made a pair of Birkenstocks chic.

We love how a new nail polish has the ability to instantly change your look and your mood with a simple swipe. While happy lime greens and aquas are ruling the five million #nailpolish Instagrams this summer, there are a variety of great colors to choose from—whether you want an office-appropriate neutral or a fun going-out shade that'll give your LBD a punch of color.