Rachel Zoe's three tips for holiday shopping
Zoe's gave InStyle her tips for foolproof gift giving.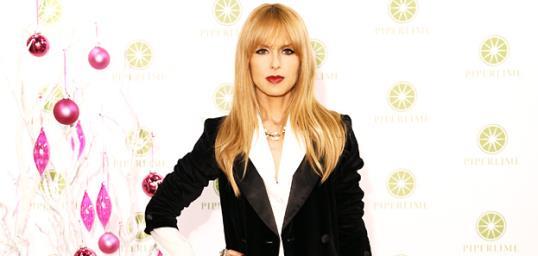 By Jennifer Davis, InStyle magazine

The gift-giving season is upon us, and finding that perfect present can be tough. "It's pretty stressful!" empathizes Rachel Zoe.

RELATED: Rachel Zoe's Gifts For Son Skyler

"I have made the mistake of going on a free-for-all, and it's hideous because I end up buying all the wrong things for the wrong people!" Zoe told InStyle.com at New York' Piperlime store, where was styling holiday looks. But all hope is not lost! Zoe gave InStyle.com her three tips for full-proof gift giving.

1. "Make a list of who you are buying for and write ideas of what you might get this person so that you're focused," she advises. "It's like going to the supermarket—know what you're going for."

2. For the people who seem to have it all, go for gifts for the home. "I don't think you can go wrong with trinkets and candles. Things like that are always a sure thing."

RELATED: Why Rachel Zoe Got Bangs

3. And if you're struggling to find that perfect present that will impress your in-laws her advice is simple:"Picture frames, especially with pictures of grandchildren," Zoe says. "In-laws love picture frames!" 

Plus, check out our Holiday Gift Guide for more inspiration!
MORE:
•
More Tips from Rachel Zoe
•
Runway Looks We Love: Rachel Zoe
• 
Zoe's NBC Sitcom About Her Life
Photos: StartraksPhoto
Who says in laws love picture frames??? Mine dont care for them and my parents dont need anymore of them. Not a lot of thought put into that gift.
People who have everything dont need extra little trinkets; thats only going to be tossed out or sold at a garage sale.
Why are people always asumming everyone wants a needs a gift on christmas, there are other reasons for enjoying the holiday like friends, and family and cooking and baking together.  Jesus and Family....thats Christmas.
Are you sure you want to delete this comment?
beauty tips and style advice
Even if everyone at school will be rocking their most festive shades of emerald on March 17, you don't want to end up looking like a Leprechaun in head-to-toe green.

How to dress your baby bump.

Things we learned backstage at the fall 2014 runway shows: Bold brows aren't going anywhere, bright green can actually look subtle, and glitter is amazing almost anywhere (within reason). Here, our favorite makeup looks of the season so far.

The fall runways showcased a broad range of hairstyles—braids, buns, ponytails, and even wigs. But there were unifying themes, too: A pervasive sense of ease; experimentation with texture; and an apparent belief that anything goes.

It's not always about the ladies of style. Check out these fashion icons.

Do you hear that? It's the sound of hundreds of cover bands beginning to tune their guitars and trying to remember the lyrics to "Shout." Ladies and gentlemen (but mostly ladies), it's nearly wedding season.

So, it hasn't snowed in nearly a week—does that mean it's summer yet? Well, almost. But alas, just because you're confident setting aside your trusty Sorel boots unfortunately doesn't mean you get to hop right into an itsy-bitsy-teenie-weenie yellow polka dot bikini just yet. Unless, of course, you're headed somewhere tropical in the next few weeks (lucky you!) and really do need to stock up on sexy swimsuits right now.

Getting away from it all for a bit? Your vacation wardrobe should be just like your plans: laid-back but totally fabulous. Take a cue from these celebrities, whose low-effort, high-style outfit ideas are officially on our must-copy list.

These fun and flattering vintage-style suits blend the best of the old with the best of the new.

Although it's not officially spring yet—the best time to start shopping for warm-weather clothes is now, while stores still have a good selection. Waiting until it's actually balmy enough to go bare-legged and short-sleeved leaves far too many factors to chance: what if your size sells out? Or the wrong color is left? And let's not forget about gross makeup stains from 10 other people trying it on!

From patriotic bikinis to retro two pieces, these celebs' stylish swimsuits will have you counting down to beach season! Check out your favorite stars rocking the hottest swim trends!

Neutral tones and beautiful metallics were a huge trend on the Oscars red carpet. And we saw so many dresses that would be exceptionally beautiful walking down the aisle. Here are our favorites!