Rachel Zoe's three tips for holiday shopping
Zoe's gave InStyle her tips for foolproof gift giving.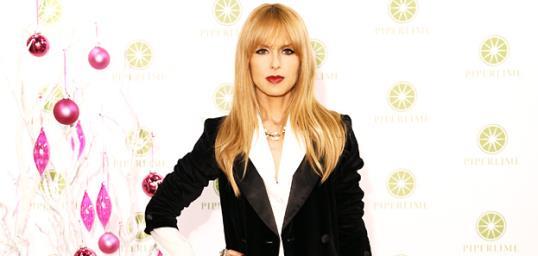 By Jennifer Davis, InStyle magazine

The gift-giving season is upon us, and finding that perfect present can be tough. "It's pretty stressful!" empathizes Rachel Zoe.

RELATED: Rachel Zoe's Gifts For Son Skyler

"I have made the mistake of going on a free-for-all, and it's hideous because I end up buying all the wrong things for the wrong people!" Zoe told InStyle.com at New York' Piperlime store, where was styling holiday looks. But all hope is not lost! Zoe gave InStyle.com her three tips for full-proof gift giving.

1. "Make a list of who you are buying for and write ideas of what you might get this person so that you're focused," she advises. "It's like going to the supermarket—know what you're going for."

2. For the people who seem to have it all, go for gifts for the home. "I don't think you can go wrong with trinkets and candles. Things like that are always a sure thing."

RELATED: Why Rachel Zoe Got Bangs

3. And if you're struggling to find that perfect present that will impress your in-laws her advice is simple:"Picture frames, especially with pictures of grandchildren," Zoe says. "In-laws love picture frames!" 

Plus, check out our Holiday Gift Guide for more inspiration!
MORE:
•
More Tips from Rachel Zoe
•
Runway Looks We Love: Rachel Zoe
• 
Zoe's NBC Sitcom About Her Life
Photos: StartraksPhoto
Who says in laws love picture frames??? Mine dont care for them and my parents dont need anymore of them. Not a lot of thought put into that gift.
People who have everything dont need extra little trinkets; thats only going to be tossed out or sold at a garage sale.
Why are people always asumming everyone wants a needs a gift on christmas, there are other reasons for enjoying the holiday like friends, and family and cooking and baking together.  Jesus and Family....thats Christmas.
Are you sure you want to delete this comment?
beauty tips and style advice
From Monica, Rachel, and Phoebe on Friends to Blair and Serena on Gossip Girl, here are the most memorable wedding dresses to grace the small screen.

You thought you were so cool.

Kate Middleton likes outlet malls too.

Smart fall shopping can't be boiled down to some set-in-stone lineup of items. It's much more about how you play with what you've got rather than just racking up a bunch of new stuff; sometimes your bank account's balance simply won't allow for a full-on wardrobe refresh. That's when it's important to know what's worth it—and what isn't.

Autumn's just a few short months away, and we've got sweaters, coats and booties on our minds! Below are the first things we'll be buying (or have already bought!) to kick off next season.

Beauty editors are routinely asked to name three essentials they couldn't live without on a desert island. So here's our list: water, matches, protein bars. As much as we depend on beauty products, they're not exactly essential to survival. These luxurious fragrances, nail polishes, and tools are no exception. They're the anti-basics—hardly your medicine-cabinet staples. They won't shrink pores or obliterate frizz, but they will make you weak with desire. And that's a refreshing change of pace. Beyond just looking and feeling great, each of these cool new things appeals to our sense of style. How's that for an SOS?