Rachel Zoe's three tips for holiday shopping
Zoe's gave InStyle her tips for foolproof gift giving.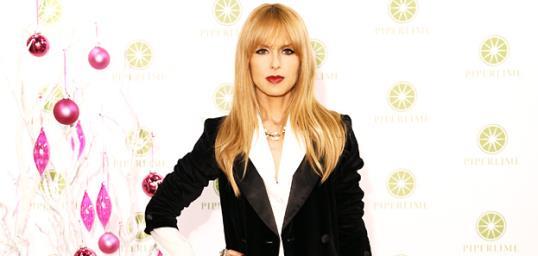 By Jennifer Davis, InStyle magazine

The gift-giving season is upon us, and finding that perfect present can be tough. "It's pretty stressful!" empathizes Rachel Zoe.

RELATED: Rachel Zoe's Gifts For Son Skyler

"I have made the mistake of going on a free-for-all, and it's hideous because I end up buying all the wrong things for the wrong people!" Zoe told InStyle.com at New York' Piperlime store, where was styling holiday looks. But all hope is not lost! Zoe gave InStyle.com her three tips for full-proof gift giving.

1. "Make a list of who you are buying for and write ideas of what you might get this person so that you're focused," she advises. "It's like going to the supermarket—know what you're going for."

2. For the people who seem to have it all, go for gifts for the home. "I don't think you can go wrong with trinkets and candles. Things like that are always a sure thing."

RELATED: Why Rachel Zoe Got Bangs

3. And if you're struggling to find that perfect present that will impress your in-laws her advice is simple:"Picture frames, especially with pictures of grandchildren," Zoe says. "In-laws love picture frames!" 

Plus, check out our Holiday Gift Guide for more inspiration!
MORE:
•
More Tips from Rachel Zoe
•
Runway Looks We Love: Rachel Zoe
• 
Zoe's NBC Sitcom About Her Life
Photos: StartraksPhoto
Who says in laws love picture frames??? Mine dont care for them and my parents dont need anymore of them. Not a lot of thought put into that gift.
People who have everything dont need extra little trinkets; thats only going to be tossed out or sold at a garage sale.
Why are people always asumming everyone wants a needs a gift on christmas, there are other reasons for enjoying the holiday like friends, and family and cooking and baking together.  Jesus and Family....thats Christmas.
Are you sure you want to delete this comment?
fashion: trends & must-haves for your wardrobe
You may have spent years studiously ignoring your mother's advice (and she was right about that guy in high school, admit it), but eventually all that bossing and nagging adds up to something truly useful. Here, Allure staffers share their mothers' wisest words about beauty.

Just like a good pair of shoes, the right hair accessory can change your entire mood (and look!). We rounded up some of our favorites from the spring 2013 runways.

You can make your eyes look younger, brighter — even more lifted — in minutes, using just your basic makeup. Find your issue here, then follow our how-to guide to learn the techniques. It's so easy, you won't believe your eyes.

It's one of those workhorse pieces that can make women look crisp, laid-back, professional, or dead sexy. Meet the one shirt dress you'll wear for life.

Toss your tweezers. Everything from brows (thick!) to your workout is taking a cue from the Flintstones. Yabba-dabba-doo!

Big event? Focus on the outfit, because we've got your hair all figured out, whether you've got two minutes to do it or 20.