Rachel Zoe's three tips for holiday shopping
Zoe's gave InStyle her tips for foolproof gift giving.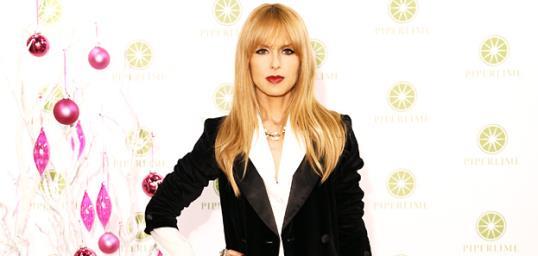 By Jennifer Davis, InStyle magazine

The gift-giving season is upon us, and finding that perfect present can be tough. "It's pretty stressful!" empathizes Rachel Zoe.

RELATED: Rachel Zoe's Gifts For Son Skyler

"I have made the mistake of going on a free-for-all, and it's hideous because I end up buying all the wrong things for the wrong people!" Zoe told InStyle.com at New York' Piperlime store, where was styling holiday looks. But all hope is not lost! Zoe gave InStyle.com her three tips for full-proof gift giving.

1. "Make a list of who you are buying for and write ideas of what you might get this person so that you're focused," she advises. "It's like going to the supermarket—know what you're going for."

2. For the people who seem to have it all, go for gifts for the home. "I don't think you can go wrong with trinkets and candles. Things like that are always a sure thing."

RELATED: Why Rachel Zoe Got Bangs

3. And if you're struggling to find that perfect present that will impress your in-laws her advice is simple:"Picture frames, especially with pictures of grandchildren," Zoe says. "In-laws love picture frames!" 

Plus, check out our Holiday Gift Guide for more inspiration!
MORE:
•
More Tips from Rachel Zoe
•
Runway Looks We Love: Rachel Zoe
• 
Zoe's NBC Sitcom About Her Life
Photos: StartraksPhoto
Who says in laws love picture frames??? Mine dont care for them and my parents dont need anymore of them. Not a lot of thought put into that gift.
People who have everything dont need extra little trinkets; thats only going to be tossed out or sold at a garage sale.
Why are people always asumming everyone wants a needs a gift on christmas, there are other reasons for enjoying the holiday like friends, and family and cooking and baking together.  Jesus and Family....thats Christmas.
Are you sure you want to delete this comment?
beauty tips and style advice
Want the most gorgeous hair of your life for your wedding day? Of course you do. Hairstylist Jen Atkin shares the top mistakes brides make that are getting in the way of that picture-perfect bridal hairstyle

So there are fashion mishaps. And then, there is the catastrophe known as....camel toe.

The top tips I've picked up thanks to my obsession with blowouts, highlights, and my favorite hairstylist.

Something happens to your head when you have a kid — not to mention your body completely changes, and you can barely recognize yourself through bleary eyes, a fog of tiredness, and matted hair from sleepless nights. Sounds sexy, right? But, when that glimmering light at the end of the tunnel is in the near distance and the kid actually starts to act like a human and sleep normal hours, just like magic, you start to look like your old self again.

Ever slip into the latest summer fashion trend and then realize it's not exactly traditionally attractive? So what? Today we're speaking out on behalf of our favorite awkward fashion trends, whether they're bulky, strangely proportioned, or just at the opposite end of sexy. If there's still something magnetic about its pull on you, we say go for it. It's all in the name of fashion.

One shopper's tweet of the emaciated-looking figure forced the store to take action.

Once the summer heat kicks in, it's all we can do not to slip into the breeziest beach dresses and flip-flops for the morning commute. So trust us when we say we understand that the humidity can have a powerful effect on your wardrobe — still, there are some things you just can't wear to your place of employment, no matter how hot it gets.

Wrinkle no blouse, tangle no jewelry, leave no beauty product behind, and still have room to spare.

Hue-changing dos we absolutely love.

Why your jean size varies from store to store.

Wait a month between waxing visits? Check. Pop a preappointment Advil? Duh. We all know the basics, but here are the tricks you don't know.

What to always—and never, ever—do to keep hair in top shape.