Rachel Zoe's three tips for holiday shopping
Zoe's gave InStyle her tips for foolproof gift giving.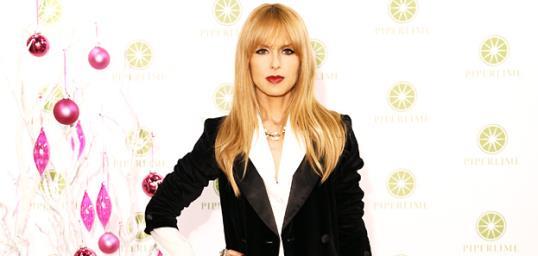 By Jennifer Davis, InStyle magazine

The gift-giving season is upon us, and finding that perfect present can be tough. "It's pretty stressful!" empathizes Rachel Zoe.

RELATED: Rachel Zoe's Gifts For Son Skyler

"I have made the mistake of going on a free-for-all, and it's hideous because I end up buying all the wrong things for the wrong people!" Zoe told InStyle.com at New York' Piperlime store, where was styling holiday looks. But all hope is not lost! Zoe gave InStyle.com her three tips for full-proof gift giving.

1. "Make a list of who you are buying for and write ideas of what you might get this person so that you're focused," she advises. "It's like going to the supermarket—know what you're going for."

2. For the people who seem to have it all, go for gifts for the home. "I don't think you can go wrong with trinkets and candles. Things like that are always a sure thing."

RELATED: Why Rachel Zoe Got Bangs

3. And if you're struggling to find that perfect present that will impress your in-laws her advice is simple:"Picture frames, especially with pictures of grandchildren," Zoe says. "In-laws love picture frames!" 

Plus, check out our Holiday Gift Guide for more inspiration!
MORE:
•
More Tips from Rachel Zoe
•
Runway Looks We Love: Rachel Zoe
• 
Zoe's NBC Sitcom About Her Life
Photos: StartraksPhoto
Who says in laws love picture frames??? Mine dont care for them and my parents dont need anymore of them. Not a lot of thought put into that gift.
People who have everything dont need extra little trinkets; thats only going to be tossed out or sold at a garage sale.
Why are people always asumming everyone wants a needs a gift on christmas, there are other reasons for enjoying the holiday like friends, and family and cooking and baking together.  Jesus and Family....thats Christmas.
Are you sure you want to delete this comment?
beauty tips and style advice
For any trade, it's totally counterintuitive that an industry could so obviously not cater to the largest demographic out there — but that's exactly how the plus-size world is.

Sorry, Kate Upton. You may be having a moment now, but the lovely supermodels of the '90s (and '80s) have been going strong for decades, and their careers and stunning looks are showing no signs of slowing down. In fact, we think they've only gotten sexier throughout the years.

Look stylish, even when you have absolutely no idea what to wear, with these totally amazing style hacks.

Your strands are saying more than you think. Not only can your facial features tell you a thing or two about yourself, "your hairstyle can also reveal things about you," Jean Haner, an expert in face reading and author of The Wisdom of Your Face, says. Here, Haner tells what your strands most likely are saying about you, based on her studies in 3,000-year-old face reading derived from Chinese medicine.

Realized that pixie or bob haircut isn't for you? Luckily, it is possible to make a graceful transition back to long.

Not everyone was pleased with free copy of 'GQ" featuring Emily Ratajkowski.

Not everyone was pleased with free copy of 'GQ" featuring Emily Ratajkowski.

Could you go that long without using cosmetics?

Controversial.... Or empowering?

From a young age, little girls learn the word "pretty," but in the last few years, everything has been changing — for the better.

If you want to look picture-perfect in your beautiful wedding dress, you have to invest in the proper undergarments. From comfy shapewear to no-slip strapless bras, we've got answers to every burning question you have about what you need to wear beneath that gown. Your next dress fitting just got way easier. Q: I'm plus-size. [...]

You've seen many a star hit the red carpet in glamorous curls. But, most of the time, these coiled updos come courtesy of a curling iron, which leaves us craving some all-natural inspiration.