Your No. 1 Makeup Trick for That Dreamy Wedding Day Glow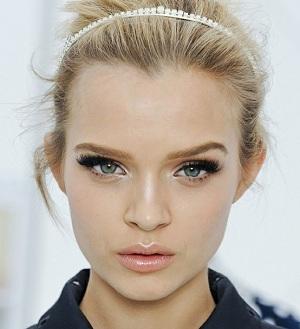 by Petra Guglielmetti
,
Glamour Magazine


So I have
this board on Pinterest
where I collect examples of perfect
wedding makeup
, and I suddenly realized that lots of these perfect wedding makeup photos have a certain something in common. Can you guess what it is?
Look at these examples, then see if you can guess the makeup trick that's helping make all of these ladies look so ethereal, glowy and wedding worthy.
Source: google.com via Petra on Pinterest

Related: 57 Jaw-Droppingly Beautiful Wedding Dresses
Source: themodelscout.tumblr​.com via Petra on Pinterest
Source: elle.com via Petra on Pinterest
Source: arti-st.tumblr.com via Petra on Pinterest
Source: vogue.globo.com via Petra on Pinterest
Related: Hairstyle Ideas To Consider

One important detail these makeup looks have in common: a glint of pale shine at the inner corners of the eyes. Created with a light metallic shadow or liner, or some highlighter, this move not only brings light to the eye area for a look of wide-eyed charm, it also adds just a hint of fairy princess ethereal-ness to your makeup.
And actually, most of these makeup schemes also feature some shine on the bridge of the nose as well. That's not quite as intuitive as the eye shine — personally I always feel like making my nose totally matte. But as you can see here, putting a touch of strategic shine there completes that radiant-from-within feeling.

How many of you will have strategic eye-and-nose shine as part of your wedding makeup? What other makeup tricks do you think are especially useful for a wedding day look?

Photos: Courtesy of Petra on Pinterest

More from Glamour:
30 September Outfit Ideas
27 Fall Hairstyle Ideas to Consider
9 Sex Secrets Men Want You to Know
beauty tips and style advice
When it comes to lounging on the beach in the buff, turns out that Germans and Austrians are the most comfortable with their birthday suits, according to a worldwide survey of beachgoing habits around the world.

Chic time-tested shades you'll love for this summer.

Our top picks for staying cool this summer.

Does makeup make you feel more or less like yourself? These women — some makeup junkies, some who never touch the stuff — were brave enough to be photographed with half their faces made up by a pro and half their faces totally bare.

Chic ensembles for every woman.

At almost every age, more men report being satisfied with looks than women.