Your No. 1 Makeup Trick for That Dreamy Wedding Day Glow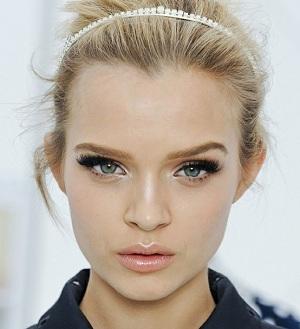 by Petra Guglielmetti
,
Glamour Magazine


So I have
this board on Pinterest
where I collect examples of perfect
wedding makeup
, and I suddenly realized that lots of these perfect wedding makeup photos have a certain something in common. Can you guess what it is?
Look at these examples, then see if you can guess the makeup trick that's helping make all of these ladies look so ethereal, glowy and wedding worthy.
Source: google.com via Petra on Pinterest

Related: 57 Jaw-Droppingly Beautiful Wedding Dresses
Source: themodelscout.tumblr​.com via Petra on Pinterest
Source: elle.com via Petra on Pinterest
Source: arti-st.tumblr.com via Petra on Pinterest
Source: vogue.globo.com via Petra on Pinterest
Related: Hairstyle Ideas To Consider

One important detail these makeup looks have in common: a glint of pale shine at the inner corners of the eyes. Created with a light metallic shadow or liner, or some highlighter, this move not only brings light to the eye area for a look of wide-eyed charm, it also adds just a hint of fairy princess ethereal-ness to your makeup.
And actually, most of these makeup schemes also feature some shine on the bridge of the nose as well. That's not quite as intuitive as the eye shine — personally I always feel like making my nose totally matte. But as you can see here, putting a touch of strategic shine there completes that radiant-from-within feeling.

How many of you will have strategic eye-and-nose shine as part of your wedding makeup? What other makeup tricks do you think are especially useful for a wedding day look?

Photos: Courtesy of Petra on Pinterest

More from Glamour:
30 September Outfit Ideas
27 Fall Hairstyle Ideas to Consider
9 Sex Secrets Men Want You to Know
beauty tips and style advice
I can't tell you how many times one ill-timed sneeze ruined all of my hard work with a mascara wand. #allergyproblems.

While we're not averse to shelling out upwards of $30 for an amazing lipstick, many of our standby lip colors cost a whole lot less than that. The drugstore is full of high-quality, long-lasting lipsticks in gorgeous shades that—wait for it!—ring in under $10. Click through above to shop our favorites!

What's the perfect add-on to your beauty look? A hair accessory, of course! Just when you think you've seen it all, every year there seems to be a new "it" hair piece that rules the moment. In the '50s, a dainty bow-tied head scarf was perfectly housewife-chic. In the '60s and '70s, real flower crowns officially became the epitome of boho style—your outfit simply wasn't complete without a daisy topper. Fast-forward to the '90s and you had a bevy of creative hair charms and baubles, including butterfly clips, hair wraps and those infamous bra strap headbands (shudder).

The right blush can warm up your complexion, create the illusion of cheekbones, and even make you look younger. (Yes, really!) Here, the most flattering shades for fair, medium, olive, and dark skin.

Think you can't put a price on looking younger? Well, we did—and it's $25. We challenged dermatologists to find great products that don't cost even one cent over that amount.

You want to dress in a way that's young and cool but that doesn't suggest you're on your way to a One Direction concert. "The trick to looking younger is adding one fashionable piece to a classic outfit," says stylist Cher Coulter. Here's how to nail it.