Your No. 1 Makeup Trick for That Dreamy Wedding Day Glow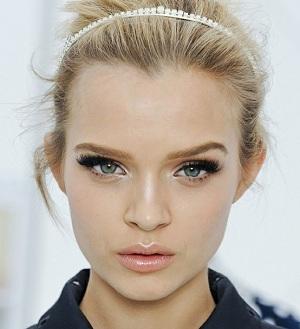 by Petra Guglielmetti
,
Glamour Magazine


So I have
this board on Pinterest
where I collect examples of perfect
wedding makeup
, and I suddenly realized that lots of these perfect wedding makeup photos have a certain something in common. Can you guess what it is?
Look at these examples, then see if you can guess the makeup trick that's helping make all of these ladies look so ethereal, glowy and wedding worthy.
Source: google.com via Petra on Pinterest

Related: 57 Jaw-Droppingly Beautiful Wedding Dresses
Source: themodelscout.tumblr​.com via Petra on Pinterest
Source: elle.com via Petra on Pinterest
Source: arti-st.tumblr.com via Petra on Pinterest
Source: vogue.globo.com via Petra on Pinterest
Related: Hairstyle Ideas To Consider

One important detail these makeup looks have in common: a glint of pale shine at the inner corners of the eyes. Created with a light metallic shadow or liner, or some highlighter, this move not only brings light to the eye area for a look of wide-eyed charm, it also adds just a hint of fairy princess ethereal-ness to your makeup.
And actually, most of these makeup schemes also feature some shine on the bridge of the nose as well. That's not quite as intuitive as the eye shine — personally I always feel like making my nose totally matte. But as you can see here, putting a touch of strategic shine there completes that radiant-from-within feeling.

How many of you will have strategic eye-and-nose shine as part of your wedding makeup? What other makeup tricks do you think are especially useful for a wedding day look?

Photos: Courtesy of Petra on Pinterest

More from Glamour:
30 September Outfit Ideas
27 Fall Hairstyle Ideas to Consider
9 Sex Secrets Men Want You to Know
beauty tips and style advice
We put a slew of new formulas to the test, and these are the ones making us look younger and fresher.

From the coolest chestnut to the deepest mahogany, these stars show how to unleash your inner brunette bombshell.

In a girl's life, there are a select few occasions when it's considered completely appropriate to go all out with a truly spectacular dress. Her wedding day comes to mind, of course, and maybe her Sweet 16. Prom night, however, is certainly at the tip-top of that short list of special events.

When I was a teenager, I wouldn't be caught dead without my lip gloss, blush, eyeshadow and eyeliner at all times. Now, even though I'm older, I'll admit I still don't feel 100 percent confident leaving the house without at least some of my "face" on—plus, my obsession with beauty products doesn't encourage me to go makeup-free very often.

Good magazine covers grab your attention and make you want to look inside. Controversial covers and photo shoots, like the 14 that follow, often become a part of history.

For those of you on official Kate Middleton Outfit Watch, here's the latest.