Hall of shame: Celeb fashion fails of 2012
A collection of misfit stars brims with frightful fashion faux pas.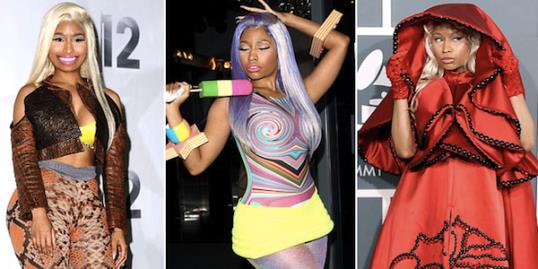 You can learn just as much about dressing well by studying those who dress really, really badly, so we think there's something very educational about dipping into year-end "worst-dressed celebrity" lists. Also, it's just plain snarky fun, and 2012 gave us tons to snicker at…
Related: Find sophisticated evening gowns that dazzle
Glossy gossip site USMag.com offers their rogues gallery of the worst style blunders of the past year, with songbird Nicki Minaj taking the coveted lead of the entire slideshow. Other usual suspects appear, including Nicki's cousin in crazy couture Lady Gaga (a perennial fave), Dickensian-Goth princess Helena Bonham Carter (whom we proudly adore), new kid on the block (and all-around annoyance) Carly Rae Jepsen, and the so-scary-we-wish-the​y'd-go-away Big Ang.
Need a palate cleanser after all the clashing prints and disgusting décolletage? Click through to a lovely collection of the best-dressed celebs of 2012.
Related: Winter fashion hub for cold weather style
Tell us: Which celeb round-up do you enjoy more – worst dressed or best dressed?
Photos: Courtesy of  Jason LaVeris/FilmMagic; Neil Mockford/FilmMagic; Steve Granitz/WireImage.co​m

beauty tips and style advice
Once the summer heat kicks in, it's all we can do not to slip into the breeziest beach dresses and flip-flops for the morning commute. So trust us when we say we understand that the humidity can have a powerful effect on your wardrobe — still, there are some things you just can't wear to your place of employment, no matter how hot it gets.

Wrinkle no blouse, tangle no jewelry, leave no beauty product behind, and still have room to spare.

Hue-changing dos we absolutely love.

Why your jean size varies from store to store.

Wait a month between waxing visits? Check. Pop a preappointment Advil? Duh. We all know the basics, but here are the tricks you don't know.

What to always—and never, ever—do to keep hair in top shape.

Get inspired to try these sweet and summery looks.

Stunning wedding styles that create a statement.

I attended the Abercrombie and Fitch holiday-season press preview yesterday, and in between checking out the cute gear that will hit stores this November, I picked up a little nugget of information I just have to share.

How to wear this cool-weather staple in the summer.

See how Miranda Kerr made a pair of Birkenstocks chic.

We love how a new nail polish has the ability to instantly change your look and your mood with a simple swipe. While happy lime greens and aquas are ruling the five million #nailpolish Instagrams this summer, there are a variety of great colors to choose from—whether you want an office-appropriate neutral or a fun going-out shade that'll give your LBD a punch of color.