Have you ever made THIS faux tanning faux pas?
Check out this multi-shade look on Kathy Griffin.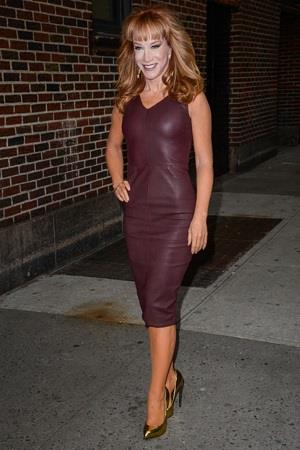 by
India-Jewel Jackson
While I have yet to visit a
tanning booth
or get a
spray tan
, if I ever did, I'd like to think I wouldn't commit this cardinal cosmetic sin
Kathy Griffin
made last week.
Check it out.
She's three totally different shades!

Her face looks like her natural pale complexion, while her neck, décolletage  and arms look a notch above sun-kissed. Oh, and her legs? Flat-out full-blown orange.

More from Glamour: Cute Boots for Every Budget

I'm not sure exactly what happened here, but if she paid for this—I'd suggest she ask for a refund ASAP.

More from Glamour: 10 Hot Date-Night Outfits (According to Guys)

Maybe she ran out of time? Dusting a bronzing powder like Stila Sun ($28 at Beauty.com) over top of a gradual facial self-tanner like Dior Bronze Self-Tanner Natural Glow Face ($32 at Sephora.com) would have been a quick fix for her face. (Layering bronzer over self-tanner helps remedy the discoloration issue immediately while building up natural-looking color underneath.)
As for the over-tanned legs? Griffin could have dialed it down with St. Tropez's Self Tan Remover ($18 at Sephora.com). It's formulated to remove residue from fingers and the palms of your hands after applying self-tanner, but it's good for stripping excess color and evening out patches, too.

Hey tanners—has this ever happened to any of you? Have you ever, you know, missed a spot? Do tell!
Bing: When bad fake tans happensMore from Glamour:

25 First-Date Dos and Don'ts
11 Movies Every Woman Should Watch
Our Favorite TV Gal Pals
beauty tips and style advice
Once the summer heat kicks in, it's all we can do not to slip into the breeziest beach dresses and flip-flops for the morning commute. So trust us when we say we understand that the humidity can have a powerful effect on your wardrobe — still, there are some things you just can't wear to your place of employment, no matter how hot it gets.

Wrinkle no blouse, tangle no jewelry, leave no beauty product behind, and still have room to spare.

Hue-changing dos we absolutely love.

Why your jean size varies from store to store.

Wait a month between waxing visits? Check. Pop a preappointment Advil? Duh. We all know the basics, but here are the tricks you don't know.

What to always—and never, ever—do to keep hair in top shape.

Get inspired to try these sweet and summery looks.

Stunning wedding styles that create a statement.

I attended the Abercrombie and Fitch holiday-season press preview yesterday, and in between checking out the cute gear that will hit stores this November, I picked up a little nugget of information I just have to share.

How to wear this cool-weather staple in the summer.

See how Miranda Kerr made a pair of Birkenstocks chic.

We love how a new nail polish has the ability to instantly change your look and your mood with a simple swipe. While happy lime greens and aquas are ruling the five million #nailpolish Instagrams this summer, there are a variety of great colors to choose from—whether you want an office-appropriate neutral or a fun going-out shade that'll give your LBD a punch of color.