Have you ever made THIS faux tanning faux pas?
Check out this multi-shade look on Kathy Griffin.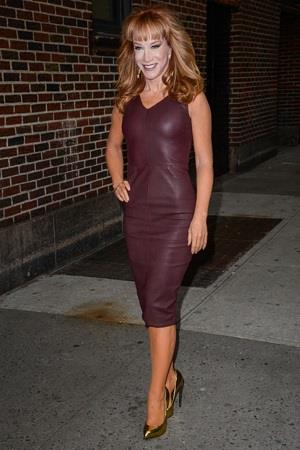 by
India-Jewel Jackson
While I have yet to visit a
tanning booth
or get a
spray tan
, if I ever did, I'd like to think I wouldn't commit this cardinal cosmetic sin
Kathy Griffin
made last week.
Check it out.
She's three totally different shades!

Her face looks like her natural pale complexion, while her neck, décolletage  and arms look a notch above sun-kissed. Oh, and her legs? Flat-out full-blown orange.

More from Glamour: Cute Boots for Every Budget

I'm not sure exactly what happened here, but if she paid for this—I'd suggest she ask for a refund ASAP.

More from Glamour: 10 Hot Date-Night Outfits (According to Guys)

Maybe she ran out of time? Dusting a bronzing powder like Stila Sun ($28 at Beauty.com) over top of a gradual facial self-tanner like Dior Bronze Self-Tanner Natural Glow Face ($32 at Sephora.com) would have been a quick fix for her face. (Layering bronzer over self-tanner helps remedy the discoloration issue immediately while building up natural-looking color underneath.)
As for the over-tanned legs? Griffin could have dialed it down with St. Tropez's Self Tan Remover ($18 at Sephora.com). It's formulated to remove residue from fingers and the palms of your hands after applying self-tanner, but it's good for stripping excess color and evening out patches, too.

Hey tanners—has this ever happened to any of you? Have you ever, you know, missed a spot? Do tell!
Bing: When bad fake tans happensMore from Glamour:

25 First-Date Dos and Don'ts
11 Movies Every Woman Should Watch
Our Favorite TV Gal Pals
beauty tips and style advice
That elusive, perfect-every-day haircut can be yours. Don't be skeptical, now; these sweet, shorter styles are as easy to pull off as they are flattering. So chop chop!

The wedding dresses on the spring 2015 runways were beautiful, breezy, and fresh—just like a breath of warm spring air. No matter where or when you'll say your vows (or how big or small your budget is), your dream wedding dress is just a few clicks away.

The results were crazy awesome.

There are no bad bodies, just bad jeans! Consider your denim problem areas solved (thanks to our 50-pair editor try-on).

Mascara wands are getting fatter, but that may not help your lashes. There's a better way to gain weight.

Three summers ago, I bought a pair of soft, white-calfskin Chanel loafers. I spent months trying to keep them pristine, but it wasn't long before a July thunderstorm left them and me soaked. I began steeling myself for what I thought was inevitable: a solemn drop in the trash. But once the loafers dried, I found the shoes' stained stitching—now storm-cloud gray—was lovely and a few new wrinkles in the leather were charming, like smile lines for shoes. I started to wear them freely—taking on puddles and tossing them onto the sand at the beach—and before long, they transformed. The roughened toe-tops reminded me of a welcoming, worn armchair, and a wet-and-hot summer had molded the material perfectly to my feet.

When the clock's ticking, digging though every compact in your bathroom is an exercise in frustration. What you need is one simple bag with a selection of products that help you pull yourself together as quickly as possible, at home or on the road. In it:

You know the freshly scrubbed, athletic look that defines American beauty? Turns out it's been centuries in the making.

According to Hollywood's top hairstylists, celebrity clients get sticky fingers when it comes to these no-fail products.

The American company that helped to popularize the shapewear trend has moved into the world of denim with a new jeans collection.

What to wear and what to avoid the next time you attend a wedding.

Want the most gorgeous hair of your life for your wedding day? Of course you do. Hairstylist Jen Atkin shares the top mistakes brides make that are getting in the way of that picture-perfect bridal hairstyle