Have you ever made THIS faux tanning faux pas?
Check out this multi-shade look on Kathy Griffin.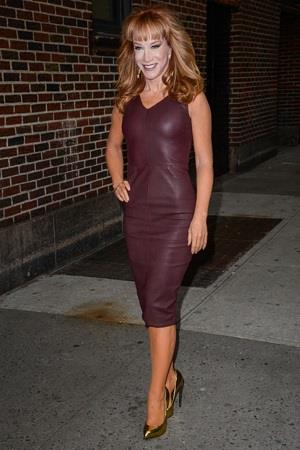 by
India-Jewel Jackson
While I have yet to visit a
tanning booth
or get a
spray tan
, if I ever did, I'd like to think I wouldn't commit this cardinal cosmetic sin
Kathy Griffin
made last week.
Check it out.
She's three totally different shades!

Her face looks like her natural pale complexion, while her neck, décolletage  and arms look a notch above sun-kissed. Oh, and her legs? Flat-out full-blown orange.

More from Glamour: Cute Boots for Every Budget

I'm not sure exactly what happened here, but if she paid for this—I'd suggest she ask for a refund ASAP.

More from Glamour: 10 Hot Date-Night Outfits (According to Guys)

Maybe she ran out of time? Dusting a bronzing powder like Stila Sun ($28 at Beauty.com) over top of a gradual facial self-tanner like Dior Bronze Self-Tanner Natural Glow Face ($32 at Sephora.com) would have been a quick fix for her face. (Layering bronzer over self-tanner helps remedy the discoloration issue immediately while building up natural-looking color underneath.)
As for the over-tanned legs? Griffin could have dialed it down with St. Tropez's Self Tan Remover ($18 at Sephora.com). It's formulated to remove residue from fingers and the palms of your hands after applying self-tanner, but it's good for stripping excess color and evening out patches, too.

Hey tanners—has this ever happened to any of you? Have you ever, you know, missed a spot? Do tell!
Bing: When bad fake tans happensMore from Glamour:

25 First-Date Dos and Don'ts
11 Movies Every Woman Should Watch
Our Favorite TV Gal Pals
beauty tips and style advice
Kate Middleton put her perfect hair in a perfect ponytail yesterday at a wreath-laying service at a war memorial in New Zealand, and, of course, the whole thing was perfect.

Find out what Pippa's portrait will look like.

While you were sleeping, the Duchess stepped out in two brand-new outfits.

Now that April is underway, we've officially entered the fickle season of on-again, off-again rain showers, thus complicating the already painful task of getting out of bed in the morning and starting the day. As if it isn't already hard enough to quickly put together a nice work outfit, the bipolar nature of spring weather demands a careful mix of lightweight, waterproof layers, as well as appropriate footwear. Realistically, no one wants to wear a pair of chunky rubber boots around all day, but the only other alternative is to lug around a variety of gym shoes, heels, and flats to meet all of the day's needs.

Here at Lucky, when we find something we like, we can't stop talking about it—especially when we score it for a ridiculously amazing price. We're loving that the latest batch of genius hair, makeup, skincare and nail products are not only all under $20, but you can find them easily at your local drugstore, too. Above, our favorite products to refresh your beauty routine.

Coachella weekend kicks off this weekend, then there's Glastonbury, Lollapalooza, and so on. Some festivals are one-day events, others let you unleash your inner hippie and camp out on the grounds (or if you're like me, book the nearest hotel).