Have you ever made THIS faux tanning faux pas?
Check out this multi-shade look on Kathy Griffin.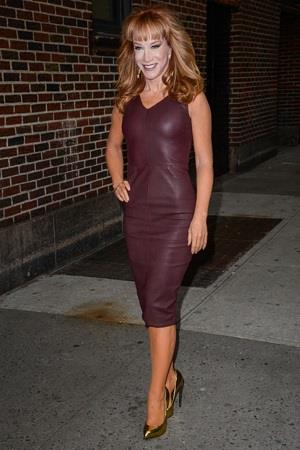 by
India-Jewel Jackson
While I have yet to visit a
tanning booth
or get a
spray tan
, if I ever did, I'd like to think I wouldn't commit this cardinal cosmetic sin
Kathy Griffin
made last week.
Check it out.
She's three totally different shades!

Her face looks like her natural pale complexion, while her neck, décolletage  and arms look a notch above sun-kissed. Oh, and her legs? Flat-out full-blown orange.

More from Glamour: Cute Boots for Every Budget

I'm not sure exactly what happened here, but if she paid for this—I'd suggest she ask for a refund ASAP.

More from Glamour: 10 Hot Date-Night Outfits (According to Guys)

Maybe she ran out of time? Dusting a bronzing powder like Stila Sun ($28 at Beauty.com) over top of a gradual facial self-tanner like Dior Bronze Self-Tanner Natural Glow Face ($32 at Sephora.com) would have been a quick fix for her face. (Layering bronzer over self-tanner helps remedy the discoloration issue immediately while building up natural-looking color underneath.)
As for the over-tanned legs? Griffin could have dialed it down with St. Tropez's Self Tan Remover ($18 at Sephora.com). It's formulated to remove residue from fingers and the palms of your hands after applying self-tanner, but it's good for stripping excess color and evening out patches, too.

Hey tanners—has this ever happened to any of you? Have you ever, you know, missed a spot? Do tell!
Bing: When bad fake tans happensMore from Glamour:

25 First-Date Dos and Don'ts
11 Movies Every Woman Should Watch
Our Favorite TV Gal Pals
beauty tips and style advice
From Monica, Rachel, and Phoebe on Friends to Blair and Serena on Gossip Girl, here are the most memorable wedding dresses to grace the small screen.

You thought you were so cool.

Kate Middleton likes outlet malls too.

Smart fall shopping can't be boiled down to some set-in-stone lineup of items. It's much more about how you play with what you've got rather than just racking up a bunch of new stuff; sometimes your bank account's balance simply won't allow for a full-on wardrobe refresh. That's when it's important to know what's worth it—and what isn't.

Autumn's just a few short months away, and we've got sweaters, coats and booties on our minds! Below are the first things we'll be buying (or have already bought!) to kick off next season.

Beauty editors are routinely asked to name three essentials they couldn't live without on a desert island. So here's our list: water, matches, protein bars. As much as we depend on beauty products, they're not exactly essential to survival. These luxurious fragrances, nail polishes, and tools are no exception. They're the anti-basics—hardly your medicine-cabinet staples. They won't shrink pores or obliterate frizz, but they will make you weak with desire. And that's a refreshing change of pace. Beyond just looking and feeling great, each of these cool new things appeals to our sense of style. How's that for an SOS?