Have you ever made THIS faux tanning faux pas?
Check out this multi-shade look on Kathy Griffin.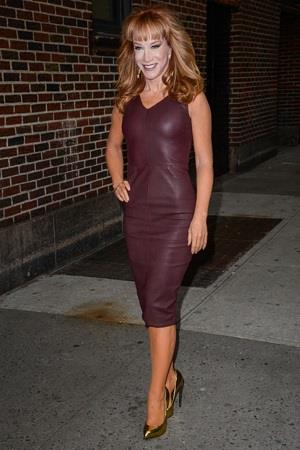 by
India-Jewel Jackson
While I have yet to visit a
tanning booth
or get a
spray tan
, if I ever did, I'd like to think I wouldn't commit this cardinal cosmetic sin
Kathy Griffin
made last week.
Check it out.
She's three totally different shades!

Her face looks like her natural pale complexion, while her neck, décolletage  and arms look a notch above sun-kissed. Oh, and her legs? Flat-out full-blown orange.

More from Glamour: Cute Boots for Every Budget

I'm not sure exactly what happened here, but if she paid for this—I'd suggest she ask for a refund ASAP.

More from Glamour: 10 Hot Date-Night Outfits (According to Guys)

Maybe she ran out of time? Dusting a bronzing powder like Stila Sun ($28 at Beauty.com) over top of a gradual facial self-tanner like Dior Bronze Self-Tanner Natural Glow Face ($32 at Sephora.com) would have been a quick fix for her face. (Layering bronzer over self-tanner helps remedy the discoloration issue immediately while building up natural-looking color underneath.)
As for the over-tanned legs? Griffin could have dialed it down with St. Tropez's Self Tan Remover ($18 at Sephora.com). It's formulated to remove residue from fingers and the palms of your hands after applying self-tanner, but it's good for stripping excess color and evening out patches, too.

Hey tanners—has this ever happened to any of you? Have you ever, you know, missed a spot? Do tell!
Bing: When bad fake tans happensMore from Glamour:

25 First-Date Dos and Don'ts
11 Movies Every Woman Should Watch
Our Favorite TV Gal Pals
beauty tips and style advice
Hair color is one of the most effective anti-aging tools we have—except when it isn't. Take your dye job too far (or inky, or frosty) and you can add years to your appearance. Three top colorists weigh in on what to avoid.

News flash: Your youth fix doesn't have to come in a bottle—or a needle. Your hairstyle could actually take years off (or add them to) your look. Don't believe us? Check out these celebrities—each one gorgeous, of course, but also looking older due to certain overly perfect hairdos. Anti-aging tip number one? Mess it up a little.

In feel-good fashion news of the day: Victoria Beckham will design a set of mommy-daughter dresses to benefit Born Free Africa, a non-profit with the mission to end mother-to-child HIV transmission by 2015.

See Duchess Catherin's perfect beach look.

These travel-sized beauty products will do double-duty while you're on the road.

And before you ask, sorry, the $325 dress is SOLD OUT on Matches.com and DVF.com—you snooze, you loose.