Have you ever made THIS faux tanning faux pas?
Check out this multi-shade look on Kathy Griffin.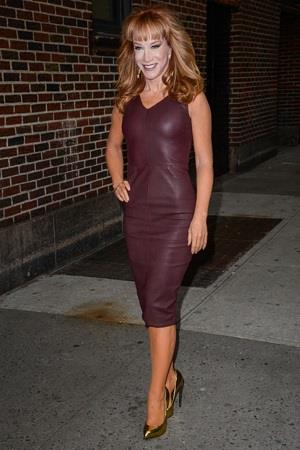 by
India-Jewel Jackson
While I have yet to visit a
tanning booth
or get a
spray tan
, if I ever did, I'd like to think I wouldn't commit this cardinal cosmetic sin
Kathy Griffin
made last week.
Check it out.
She's three totally different shades!

Her face looks like her natural pale complexion, while her neck, décolletage  and arms look a notch above sun-kissed. Oh, and her legs? Flat-out full-blown orange.

More from Glamour: Cute Boots for Every Budget

I'm not sure exactly what happened here, but if she paid for this—I'd suggest she ask for a refund ASAP.

More from Glamour: 10 Hot Date-Night Outfits (According to Guys)

Maybe she ran out of time? Dusting a bronzing powder like Stila Sun ($28 at Beauty.com) over top of a gradual facial self-tanner like Dior Bronze Self-Tanner Natural Glow Face ($32 at Sephora.com) would have been a quick fix for her face. (Layering bronzer over self-tanner helps remedy the discoloration issue immediately while building up natural-looking color underneath.)
As for the over-tanned legs? Griffin could have dialed it down with St. Tropez's Self Tan Remover ($18 at Sephora.com). It's formulated to remove residue from fingers and the palms of your hands after applying self-tanner, but it's good for stripping excess color and evening out patches, too.

Hey tanners—has this ever happened to any of you? Have you ever, you know, missed a spot? Do tell!
Bing: When bad fake tans happensMore from Glamour:

25 First-Date Dos and Don'ts
11 Movies Every Woman Should Watch
Our Favorite TV Gal Pals
beauty tips and style advice
Getting away from it all for a bit? Your vacation wardrobe should be just like your plans: laid-back but totally fabulous. Take a cue from these celebrities, whose low-effort, high-style outfit ideas are officially on our must-copy list.

These fun and flattering vintage-style suits blend the best of the old with the best of the new.

Although it's not officially spring yet—the best time to start shopping for warm-weather clothes is now, while stores still have a good selection. Waiting until it's actually balmy enough to go bare-legged and short-sleeved leaves far too many factors to chance: what if your size sells out? Or the wrong color is left? And let's not forget about gross makeup stains from 10 other people trying it on!

From patriotic bikinis to retro two pieces, these celebs' stylish swimsuits will have you counting down to beach season! Check out your favorite stars rocking the hottest swim trends!

Sunglasses: it may seem counterintuitive to invest in a wintertime accessory traditionally viewed as a sunny, warm-weather item. But spring is on the way and we're also currently being exposed to crazy amounts of UV rays—and then, of course, there's the reflective snow situation.

As we herald a new season, the itch arrives to update one's wardrobe, and nothing cleanses a closet like a spanking-new bag, slick new pumps, or sparkling new jewels. Here, see our picks for the best investments to make this spring.

Some people look younger than they are, some look older. Even those with easy access to BOTOX and personal trainers. Can you guess the age of these celebrities?

Did anyone else hear wedding bells on the Oscars red carpet last night?

Then after the show, er, Oscars, it's the after party. Then after the party, it's the... Best Dressed List, of course. Nikki already picked her tops for the Academy Awards red carpet (did you vote yet?), so now it's time to see what the stars wore to the post-celebrations.

As I continue my personal campaign to swap out E!'s mani cam with a back-of-updo cam (and as a service to all the hardworking hairstylists who spent so much time creating beautiful hair looks for the 2014 Oscars), I'd like to point out that we miss a lot of gorgeous detail when we don't get the back view of a star's hair.

The bold new trend on the Oscars red carpet.

Trying new hairstyles is fun (have you picked up Allure Hair: The Ultimate How-To Hair Guide yet?).