High heels make women look more attractive, study finds
Stilettos may hurt your feet, but hey, you really do look good wearing them.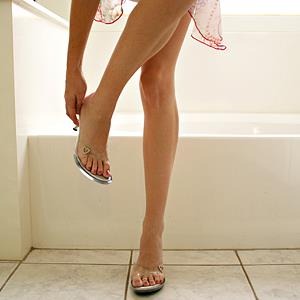 As women, we are constantly squeezing our feet into uncomfortable heels, leading to blisters, arch pain and a host of other issues (ehem, like tripping down stairs in shoes we can't walk in or getting our heels stuck in a subway grate, for example).

But yet we won't give up our stilettos. At least now we can feel better about the fact that we are hobbling down the street in pain. Why? Because new research confirms that everything about the concept of wearing high heels makes us more attractive (just as we always suspected).

According to The Independent, researchers at the University of Portsmouth say heels change the way the entire body moves, including the pelvis, hips, legs, knees, feet and even the shoulders, to emphasize femininity. Therefore, if a woman is wearing a pair of heels, she's instantly given a higher score than her flat-wearing friend when it comes to her level of attractiveness. Not that this is shocking news—we hoped we were wearing them for a reason.

More from Living: 2013's most-wanted makeup colors

But the study, published in scientific journal Evolution and Human Behavior, explains why. "Evolution may partly explain the continuing popularity of high heels as an article of the female wardrobe. If wearing high heels emphasizes some sex-specific aspects of the female form they may make women more attractive, and one motivation, which may be conscious or unconscious, for wearing heels is that it is part of mate selection."

More from Living: 10 fashion resolutions to actually follow this year

The study goes on to explain why some gender-specific trends tend to stay popular, decade after decade. "Fashions by their very nature are ephemeral, but fashions that endure, such as high heels, may emphasize sex-specific aspects of the body."
Tell us: Would you ever give up your high heels?

Bing: What makes women feel beautiful?


Photo: With Love Photography/Getty Images
More from Simply Chic:

Latest trend for guys: Man tights
The biggest internet beauty trends of 2012
Three-year-old model walks the runway
fashion: trends & must-haves for your wardrobe
That's right. We said it. These nail polish colors aren't just sexy—they're the hottest things you can put on your feet this summer. Now the hard part: choosing one.

Days are getting longer, skirts are getting shorter, and our feet haven't seen the light of day since the autumnal equinox. A seasonal beauty overhaul is in order.

There's no hair hotline for all your summer freakouts—but for every strand, type, and texture, there is an Allure editor who's tested tons of products (in millions of combinations) to fix any problem. Here, our roundup of tried-and-true hot-weather hair regimens.

When heat and humidity strike, the last thing you want to do is spend an eternity styling your hair, only for it to end in the F word: frizz. But that doesn't mean you need to settle for a ho-hum hair day. These ten hairstyles are quick, simple, and not the least bit boring.

She's chosen designer gowns that you can rent from the new Beyoncé Boutique.

Long, layered, medium or wavy – we're sharing our favorite hairstyles of 2013 with a new 'do each day. Stuck in a hair rut? Check back daily for snappy new looks that are sure to give your locks some beauty inspiration.

Big event? Focus on the outfit, because we've got your hair all figured out, whether you've got two minutes to do it or 20.

When morning talk shows and local newspapers dole out their seasonal swimsuit shopping advice, I'm usually pretty disappointed by the lack of body types represented. What about the women who don't resemble fruit? (Or aren't boy-shaped—the third "one of these things is not like the other" category I've never quite understood. Couldn't they say "banana?" Or is that somehow more offensive than "apple" and "pear" shapes?)

Ready to refresh your hair and makeup for spring? Well, look no further for your latest batch of inspiration. These ladies are bringing the beauty brilliance with megawatt lipstick shades, sleek haircuts, and must-try hair colors. Get ready to play copycat.

Step into spring with style in June Ambrose's new shoe line for HSN.

Revamp your corporate look with graphic prints and bold color.

If you have only five makeup tools in your kit, make sure these are them. They do much more than just look cute on your vanity!