High heels make women look more attractive, study finds
Stilettos may hurt your feet, but hey, you really do look good wearing them.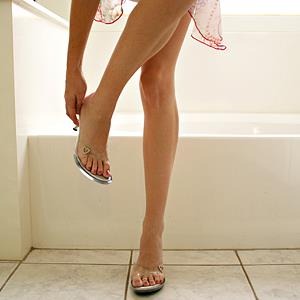 As women, we are constantly squeezing our feet into uncomfortable heels, leading to blisters, arch pain and a host of other issues (ehem, like tripping down stairs in shoes we can't walk in or getting our heels stuck in a subway grate, for example).

But yet we won't give up our stilettos. At least now we can feel better about the fact that we are hobbling down the street in pain. Why? Because new research confirms that everything about the concept of wearing high heels makes us more attractive (just as we always suspected).

According to The Independent, researchers at the University of Portsmouth say heels change the way the entire body moves, including the pelvis, hips, legs, knees, feet and even the shoulders, to emphasize femininity. Therefore, if a woman is wearing a pair of heels, she's instantly given a higher score than her flat-wearing friend when it comes to her level of attractiveness. Not that this is shocking news—we hoped we were wearing them for a reason.

More from Living: 2013's most-wanted makeup colors

But the study, published in scientific journal Evolution and Human Behavior, explains why. "Evolution may partly explain the continuing popularity of high heels as an article of the female wardrobe. If wearing high heels emphasizes some sex-specific aspects of the female form they may make women more attractive, and one motivation, which may be conscious or unconscious, for wearing heels is that it is part of mate selection."

More from Living: 10 fashion resolutions to actually follow this year

The study goes on to explain why some gender-specific trends tend to stay popular, decade after decade. "Fashions by their very nature are ephemeral, but fashions that endure, such as high heels, may emphasize sex-specific aspects of the body."
Tell us: Would you ever give up your high heels?

Bing: What makes women feel beautiful?


Photo: With Love Photography/Getty Images
More from Simply Chic:

Latest trend for guys: Man tights
The biggest internet beauty trends of 2012
Three-year-old model walks the runway
beauty tips and style advice
At almost every age, more men report being satisfied with looks than women.

Wrinkle no blouse, tangle no jewelry, leave no beauty product behind, and still have room to spare.

Swimwear . . . we have a love/hate relationship with it. Shopping for the perfect style can be a nightmare, but once you've found "the one" you never want to let it go. Which is why we've set out to preserve your beloved bathing suit for as long as humanly possible. And nobody appreciates this more than swimwear designer Melissa Odabash, who has suited stars like Kim Kardashian, Jessica Biel, and Gwyneth Paltrow for the beach. Click through the slideshow to see her commandments that thou shalt not violate this Summer:

OK, you're pushing 30 . . . don't panic! Even if you were a complete antiaging recluse in your 20s, there is still time to enter the next decade with endless grace and fewer wrinkles. And who better to steal skin care secrets from than the actresses who remain looking forever young? These Hollywood starlets may be in their 30s, but there's nary a dark spot in sight. Their beauty favorites range from drugstore classics to cult luxury elixirs and even a DIY recipe. With this shopping list under your belt, you can celebrate your 30s without a worry line in sight.

Instead of just slapping on five creams—then washing your face because, seriously, that stuff is heavy—follow the lead of the pros.

Forget about simple straightening--the flat iron is so much more versatile than that.