High heels make women look more attractive, study finds
Stilettos may hurt your feet, but hey, you really do look good wearing them.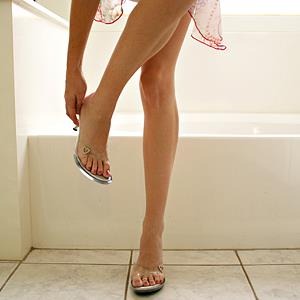 As women, we are constantly squeezing our feet into uncomfortable heels, leading to blisters, arch pain and a host of other issues (ehem, like tripping down stairs in shoes we can't walk in or getting our heels stuck in a subway grate, for example).

But yet we won't give up our stilettos. At least now we can feel better about the fact that we are hobbling down the street in pain. Why? Because new research confirms that everything about the concept of wearing high heels makes us more attractive (just as we always suspected).

According to The Independent, researchers at the University of Portsmouth say heels change the way the entire body moves, including the pelvis, hips, legs, knees, feet and even the shoulders, to emphasize femininity. Therefore, if a woman is wearing a pair of heels, she's instantly given a higher score than her flat-wearing friend when it comes to her level of attractiveness. Not that this is shocking news—we hoped we were wearing them for a reason.

More from Living: 2013's most-wanted makeup colors

But the study, published in scientific journal Evolution and Human Behavior, explains why. "Evolution may partly explain the continuing popularity of high heels as an article of the female wardrobe. If wearing high heels emphasizes some sex-specific aspects of the female form they may make women more attractive, and one motivation, which may be conscious or unconscious, for wearing heels is that it is part of mate selection."

More from Living: 10 fashion resolutions to actually follow this year

The study goes on to explain why some gender-specific trends tend to stay popular, decade after decade. "Fashions by their very nature are ephemeral, but fashions that endure, such as high heels, may emphasize sex-specific aspects of the body."
Tell us: Would you ever give up your high heels?

Bing: What makes women feel beautiful?


Photo: With Love Photography/Getty Images
More from Simply Chic:

Latest trend for guys: Man tights
The biggest internet beauty trends of 2012
Three-year-old model walks the runway
beauty tips and style advice
In order to cope with the intense feelings of jealousy I experienced when seeing Jennifer Garner's flawless hairstyle last week, I decided to contact the stylist responsible for the look, Kylee Heath, and find out what exactly she did to produce these glorious results.

Apparently, every celebrity in the world decided to dye her hair over the last few days—or at least Duchess Catherine, Sienna Miller, and Pamela Anderson did.

It was the chicest family night out ever in London yesterday, as Victoria Beckham hit the red carpet, along with her ADORABLE sons, Brooklyn, little fashionisto Romeo, and Cruz, to support the premiere of the soccer football documentary Class of '92, featuring superstar dad David. And she looked perfect as always—in Victoria Beckham, of course.

There will always be a special place in our hearts for Pez—the completely absurd and impractical oblong candy that children are somehow meant to be patient enough to dispense, one by one, from a creaky plastic spring-loaded drawer contraption—and a newly minted shoe designer Camilla Elphick, a Cordwainers College graduate, has tapped into our oral fixation.

When it comes to her latest hair change, it's pretty clear that Sienna Miller was thinking pink!

She's followed by Michael Kors and Ralph Lauren.