High heels make women look more attractive, study finds
Stilettos may hurt your feet, but hey, you really do look good wearing them.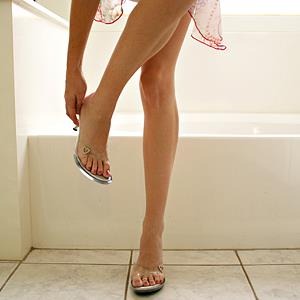 As women, we are constantly squeezing our feet into uncomfortable heels, leading to blisters, arch pain and a host of other issues (ehem, like tripping down stairs in shoes we can't walk in or getting our heels stuck in a subway grate, for example).

But yet we won't give up our stilettos. At least now we can feel better about the fact that we are hobbling down the street in pain. Why? Because new research confirms that everything about the concept of wearing high heels makes us more attractive (just as we always suspected).

According to The Independent, researchers at the University of Portsmouth say heels change the way the entire body moves, including the pelvis, hips, legs, knees, feet and even the shoulders, to emphasize femininity. Therefore, if a woman is wearing a pair of heels, she's instantly given a higher score than her flat-wearing friend when it comes to her level of attractiveness. Not that this is shocking news—we hoped we were wearing them for a reason.

More from Living: 2013's most-wanted makeup colors

But the study, published in scientific journal Evolution and Human Behavior, explains why. "Evolution may partly explain the continuing popularity of high heels as an article of the female wardrobe. If wearing high heels emphasizes some sex-specific aspects of the female form they may make women more attractive, and one motivation, which may be conscious or unconscious, for wearing heels is that it is part of mate selection."

More from Living: 10 fashion resolutions to actually follow this year

The study goes on to explain why some gender-specific trends tend to stay popular, decade after decade. "Fashions by their very nature are ephemeral, but fashions that endure, such as high heels, may emphasize sex-specific aspects of the body."
Tell us: Would you ever give up your high heels?

Bing: What makes women feel beautiful?


Photo: With Love Photography/Getty Images
More from Simply Chic:

Latest trend for guys: Man tights
The biggest internet beauty trends of 2012
Three-year-old model walks the runway
beauty tips and style advice
Let's face it: winter's bitter cold left us feeling disillusioned with our wardrobes. So with warmer days ahead, it's time to shop for must-have pieces that'll keep your look fresh for months to come.

Every bride deserves to look flawless on her wedding day. So we say: Indulge a little. Book a facial (or six!) and invest in a great waterproof mascara. With this guide, getting ready for your big day has never been easier.

I can't tell you how many times one ill-timed sneeze ruined all of my hard work with a mascara wand. #allergyproblems.

While we're not averse to shelling out upwards of $30 for an amazing lipstick, many of our standby lip colors cost a whole lot less than that. The drugstore is full of high-quality, long-lasting lipsticks in gorgeous shades that—wait for it!—ring in under $10. Click through above to shop our favorites!

What's the perfect add-on to your beauty look? A hair accessory, of course! Just when you think you've seen it all, every year there seems to be a new "it" hair piece that rules the moment. In the '50s, a dainty bow-tied head scarf was perfectly housewife-chic. In the '60s and '70s, real flower crowns officially became the epitome of boho style—your outfit simply wasn't complete without a daisy topper. Fast-forward to the '90s and you had a bevy of creative hair charms and baubles, including butterfly clips, hair wraps and those infamous bra strap headbands (shudder).

The right blush can warm up your complexion, create the illusion of cheekbones, and even make you look younger. (Yes, really!) Here, the most flattering shades for fair, medium, olive, and dark skin.

Think you can't put a price on looking younger? Well, we did—and it's $25. We challenged dermatologists to find great products that don't cost even one cent over that amount.

You want to dress in a way that's young and cool but that doesn't suggest you're on your way to a One Direction concert. "The trick to looking younger is adding one fashionable piece to a classic outfit," says stylist Cher Coulter. Here's how to nail it.

Hair color is one of the most effective anti-aging tools we have—except when it isn't. Take your dye job too far (or inky, or frosty) and you can add years to your appearance. Three top colorists weigh in on what to avoid.

News flash: Your youth fix doesn't have to come in a bottle—or a needle. Your hairstyle could actually take years off (or add them to) your look. Don't believe us? Check out these celebrities—each one gorgeous, of course, but also looking older due to certain overly perfect hairdos. Anti-aging tip number one? Mess it up a little.

In feel-good fashion news of the day: Victoria Beckham will design a set of mommy-daughter dresses to benefit Born Free Africa, a non-profit with the mission to end mother-to-child HIV transmission by 2015.

See Duchess Catherin's perfect beach look.